Edge Profile Sanding: It starts with a light over-sanding applied to corners, edges and relief areas of doors and drawers, similar to many of our other techniques. This prepares the surface for burnishing.
Burnishing: We then hand-apply a special burnishing stain to those over-sanded areas.
Wormholes: This is "that pinhole look," one of the many techniques we use to achieve the look of aged wood.
Random Distressing: This creates a worn, used look using a tool patented by KraftMaid.
Edge Rasping: We rasp and roughen certain areas so they accept stain more intensely, creating darker areas.
Selective Application: Not every effect looks good on every piece. To make sure we get the best result on every surface, we do distress the following surfaces—but not quite as thoroughly: hoods, paneling, decorative accents and molding. We don't distress face frames and matching interiors at all.
Finishing: Everything gets two coats of base paint as part of the standard KraftMaid DuraKraft™ Plus Finishing System. After that, a dark glaze finish is applied to every single piece, to add richness to the paint color. The glaze is then hand-wiped into prof iles and recesses of the wood.
Linear Grain Accents: More glaze is dry-brushed on, to create a linear wood grain effect. At this point, dark burnishing is then used to accent the softened corners and edges, and fly specking is applied to add depth and dimension by randomly spattering a darker color on the finish. Suede DuraKraft™ Plus topcoat is applied as a final layer of protection.
That's it. Everything is aged beautifully without the inconvenience of waiting for the calendar pages to fall over the course of many years. Please note that Aged Technique is available on all solid-center panel doors except Mandolay/Provence (just the same as with traditional distressing, since you can't distress veneer).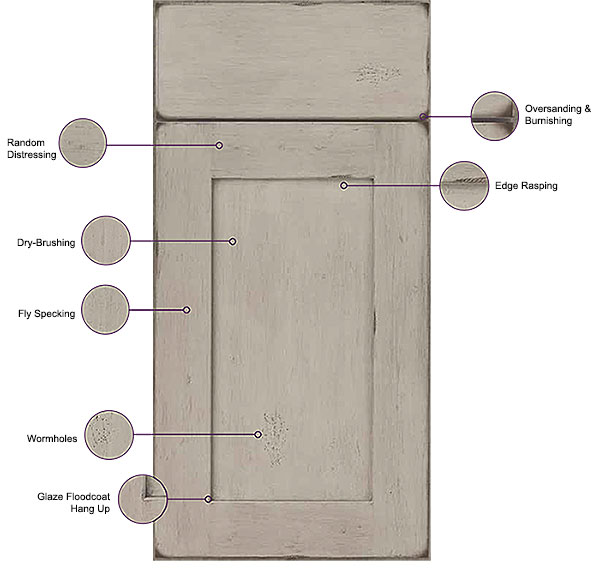 *Lead times on the aged finishes are extended at this time, which includes the sample doors and chips.
Available finishes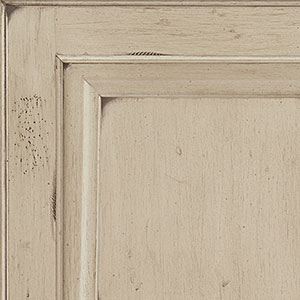 Papyrus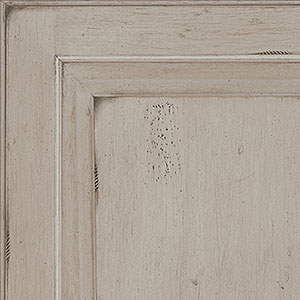 Concrete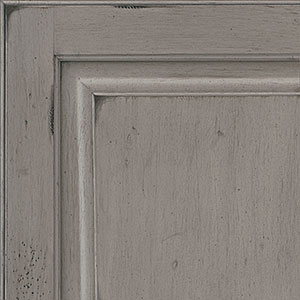 River Rock