5 Storage Ideas To Make Life Easier In The Empty Nester Kitchen
Posted by KraftMaid Marketing on 2nd Jul 2015
WHEN THE YOUNGER BIRDS HAVE FLOWN, THERE'S ROOM IN THE NEST FOR A LOT OF COOL STUFF.
Many people find that when their kids are grown and on their own, they finally have time for interests and activities that used to be crowded out by daily life—but there's still a whole lot of daily life, and it makes its demands.
As everyday life in a household changes, the kitchen can be designed for how it's actually used today. It can be the focal point of every activity, accommodating friends and family as well as becoming a space to relax, talk, create, babysit, tinker around, prep, eat, clean up and linger.
HERE ARE A FEW IDEAS THAT MAKE LIFE A LITTLE EASIER IN THE EMPTY NESTER KITCHEN.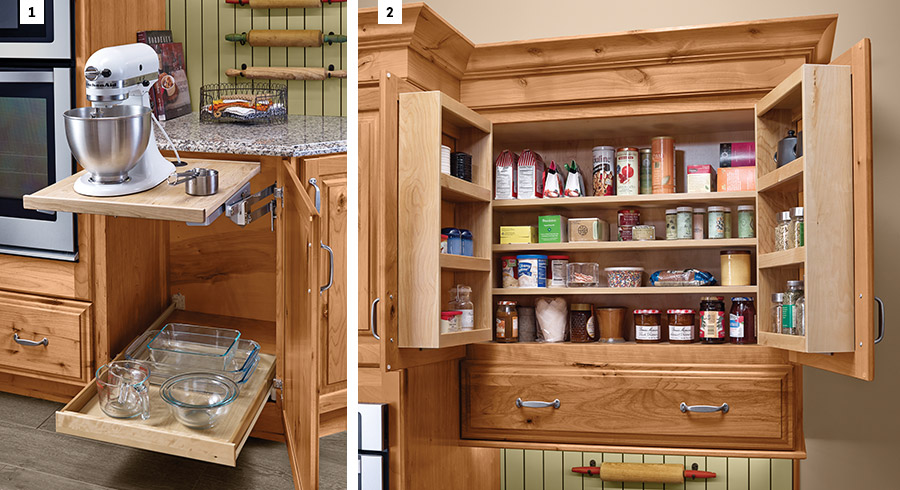 1. BAKING STATION WITH BASE MIXER SHELF
Saves your back and arms by storing a heavy mixer on a shelf that swings up from below the countertop and then locks in place at counter level. It not only keeps the mixer out of sight until it's needed but also frees up useful counter space in the kitchen.
2. WALL MULTI-STORAGE PANTRY
Save smaller baking supplies from getting lost in deeper kitchen drawers. Lots and lots of shelf peg holes are standard, so you can adjust the shelf height to whatever size is needed for whatever you are storing.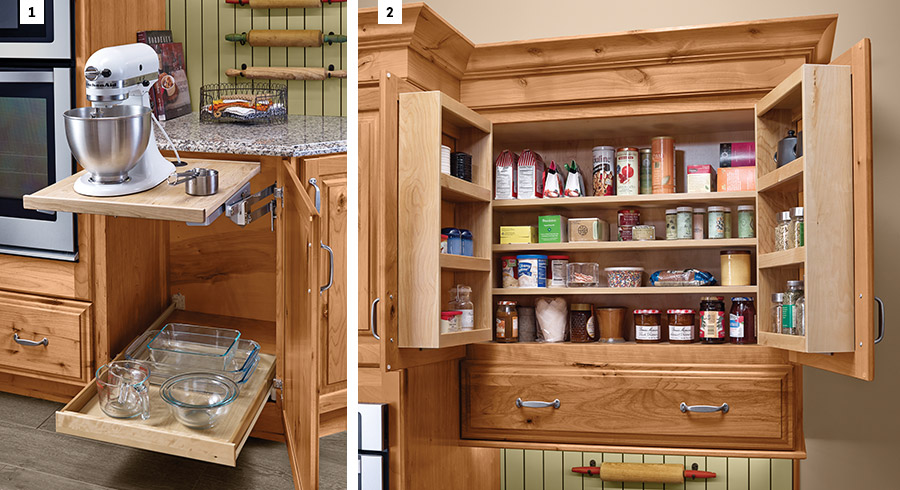 3. OVEN CABINET
Conveniently stores casserole dishes and pans in a deep bottom drawer below the oven so they're easy to find and grab when you need them.
4. TRAY/BAKING SHEET STORAGE
An out-of-the-way spot for cookie sheets, muffin tins, cutting boards and anything that tends to get all jumbled up and hard to get to if shoved in a kitchen drawer.
5. BASE PANTRY PULL-OUT UTENSIL STORAGE
Moves larger ladles, knives and spoons off the kitchen counter by the stove and puts them out of sight (and away from grease splatters and dust).