Color & Craft, Part 1: Midnight and Greyloft
Posted by KraftMaid Marketing on 25th Apr 2012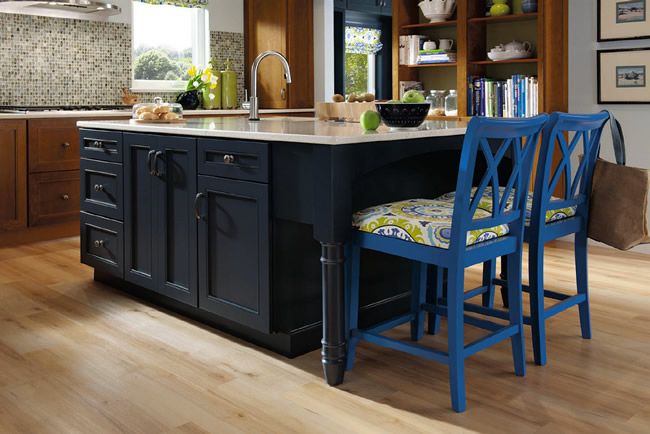 With six new finishes launching as part of our 2012 product line, there was too much to talk about to limit ourselves to a single blog update. As a result, we're celebrating this colorful debut with a 3-part series of posts each exploring two of our additions, with input from the product experts and designers who dreamed up KraftMaid's newest color inspirations.
Midnight. Our designers have had their eye on this particular shade of deep, dark blue since 2008 when it began appearing at the Hollywood award season's red carpet events, filling a void that had begun to form in celebrity fashion palettes. It's accessible and flexible, easily complementing styles both traditional and contemporary. This hue's versatility makes it a designer-favorite. When a finish like Midnight is paired with our Vintage finish style, a coastal or reclaimed theme emerges, but if one chooses a Midnight on a Shaker door style and pairs it with stainless steel appliances, suddenly the space is very modern. Colors can be a challenge to commit to, but Midnight was developed with stability in mind, making it a stylish addition to your home.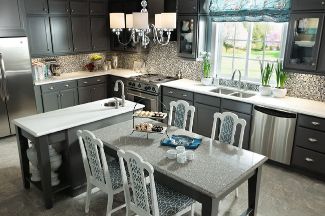 Greyloft. Fashionistas have claimed gray as the new black. It's easy to coordinate, it doesn't clash and can help bridge warm and cool shades on the spectrum. These same qualities that keep the color popular in fashion boutiques and department stores makes it a must-have in the home. At KraftMaid, gray caught our eye once it made the jump into homes in the form of flooring. Homeowners weren't getting rid of things, instead seeking ways to breath new life into their interiors, and gray was the answer. We sought to capture this resurgence and develop a "new neutral;" a color that doesn't stand on its own, but instead enhances and highlights the surrounding qualities of a space. Greyloft is exactly what KraftMaid strives to be: trend forward with an eye on the traditional!
Come back tomorrow as we take a closer look at the new stains, Slate and Golden Lager and what went into their creation. Find us on Facebook and Twitter and join the community as we continue to bring you the best the industry has to offer!