Now You Can Have A Kitchen Built For How You'll Use It.
Posted by KraftMaid Marketing on 28th May 2015
A kitchen isn't just a kitchen. It's the center of activity in a home. When it's built specifically for how you'll use it, a kitchen can help improve each moment that unfolds within it.
Think about a kitchen that would fit how you live—what would you call it? The Foodie Kitchen? The Kitchen Of Many Moods?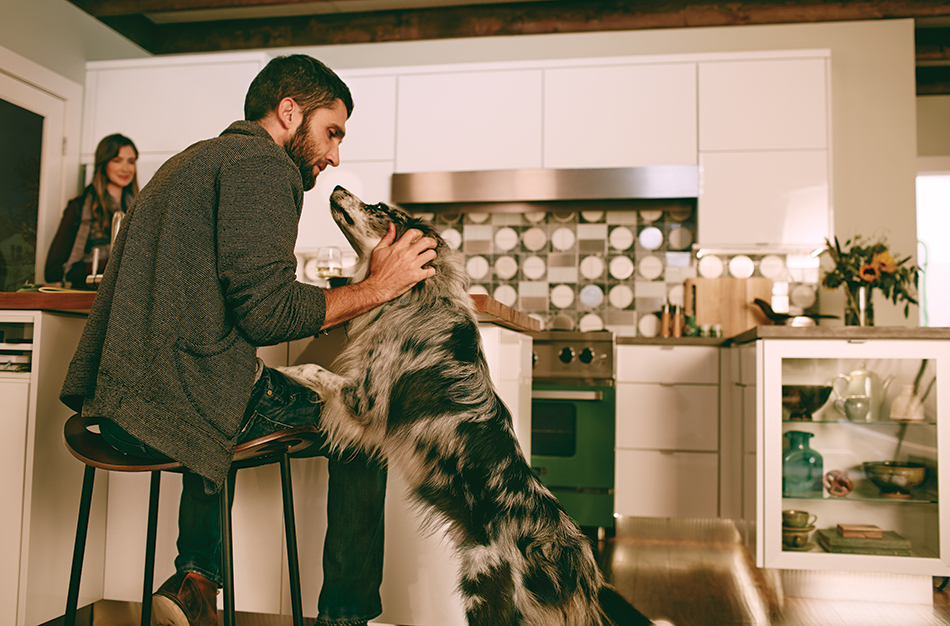 The one featured here is The No Kids (Yet) Kitchen. It's based on what we see happening in real couples' lives.
Making a life together is about sharing space and enjoying time spent managing the smaller details of daily life. This kitchen creates an attractive-yet-functional backdrop for just that.
HERE ARE A FEW IDEAS THAT MAKE LIFE A LITTLE EASIER IN THE NO KIDS (YET) KITCHEN.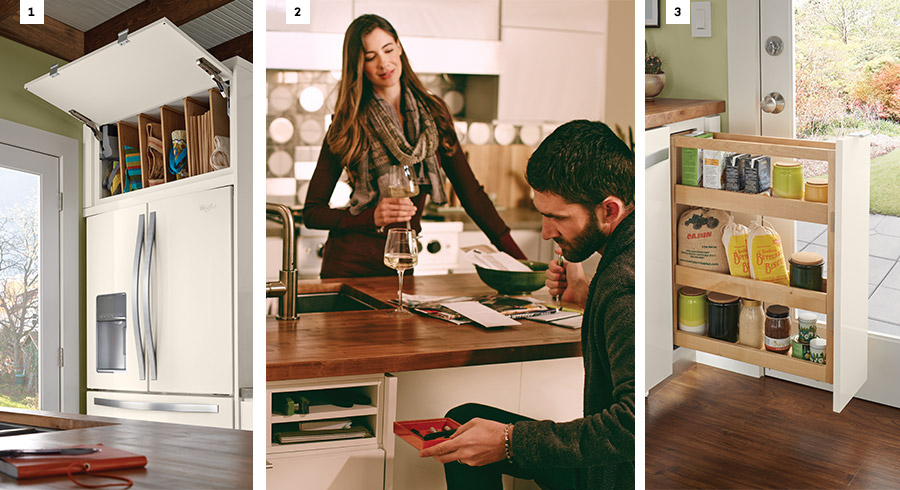 1. ONE-TOUCH AUTO-OPEN CABINET WITH TRAY DIVIDERS
This cabinet opens and closes with the push of a button, making hard-to-reach places more accessible for everything from reusable bags to cookie sheets.
2. HOME OFFICE
Easily complete daily tasks, from paying bills and making grocery lists to sharing breakfast or answering emails. Extra cubbies store office supplies and keep mail from piling up on the counter.
3. BASE PULL-OUT PANTRY
Makes efficient use of limited space, so useful-but-cluttery items on the counter can hide somewhere that's still handy.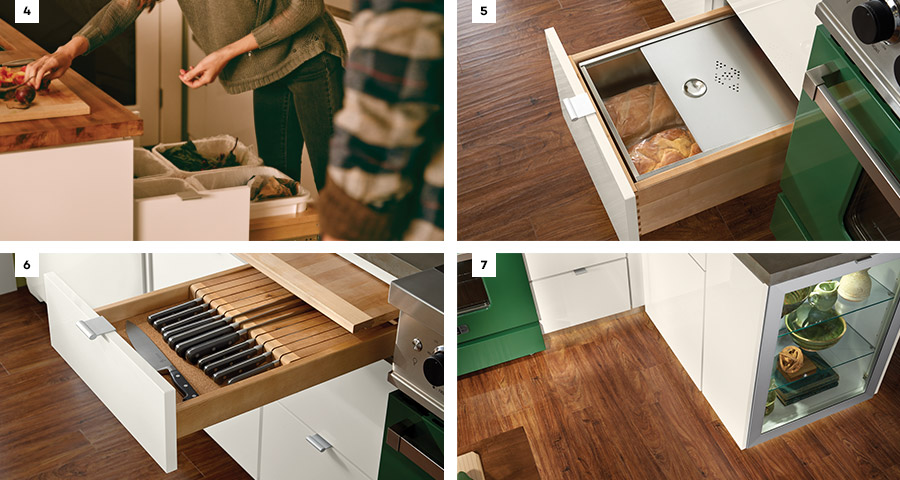 4. RECYCLING STATION
Sort the recycling as you dispose of it, instead of on your way to the curb. This kitchen recycling station has four baskets for waste, compost trimmings, paper and plastic—or however your sorting works.
5. BREAD BOX
Keeps fresh bread handy in a base drawer, separate from the rest of the groceries, then closes nice and gently since soft-close WhisperTouch™ drawers are standard with KraftMaid®.
6. KNIFE SECTION CUTTING CENTER
Can be placed strategically above the bread box and next to the stove, with a cutting board included to make prep simple.
7. LED TOE KICK LIGHTING
Creates a softer mood by lighting the floor beneath the cabinets and allows for sure footing during those middle-of-the-night fridge raids or water runs.
WHAT DO YOU THINK?
You can improve the time you spend in your kitchen by designing it for how you're truly, honestly going to use the space.