Availability varies on Maple, Cherry, Birch and Hickory1
This technique creates the warm, traditional look of fine furniture. Unfinished doors and drawer fronts are randomly distressed and then over-sanded. Next, a darkening stain is artistically applied to the corners and raised areas, creating a burnished effect. A base stain is then applied and carefully hand-wiped.
Burnished finishes are created by a very complex process: random distressing, over-sanding and application of a burnishing stain. The random distressing and hand-applied techniques of burnishing produce one-of-a-kind results where no two doors are exactly alike.
Burnished Ginger and Burnished Chocolate include flyspeck highlights. This technique involves a random spattering of a complementary finish color, which adds depth and dimension to the finish.
1 Finish availability varies for each type of wood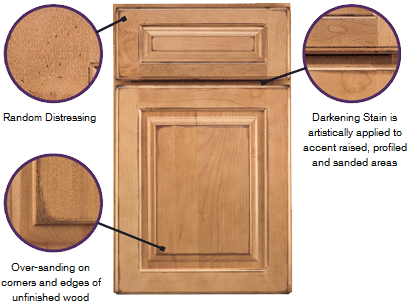 Available finishes

Burnished Chestnut on Maple

Burnished Praline on Maple

Burnished Autumn Blush on Cherry

Burnished Rye on Cherry

Burnished Cabernet on Cherry

Burnished Chocolate on Cherry

Burnished Cinnamon on Cherry

Burnished Ginger on Cherry