Available on Maple, Oak, Cherry, Birch and Hickory1
A base stain is applied to the wood for consistent color coverage. A flood coat of glaze is then applied and hand-wiped, leaving behind soft tones in the corners and recesses of the door. Next, a highlight glaze is brushed into the corners and recesses by hand to emphasize the subtle variations in color.
Glazing is a finish process that involves two hand-detailed techniques, so no two doors look exactly alike.
The initial flood coat of glaze softens the original base color. The highlight glaze increases visual depth and interest in the corners and recesses.
A veneer center panel absorbs more of the glaze resulting in a slightly darker color than on the solid wood components of the door frame.
1 Finish availability varies for each type of wood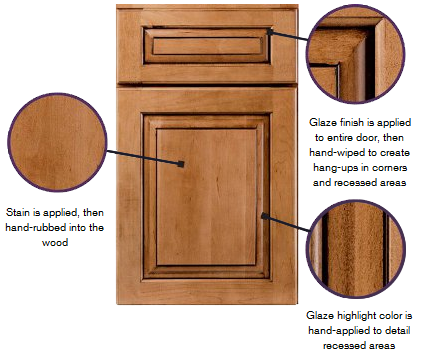 Available finishes
Chestnut w/Onyx Glaze on Maple

Cinnamon w/Onyx Glaze on Maple

Ginger w/Sable Glaze on Maple

Praline w/Onyx Glaze on Maple

Chocolate w/Ebony Glaze on Cherry

Cabernet w/Onyx Glaze on Cherry

Autumn Blush w/Onyx Glaze on Cherry