Posted by KraftMaid Marketing on 26th Oct 2011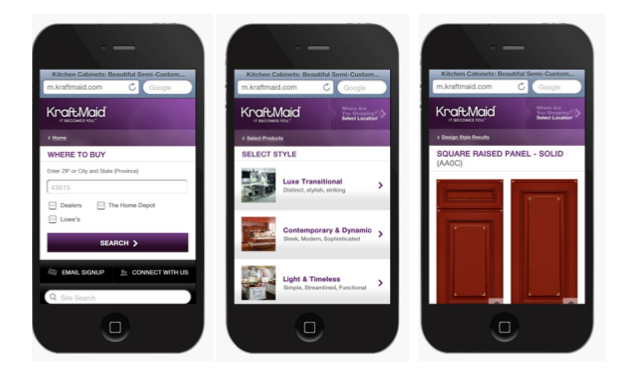 Just as every great outfit needs a matching handbag, now more than ever every great website needs a matching mobile site. This week, we're celebrating the launch of KraftMaid's mobile website, m.kraftmaid.com. It's another way we're making the design process simpler for you to navigate.
And, while we're on the subject of style and design in the palm of your hand, we wanted to share some of our favorite apps to help organize, simplify and enrich any home design project.
KraftMyStyle™: We may be a bit biased, but this app by KraftMaid is both fun and inspiring. The app allows you to capture images and create photo collages of items that inspire you, like colors, unique spaces, fabrics and art. Style Boards can be shared with family, friends and in the online gallery. When you're working with a designer, this app is a great way to share ideas and inspiration for your home's design. Available for free for Apple iPad™, iPhone™ and iPod Touch™.
iHandy Level™: Say goodbye to crooked frames. This app turns your iPhone or iPod Touch into a level. Available for free for Apple iPhone and iPod Touch.
ColorSmart™: If you're planning on refreshing your home's walls, this app from BEHR paint is a must-have. ColorSmart makes it easy to try out different styles and paint colors in your rooms without picking up a roller. Once you've found your favorite colors, share them on Facebook and Twitter. Available for free for Android™, iPhone and iPad.
Do you have any favorite home design apps? Tell us about them in the comments below.