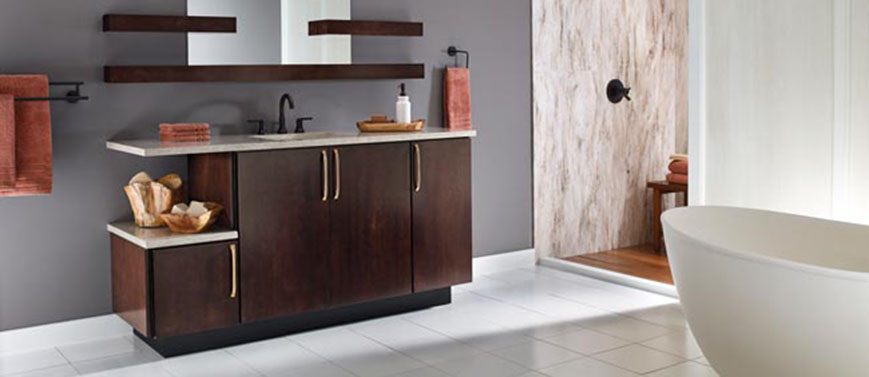 Proper planning of your bath remodel includes both aesthetic and functional considerations. Explore our tips on bath layout, design and storage solutions for ideas that will help you create a bath experience that accommodates both your lifestyle and design sensibilities.
Bath Layout
The size of your space and the number of users will dictate your bathroom layout and location of features. For multiple users,consider a vanity with two sinks - or even separate bathroom vanities for more space and flexibility. Consider options that will provide maximum functionality while leaving you enough room to navigate your bathroom. Are the cabinets the right width, depth, and height for the room? KraftMaid offers a wide selection, the most common widths available being 24, 30, 36, 48, and 60 inches. Cabinet depth, typically 18" or 21", is also an important factor, especially in a small space. Consider the return walls, door clearance, and trim clearance, and make sure the cabinet drawers or doors can function properly. Depending on the size of the room, you can create an innovative floor plan by locating the bathtub in the center of the room, finished all around with panels to create the look of fine furniture.
Bath Design
An elegant master bath or glamorous powder room can be the place to pull out all the stops. An exotic hardwood floor – which may not be the best choice for a family bath – makes a dramatic statement in a small powder room.
For hard-working bathrooms, it's important to select materials that will stand up to daily use. Tile and stone are good choices for floors likely to see a lot of moisture. Similarly, choosing a countertop material such as natural stone or solid surface will complement your bathroom cabinets and provide durable and long-lasting beauty.
Faucets, cabinet hardware, towel bars and accessories add the finishing touch to your bath design in a variety of beautiful finishes from cool and sleek polished nickel to warmly elegant brushed bronze. Select a single finish for a coordinated look or talk to your designer about mixing them up! Consider investing in water-saving features. Dual-flush toilets, water-saving faucets and shower heads all reduce the amount of water you use, while instant hot water tanks can reduce your energy use. While these features may cost more upfront, you will break even in the long run and even save money. Include a variety of lighting for the best results. Task lighting in the shower and by the mirror and make-up area is a must, but don't forget to include soft ambient lighting over the tub or to illuminate the toe kick areas.
An intelligently designed bath can relieve morning congestion, create a warm welcome for guests, and add a whole new dimension of relaxation at the end of a busy day. Working with a design professional is the best way to make sure that your style, your needs and your budget are all taken into consideration.
Bath Storage Solutions
Organizing your bathroom may be the last item on your wish list; however, when done well, an organized bathroom can greatly reduce your stress. From the morning's high traffic "rush hour" to the nightly rituals of getting the children bathed and ready for bed, a highly organized bathroom can reduce the time needed from start to finish.
While everyone wishes they had a larger bathroom, clever bath storage solutions can help make the most of whatever space you have. Bathroom cabinets with shelves and drawer storage keep personal grooming items and cleaning products within easy reach but hidden from view for a clutter-free space. Make sure that items you use all the time are within easy reach. Giving these items a home will make them easy to use and easy to put away. Try creating specialized storage areas for small items such as cosmetics, or bulky items like hair dryers. Pull-out storage and pocket doors are especially useful in tight spaces.
Consider the KraftMaid Vanity Base Pull-out Appliance when deciding how to organize these items. With two adjustable shelves and metal trays for storing your hair dryers and curling irons, this 12" wide cabinet allows you to give your everyday necessities a convenient, organized home. And don't forget about towels and linens - they can be tucked away in linen storage cabinets or attractively displayed on open shelves or in cubbies. A well designed bathroom will provide the types of storage that you and your family require. Working with a design professional is the best way to make sure that your storage concerns are successfully implemented into the design of your bath.