5 Effective DIY Kitchen Organization Ideas
Posted by KraftMaid on 2nd Dec 2020
---
A well-organized kitchen is a more efficient, more economical and more enjoyable one. Learn how you can better arrange your space and keep it neat.
Cluttered counters and jam-packed drawers can make everything you do in your kitchen more stressful. So at KraftMaid, we're always thinking about how to better organize the hardest-working room in your home – from inventing new storage innovations to sharing strategies on how to turn your chaotic kitchen into a more orderly oasis. You can do it in just a few steps:
---
STEP 1: Start with a good cleaning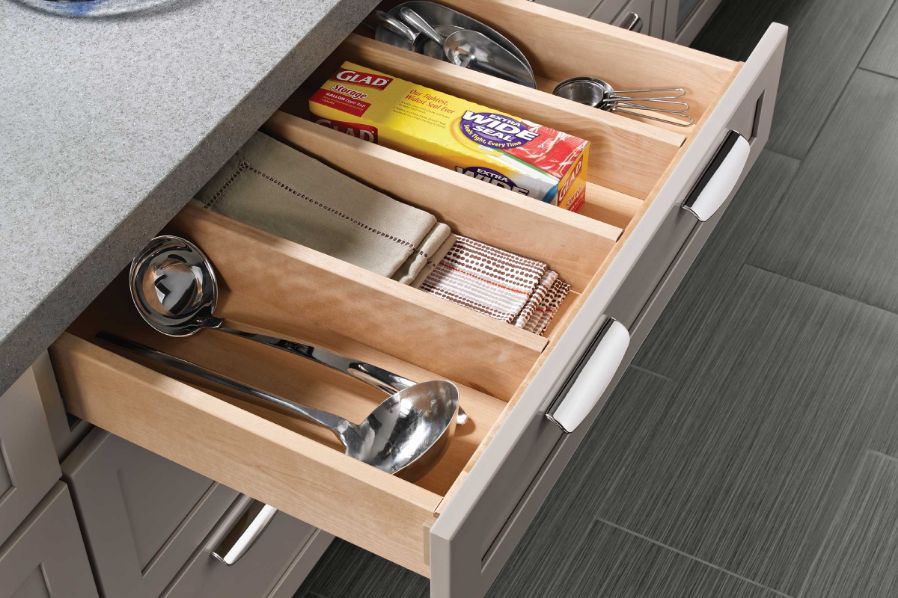 The simple act of paring down is where life in your organized kitchen begins. Pull everything out and take inventory. You probably don't need three can openers. Toss the orphaned lids that belong to some long-gone container. And why are you hanging on to that saucepan with the broken handle?
As you take stock of what's left, think about how often you use those items. Make more room for your everyday essentials by finding another place for the things you only use on special occasions, like roasting pans, cloth napkins and serving platters.
Tackle one cabinet at a time to make this step more manageable if you're facing decades of accumulation.
---
STEP 2: Define storage zones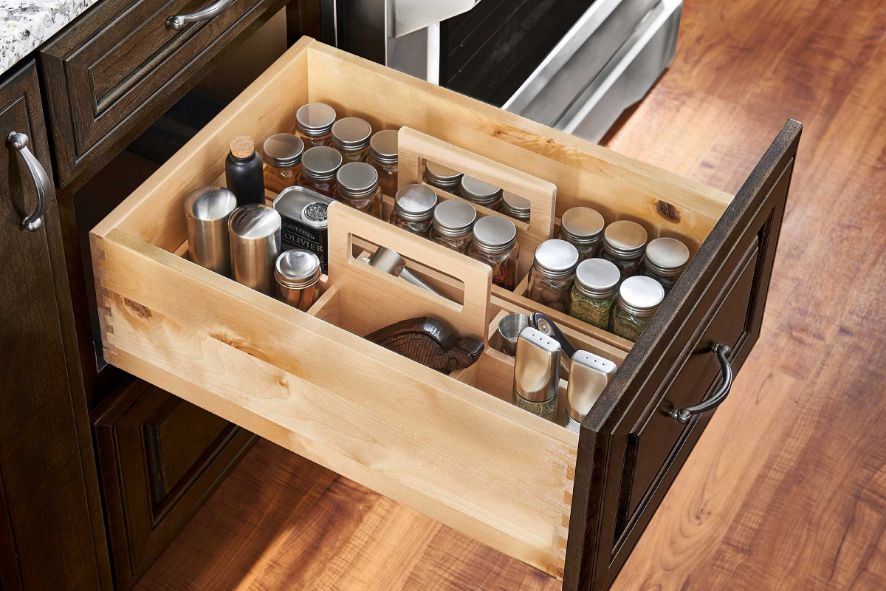 Before you restock your cabinets, group things by activity. Then store the items from each group in proximity to one another so everything will be within easy reach when you need it. (Bonus: Setting up zones will also help you remember what goes back where once you're done with it.) Here are some ideas to get you started:
Keep cooking utensils and spices in drawer s next to your cooktop, with pots and pans in cabinets below for an efficient cooking zone setup
Designate a cleanup zone by storing dinnerware within arms-length of your dishwasher, so you can both unload clean plates and put them away from one spot
Make mornings more efficient by creating a coffee station – put mugs in the cabinet above your countertop espresso machine and coffee pods in the drawer below
---
STEP 3: Split what goes up and down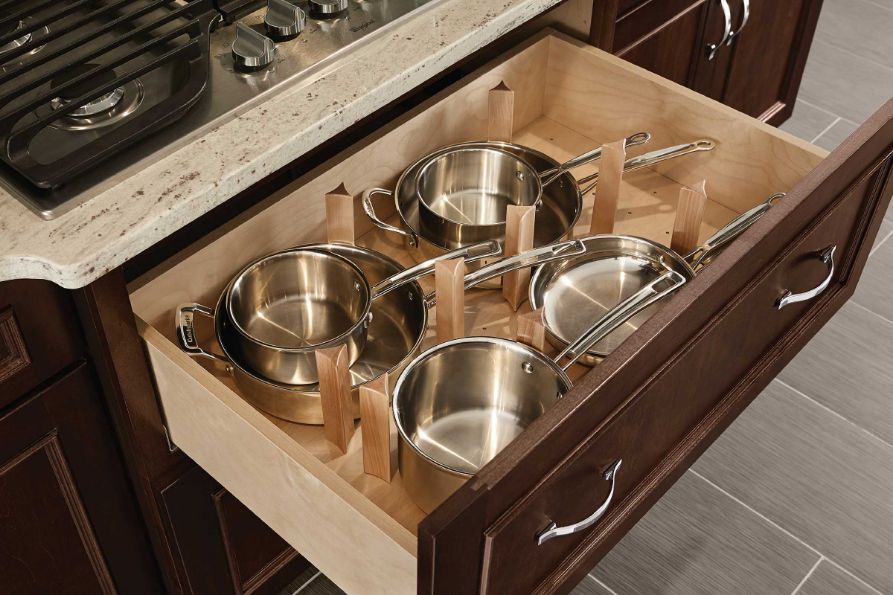 Try to store canned food and dry goods in wall cabinets or on the upper shelves of your pantry where it's easier to see the labels. It's also easier to grab frequently used glassware from wall units. (#ProTip: Fit more wine glasses on each shelf by nesting them. Alternate one upright and the next upside down.)
Heavy or bulky items, like mixers, slow cookers, stock pots, mixing bowls and baking sheets, should reside below the countertop where there's less risk of them falling on you.
---
Step 4: Keep everything in its place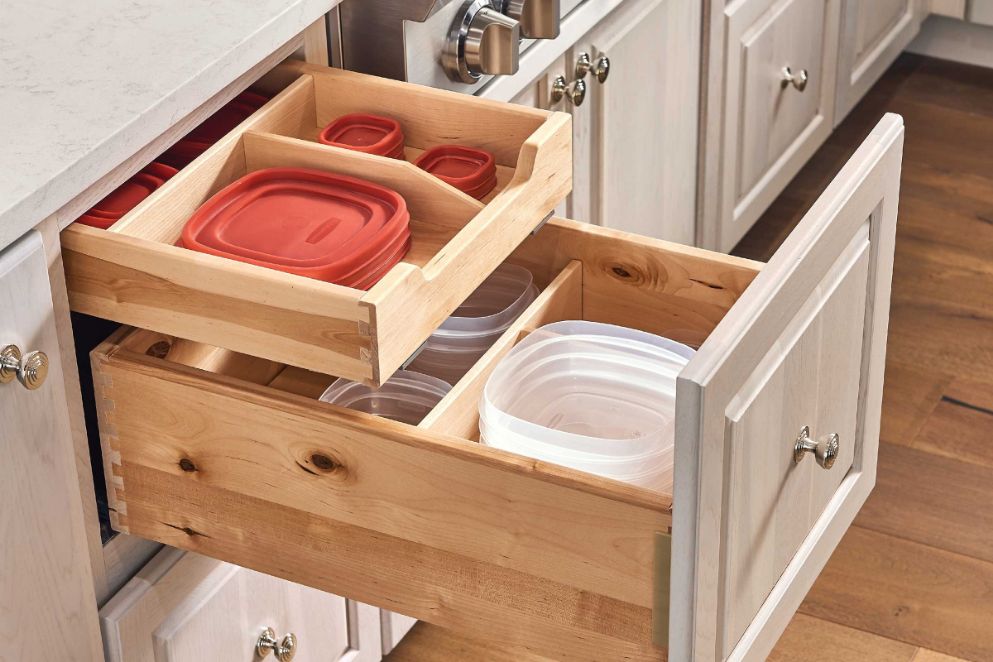 It's one thing to neatly put items away the first time. The trick is doing it every time. Our smart storage innovations can help.
---
STEP 5: Pack more into your space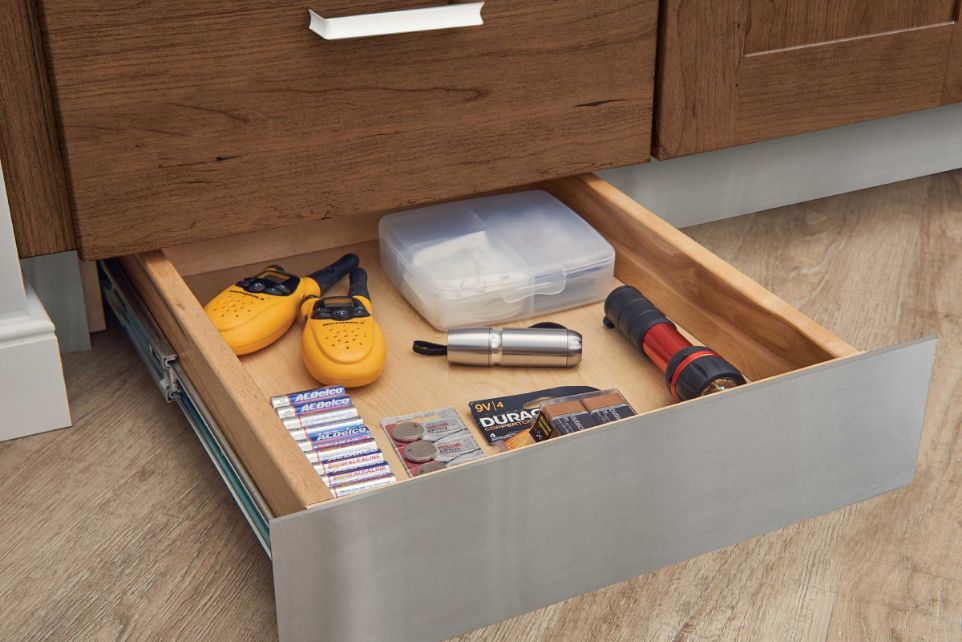 All this organization might have you dreaming of a new kitchen. Talk to a kitchen designer about finding ways to add storage without adding square footage. Overlooked areas, like toe kick drawers, installing storage below banquette seating, and removing soffits to extend wall cabinets all the way to the ceiling can make a big difference.
---
Why start now?
Organizing your kitchen may seem daunting, but it's certainly worth the effort. Obviously, an efficient, orderly kitchen can save time when you're cooking. But it can save you money too. Think about all the jars of pickles and measuring cups you have bought because the ones you already have got lost in some dark corner. Plus, you'll enjoy the time you spend there much more when everything looks and works better. Good luck!
---