Posted by KraftMaid Marketing on 25th Sep 2015
A kitchen can be designed to accommodate life's changes—whatever they may turn out to be. Will this be a kitchen to grow old in, or to keep in good shape until a Realtor is needed? Doesn't matter: a great kitchen is a kitchen that improves the life lived there. But to get what you want, you must know what you want. To know what you want, you must learn what's possible.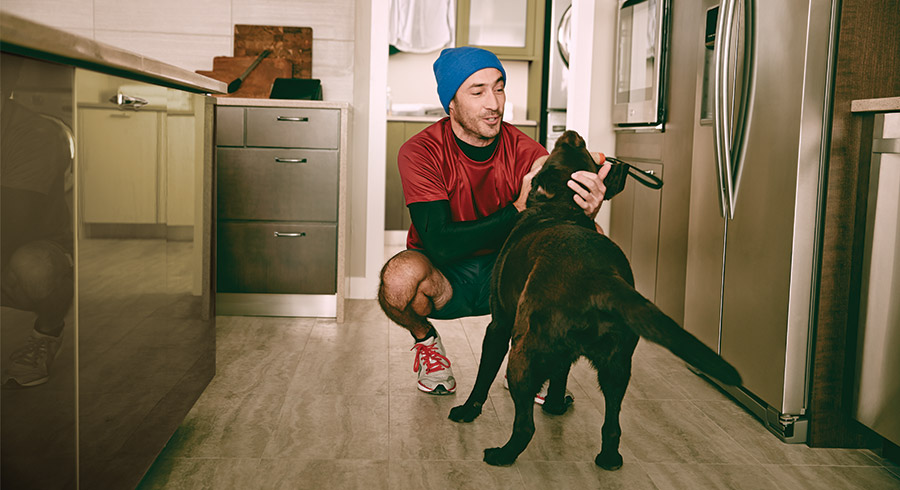 HERE ARE A FEW IDEAS THAT MAKE LIFE A LITTLE EASIER IN THE BACHELOR KITCHEN.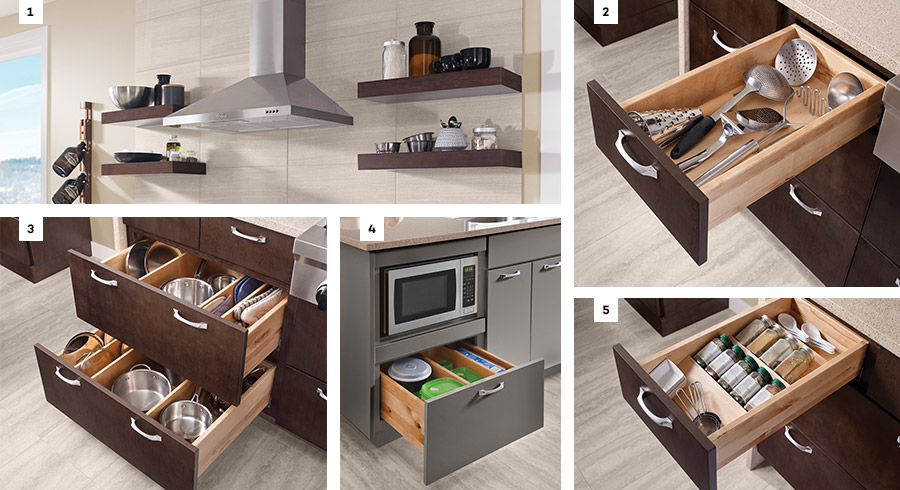 1. FLOATING SHELVES
Give you a place near the cooktop to set anything you might need or anything you might want to look at.
2. FULL-EXTENSION, DEEP DRAWERS
Solve two problems: no more fishing around in the back, thanks to the full extension, and since our top drawers are especially deep—which is standard on any cabinet—there'll be no more ladle jams.
3. ADJUSTABLE DRAWER DIVIDERS
Provide a perfectly organized place for pans and lids of pans—no banging, clanging or scratching. Also make room for a few cheesy oven mitts received as gifts from well-meaning relatives.
4. BASE MICROWAVE CABINET
Frees up counter space and leaves plenty of room for storage right underneath. (Also, keeps the hum of the microwave away from ear-level.)
5. SPICE DRAWER INSERT
Helps a foodie in the midst of a creative urge follow the cooking muse by keeping spices well-organized and right next to the stove.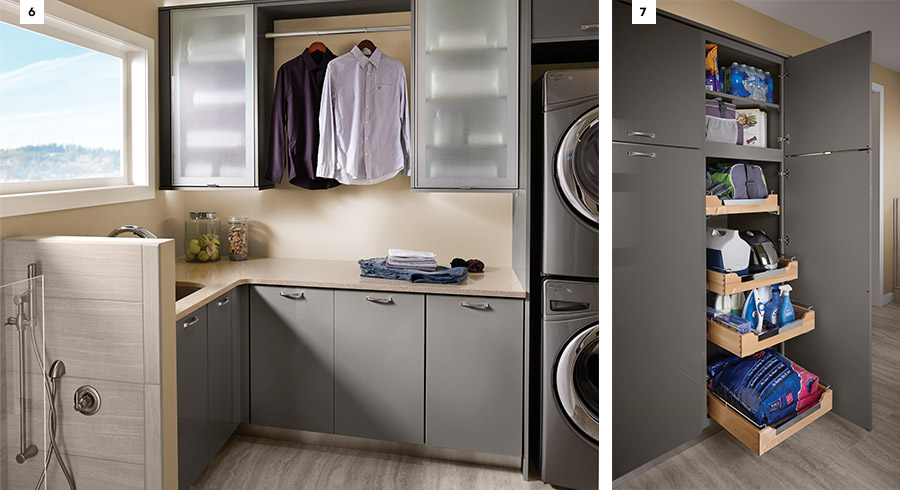 6. LAUNDRY ROOM / DOG ZONE
Laundry necessities. Pet supplies. Outdoor gear—everything in its place. (The dog will, of course, quickly learn exactly which places the leash, treats and dog toys are kept.)
7. MUDROOM STORAGE
Adds storage for all the "Oh yeah, I'll need to store that somewhere" stuff like hiking, biking and skiing equipment—or just dog food bought in bulk. Keeps clutter, dirt and "warehousing" confined to the mudroom.
A playground. A showcase. An investment. Whatever your kitchen is to you, it's always right to design it as a personal statement—whether you'll be there for a year, ten years, or who-knows-how-long.