A Hard Look at Hardware
Posted by KraftMaid Marketing on 22nd Mar 2012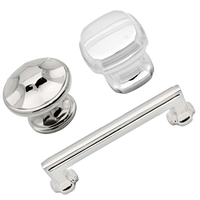 During the course of a design or remodel project, the focus often shifts from details to the big picture. Which wood should I choose, what door style do I like and what finish will stay fresh for years to come? Sometimes, the details—like hardware—get lost in the shuffle. But it's these small, personal touches that can push a room from beautiful to perfection when it comes to capturing a homeowner's style.
We've got a few suggestions for what to keep in mind when choosing your hardware, because as you know, it's all in the details!
Don't discount the power of the hardware. New knobs and pulls can change the feel of a room without doing a full remodel. With so many styles available, it can be intimidating to commit to a certain knob or pull, but rest assured, the right choice is out there. First, decide whether your search includes knobs (single-screw) and pulls (multiple attachment points).
Remember that "looks" are not the only criteria in your search; paying close attention to their feel will help narrow your choices. Often, pulls are easiest for disabled or elderly individuals because they can use their whole hand to grasp the handle, whereas knobs require more finger strength and dexterity. These are small details, but important ones to remember for multi-generational homes or if you plan to grow old in the space.
A commonly overlooked quality of hardware is the finish. Over time, bronze or brass can wear and tarnish, revealing new colors in worn areas, so keep that in mind when pairing with your cabinetry colors. And remember to polish the hardware regularly if you do buy bronze or brass.
Other considerations include the height of the hardware. Shorter pieces can cause wear and tear on the cabinets after years of fingers rubbing against the finish. Also, watch out for free-ends on pulls that can catch on clothing.
Before you make your final choice, order samples. If that's not an option, check out KraftMaid's Hardware Visualizer. Choose your door style and hardware to get a virtual taste of how it will look in your kitchen. When you do decide to buy, consider ordering more pieces than you need. Who knows what can happen over the years, having a few extra can save time and headache later.
Have fun making your choices and don't be overwhelmed. The perfect hardware for your project and your style is waiting for you to find! Follow @KraftMaid to get the latest in style and design delivered right to your Twitter feed, or check out the KraftMaid Cabinetry Facebook page and join our growing community.