Bathroom Vanity Cabinet Sizes and Styles Guide
Posted by KraftMaid on 11th Aug 2022
---
How to choose the right bathroom vanity cabinet for your space and your style..
---
Name five features in your dream bathroom. Ready? Go.
For most people, the things that immediately come to mind are a particular tile, a walk-in spa shower or maybe a high-tech toilet. But you shouldn't forget the important role your bathroom vanity cabinet plays in the overall look and functionality of the space. Here are a few key things to think about as you shop for your ideal vanity.
---
TYPES OF BATHROOM VANITIES
The combination of door style, wood species and finish you choose for your bathroom vanity will do a lot to express the look you're going for. So will the type of cabinet. Options include a conventional vanity base cabinet, a more contemporary wall-hung vanity or the furniture-like appearance of a console vanity.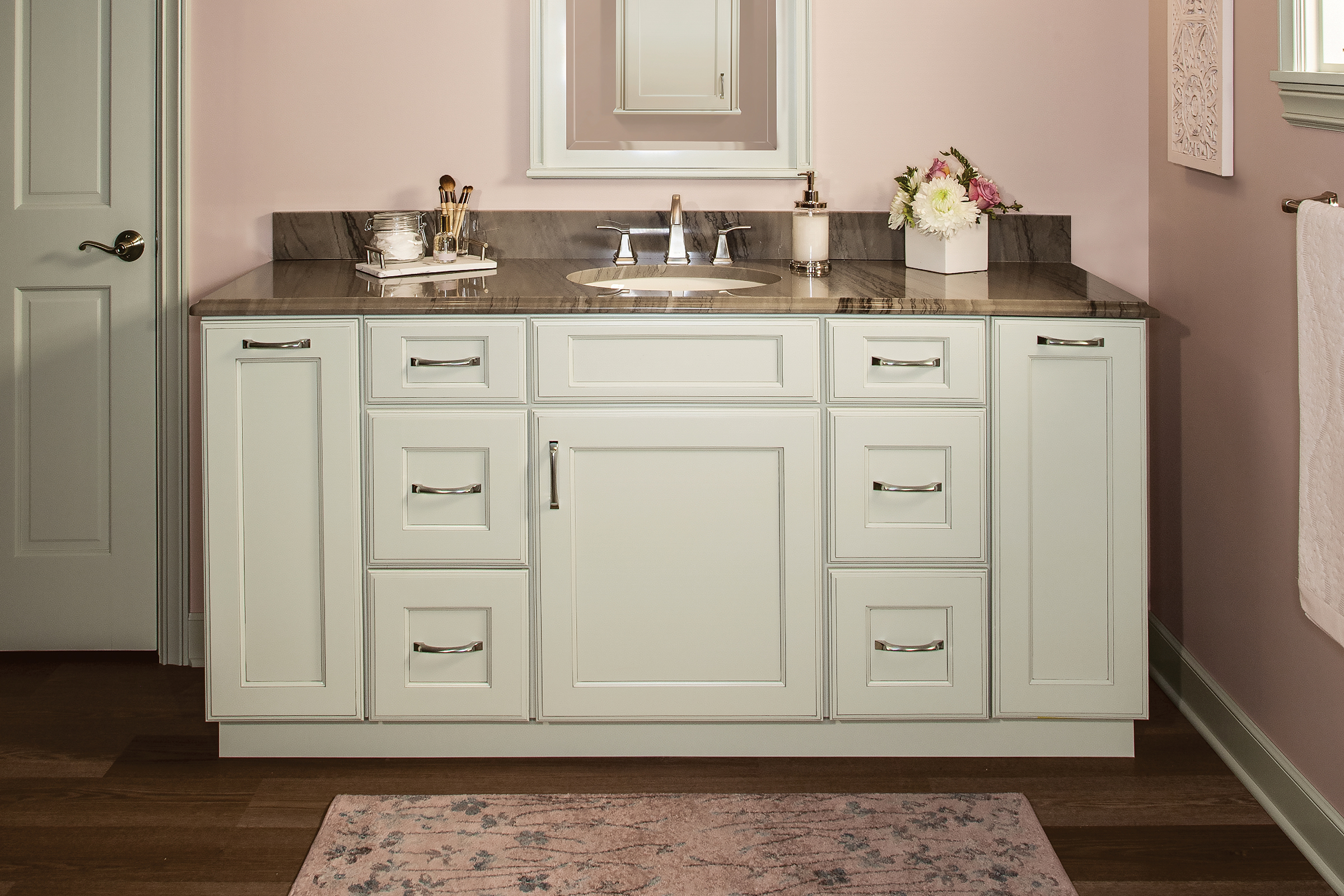 Bathroom vanity base cabinet
Vanity base cabinets are much like kitchen cabinets. They sit on the floor of your bathroom and can be freestanding (two exposed sides), installed in a corner (one exposed side) or run from wall to wall (no exposed sides) for a built-in look. These bathroom vanities maximize storage.
---
Wall-hung vanity cabinet
Wall-hung vanity cabinets – also called floating vanity cabinets – attach to the wall, leaving the area beneath them exposed. Having more visible floor can make a bathroom appear larger. Plus, you'll have fewer obstructions to clean around. Plan on adding structure behind your finished wall to secure your vanity, so you'll have a solid, worry-free installation.
---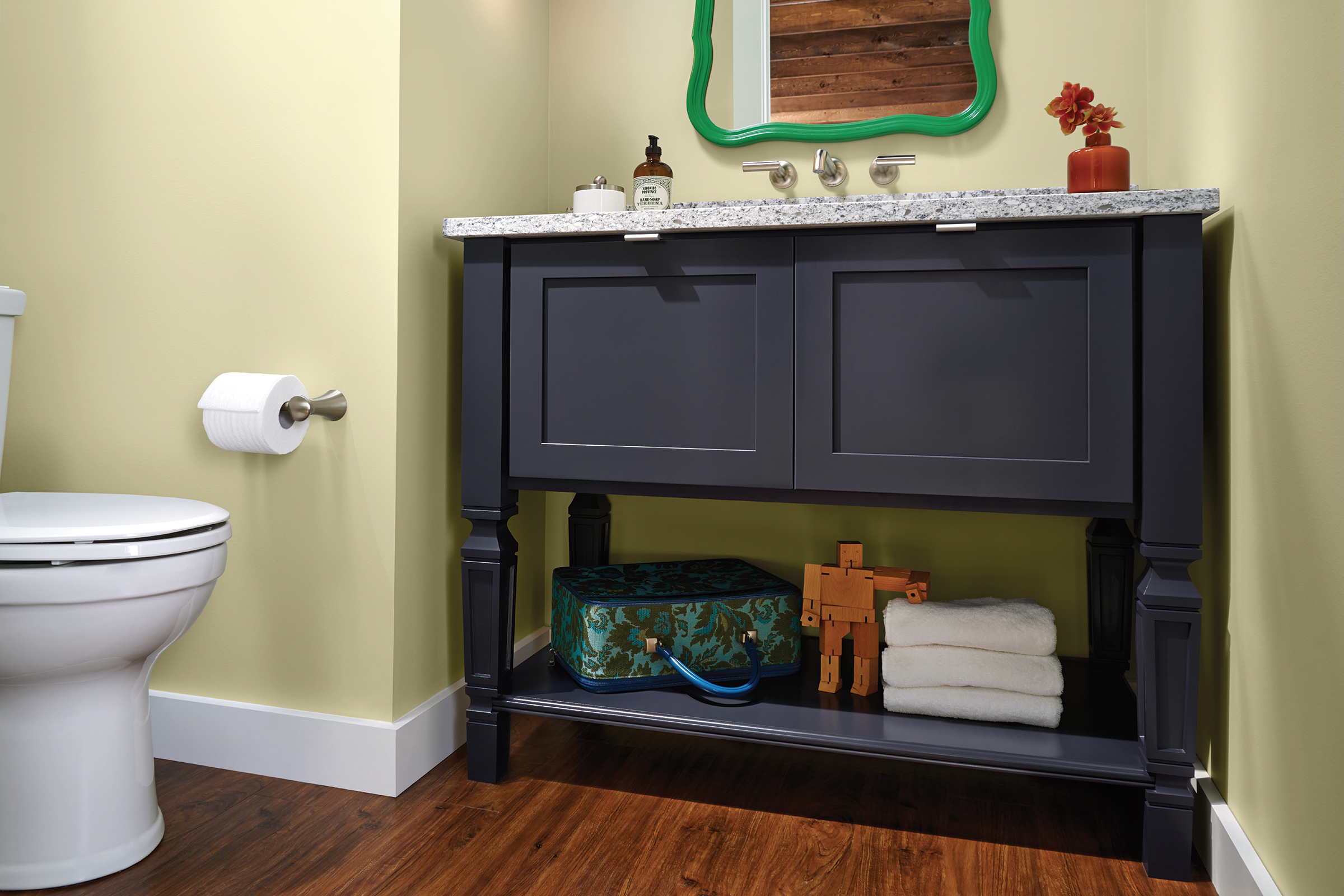 Console vanity
A console vanity looks like a side table or buffet that's been repurposed to accommodate a bathroom faucet and sink. These types of vanities have legs on all four sides and a bottom shelf beneath the closed door(s) that offers open storage.
---
BATHROOM VANITY CABINET SIZES
The layout and square footage of your bathroom will ultimately dictate the size of vanity you can install. But it's helpful to know what bathroom vanity dimensions you'll need to consider as you plan your project.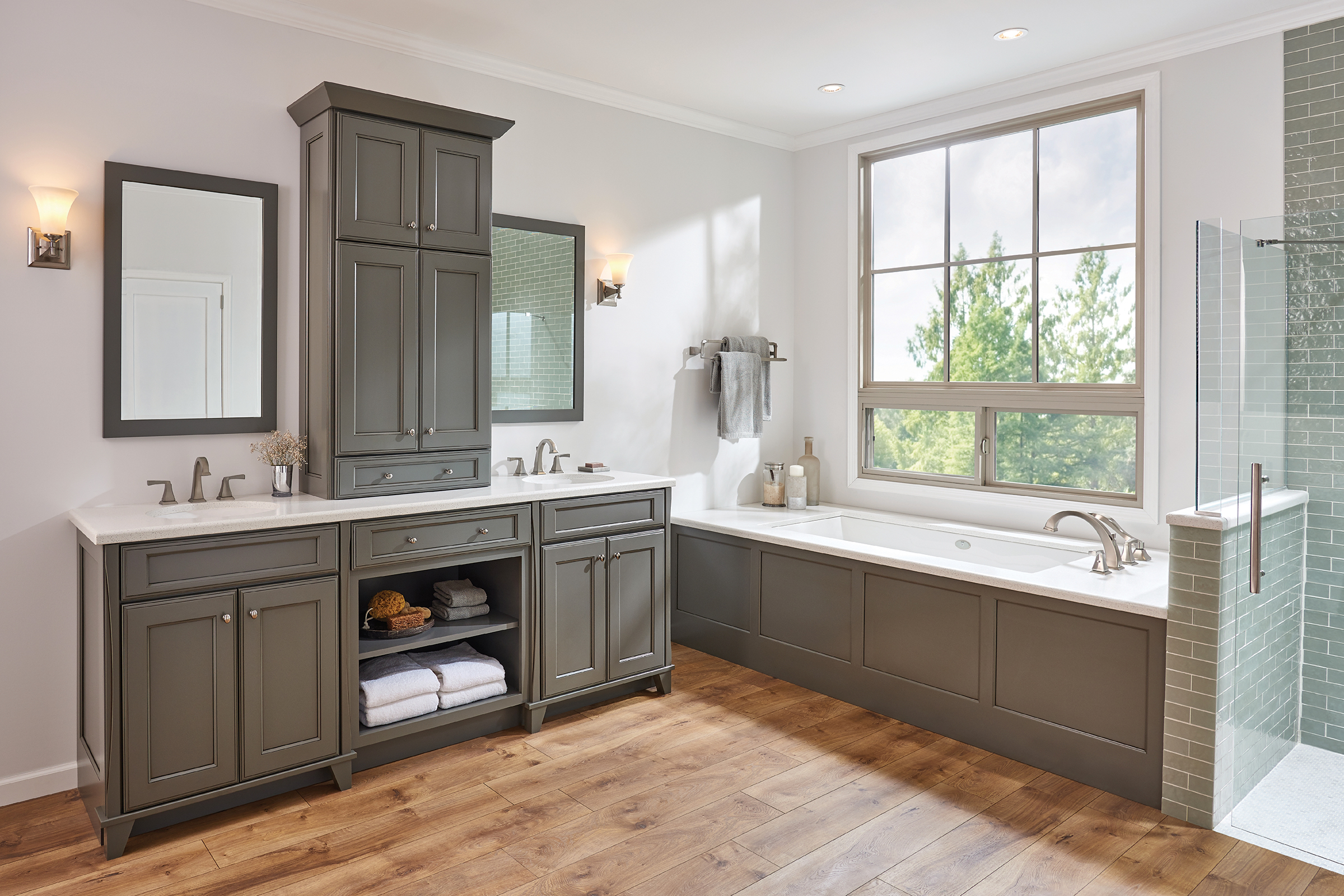 A combination of cabinets creates a custom-designed vanity
KraftMaid® bathroom vanity sink base cabinets have widths that range from 18" to 60". You can also combine several vanity cabinets to custom design an entire wall of storage with a mix of doors, drawers, pull-out vanity cabinets and even tall linen cabinets to fit your needs.
There are typically two standard bathroom vanity depth options:
21"-deep vanity cabinets maximize counter space and can accommodate a larger sink, which makes them a more common choice for most bathrooms
18"-deep cabinets are designed for tighter spaces where you may need to work around toilet bowls or door openings – or just preserve as much open floor space as possible to keep things from feeling too cramped
A standard bathroom vanity height is about 32", but many people prefer comfort-height vanities that measure 36" high – the same height as kitchen counters. While comfort height is the more ergonomic option for most people, standard height may be a better solution if you have young children who need to reach into the sink.
---
PERSONALIZED VANITY STORAGE
Like kitchens, you'll get more satisfaction out of using your bathroom when you include storage accessories that fit the way you use your space. So think about what's inside your cabinets, too.
Vanity pull-out appliance organizer cabinet
The choice between doors and drawers is just the beginning. Build out your custom vanity to include storage innovations, like a pull-out laundry hamper for dirty towels,behind-the-door storage racks for easier access to frequently used items and tiered drawer storage with divided compartments that will keep your tweezers neatly separated from your toothbrush.
---
YOU MAY ALSO LIKE: