BREAK OUT OF THE KITCHEN WORK TRIANGLE: PART 3 – POPULAR WORK ZONES
Posted by KraftMaid on 1st Aug 2017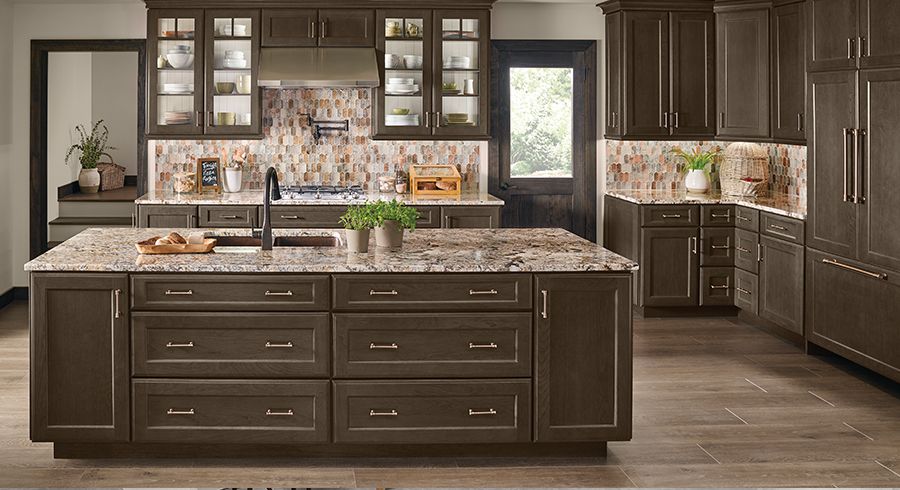 4 POPULAR KITCHEN WORK ZONES
In our post, Break Out Of The Kitchen Work Triangle: Part 1 – Why Work Zones , we discussed how many of today's designers and homeowners are forgoing the traditional work triangle in favor of more modern kitchen work zones. We also shared four principles to keep in mind to help make task-oriented areas most effective in Part 2 – Kitchen Zone Tips. This post will focus on some of today's most popular kitchen work zones for tasks you perform regularly – such as storing, prepping, cooking and cleanup – and how they streamline activities in the kitchen.

STORAGE ZONE
The storage zone includes your refrigerator, freezer, pantry and cabinets. When you group your most-used food items together, you'll be able to put a meal together quickly. Although it might not be suitable in all kitchens, a pantry next to the fridge provides lots of storage space, which can reduce the number of additional cabinets you need. Deep drawers and roll-outs are another option to provide easy access to food stored in the back. If cabinets are more your style, KraftMaid offers adjustable shelves, so you can match the shelf height to whatever you're storing. Whichever method you prefer, organizing your storage into a streamlined zone will become second nature to your family.

PREP ZONE
The prep zone is where dinner begins. The main feature: a large workspace. It's also helpful to include a Knife Section Cutting Center for slicing and dicing, an Auto-Open Wastebasket that opens and closes with a nudge as well as a second sink. If your kitchen is spacious enough to accommodate an island, that's a great choice for food prep. Another option is to position the prep zone in the periphery of the kitchen and out of the main traffic flow.

COOK ZONE
The name says it all. This area of the kitchen contains everything you need to cook, including the stovetop, oven and possibly the microwave. One must-have in this area is storage to keep pots and pans as close to the oven as possible. There are many different options, from a Tiered Pan Pull-Out to a Base Pots and Pans Organizer. Plus, Kitchen Innovations, such as the Base Pantry Pull-Out Utensil Storage, keep spoons, spatulas, and ladles close at hand.

CLEANUP ZONE
This area is where your sink and trash bins are located. Keep your cabinets cleaner with an Auto-Open Wastebasket that opens with a nudge when your hands are full or covered in something sticky. A Recycling Station next to the sink also makes cleanup more efficient. It enables you to sort the recycling while you're cleaning up, instead of on the way to the curb. To make it easy to quickly grab whichever cleaner solves the current emergency, consider a Cleaning Supply Pull-Out to store everything you need to tidy up your kitchen.
There you have it. The most popular kitchen zones and products that help streamline activities in each area. To learn about more work zones that make life easier in the kitchen, read Part 4 – Beyond The Basic Work Zones.