CoreGuard™ Sink Base Recognized as a "Top Product" by This Old House Magazine
Posted by KraftMaid Marketing on 1st Nov 2012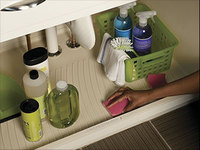 This Old House magazine has named KraftMaid's CoreGuard™ sink base as a "TOH Top 100″ product for 2012. Each year, This Old House celebrates the 100 best new home products its editors believe will make a difference in the lives of their readers by saving them time and money and making home improvement easier—all of which CoreGuard delivers.
KraftMaid introduced CoreGuard to help address issues such as minor spills and plumbing leaks that commonly happen under the sink and can result in permanent damage. With the exception of the cabinet's face frame and door assembly, all the wood and wood-based materials typically used in the cabinet construction have been replaced with an engineered polymer. CoreGuard offers a smart solution to help homeowners protect their investment by keeping their cabinetry beautiful inside and out.
The "TOH Top 100″ products, including CoreGuard, will be featured in This Old House's November/December print issue on newsstands November 2, and can also be found online.
To stay in tune with the latest news and updates from KraftMaid, be sure to check out Facebook, Twitter or the KraftMaid By Design Blog.