Cozy Cottagecore Kitchen and Bath Design Ideas
Posted by KraftMaid on 2nd Nov 2023
---
You know the trend. You've seen the hashtag. Here, we'll fill you in on what cottagecore style is and how to bring this popular design trend to your kitchen or bath remodel.
---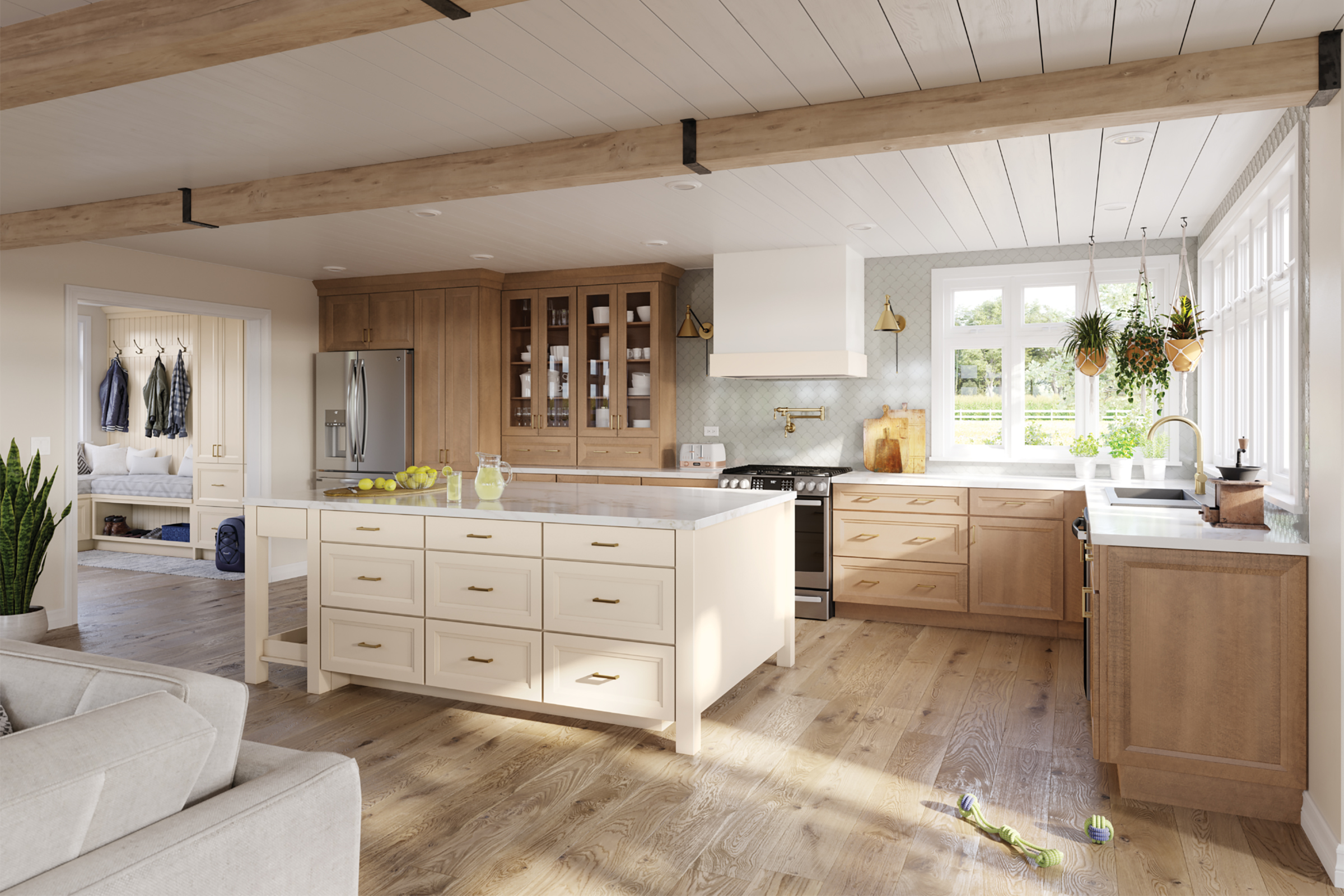 Cottagecore kitchens often feature simple, recessed panel cabinet doors and a warm color palette.
WHAT IS THE COTTAGECORE AESTHETIC?
Cottagecore is a lifestyle trend often reflected in fashion, food, and interior design. Born as a social media craze, the concept of cottagecore is based on a nostalgic portrait of rural living. In short, it's about embracing simplicity, living life at a slower pace, and having a fundamental connection to nature. Picture garden parties, chicken coops, homemade pies, and lots of organic materials throughout the home.
---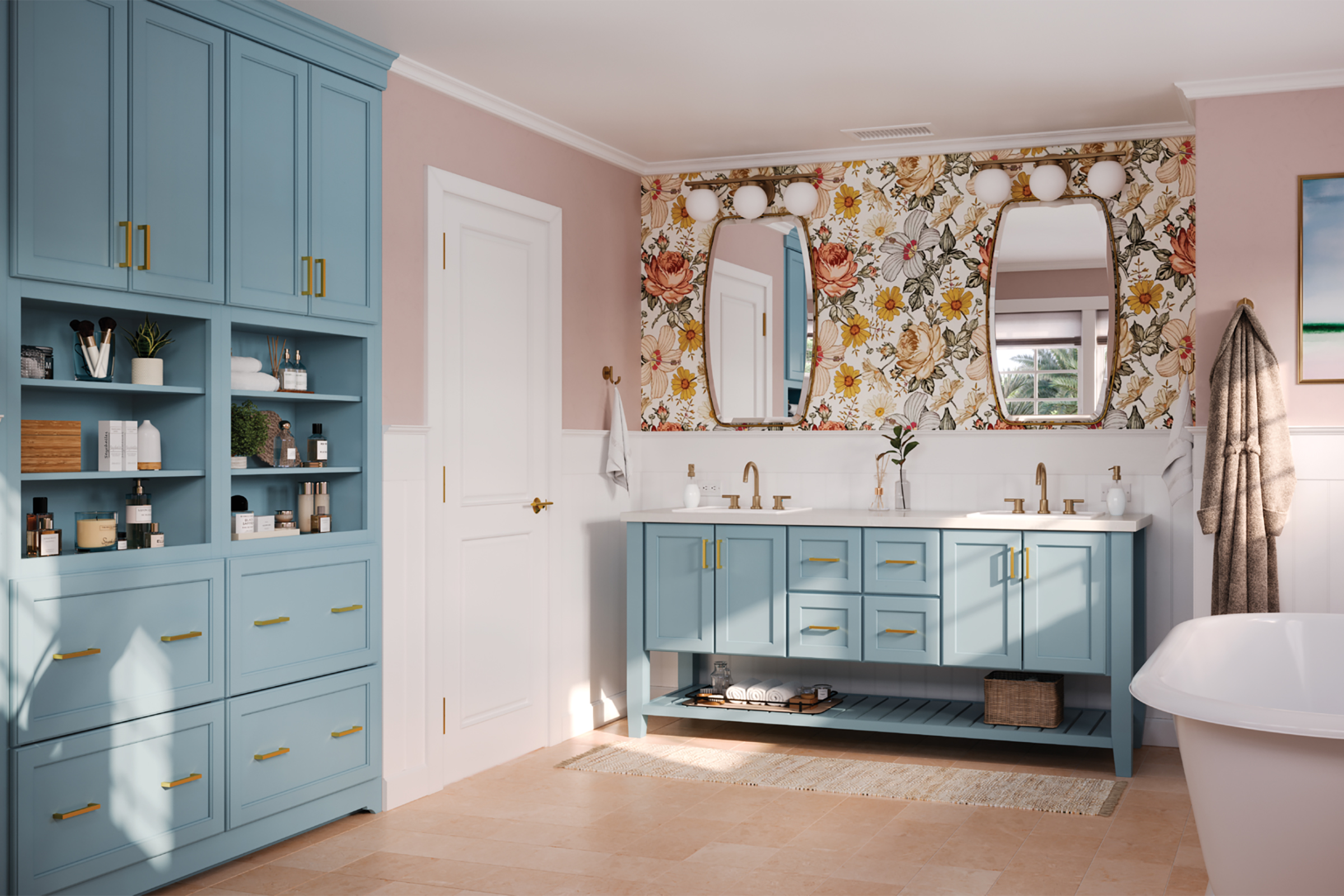 Floral motifs bring nature into cottagecore kitchens and baths.
HOW TO SPOT COTTAGECORE STYLE
"Cottagecore kitchens and baths are a blend of traditional English Country style mixed with Mid-Century Modern or Scandinavian design influences," says Bonnie Schmitz, Manager – Design Trends & Innovation at Cabinetworks Group. "Overall, it's a clean, casual look with some vintage, rustic, or repurposed design elements to bring in the back-to-basics spirit that's at the heart of the cottagecore movement."
---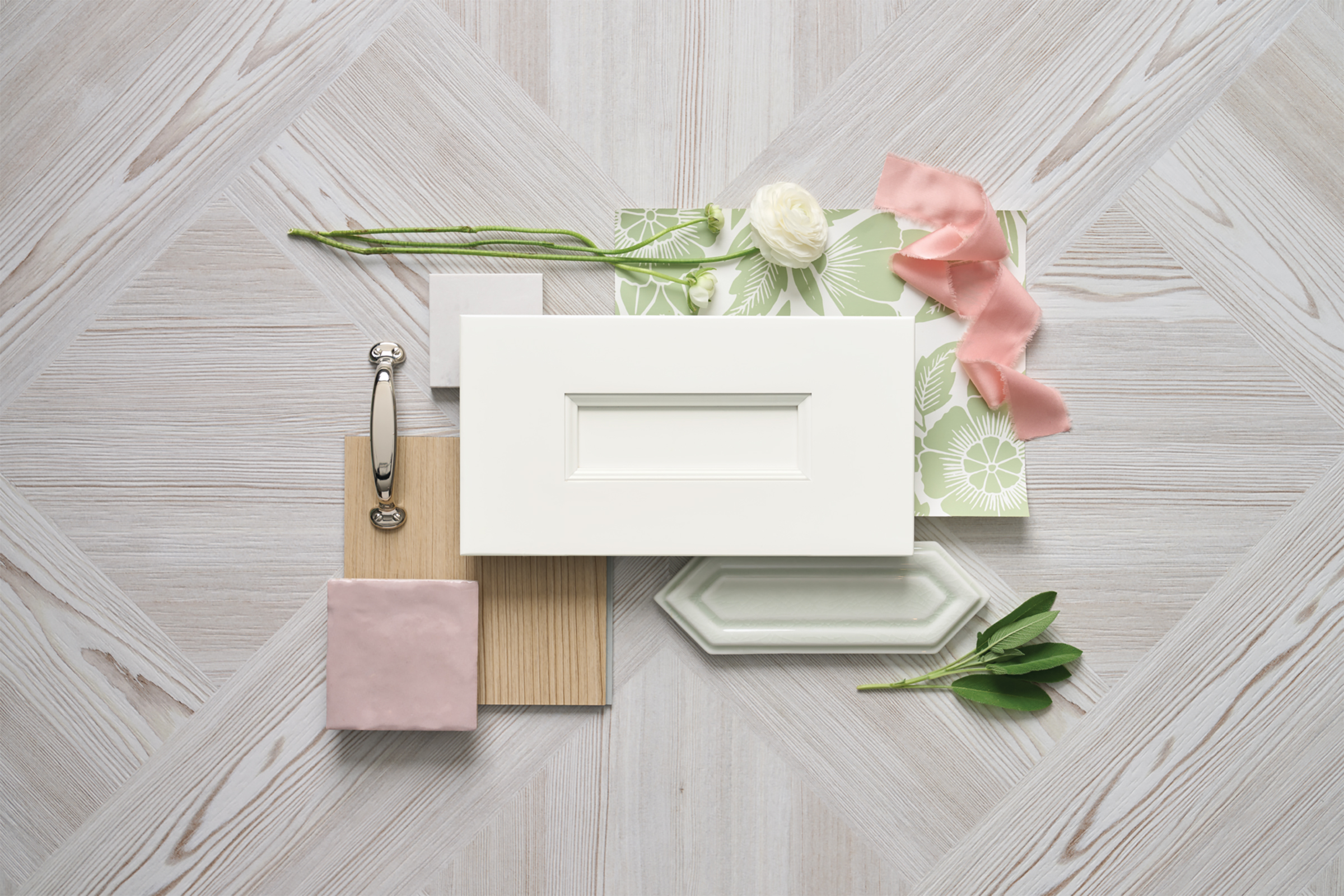 Build your cottagecore aesthetic using nature-inspired colors and textures.
THE DESIGN ELEMENTS OF A COTTAGECORE KITCHEN
Bringing nature into your design is essential to your cottagecore kitchen decor. This can mean adding or enlarging windows to grab more natural light and draw your eye to outdoor vistas. Or it could be as simple as including a windowsill herb garden, freshly picked floral arrangements, or a botanical wallpaper pattern in your design.
COTTAGECORE COLOR PALETTE
A typical cottagecore color palette reflects the sunny skies, lush meadows, and pastel blossoms of the country landscape.
Pair warm neutrals with soft, muted accents – often greens, blues, and pinks. Our Warm White and Caribbean paints are wonderful starting points as you explore colors for your project.
Choose Natural stain to let wood's organic beauty take center stage. Or opt for a light-bodied stain, like Wicker, to add a warm, earthy tone while still keeping an open, airy sense of space.
Thinking of something more unique? Translucent Limestone offers a white-washed appearance that's part vintage, all chic.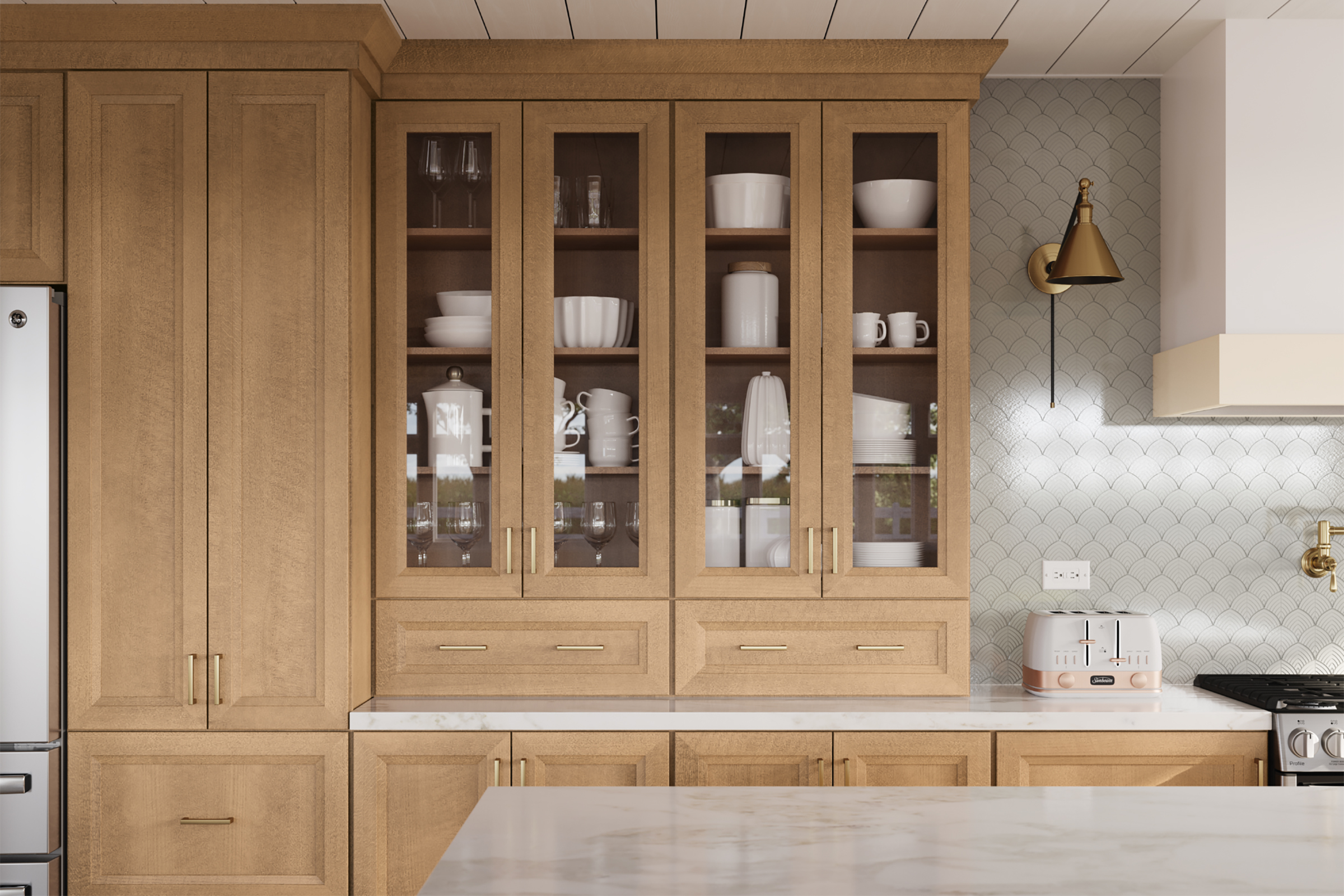 Layered textures give this cottagecore design a comfortable, lived-in appearance.
Cottagecore living forgoes technology in favor of a handcrafted aesthetic and utilitarian practicality. Translating that inspiration into a cottagecore aesthetic means choosing timeless, natural materials. And incorporating a few elements that show patina and age. (Use built-in bookshelves or glass doors to display a curated selection of well-loved, heirloom pieces that still serve you and your family well.)
Texture can also add artisanal character to a cottagecore design.
"Texture is commonly associated with natural materials and homespun quality," says Schmitz. "In cottagecore designs, beadboard and shiplap often show up on accent walls, countertop backsplashes, or even across entire ceilings to give a space extra visual dimension."
---
FIND YOUR STYLE
Not sure if the cottagecore look is exactly right for you? Check out our Explore Your Style page to get to know more about other interior design styles.