Do's and Don'ts of Kitchen Cabinet Cleaning
Posted by KraftMaid on 9th Dec 2021
---
We build KraftMaid® cabinets to have lasting beauty. With the right approach to cleaning, your kitchen will look new for years to come.
---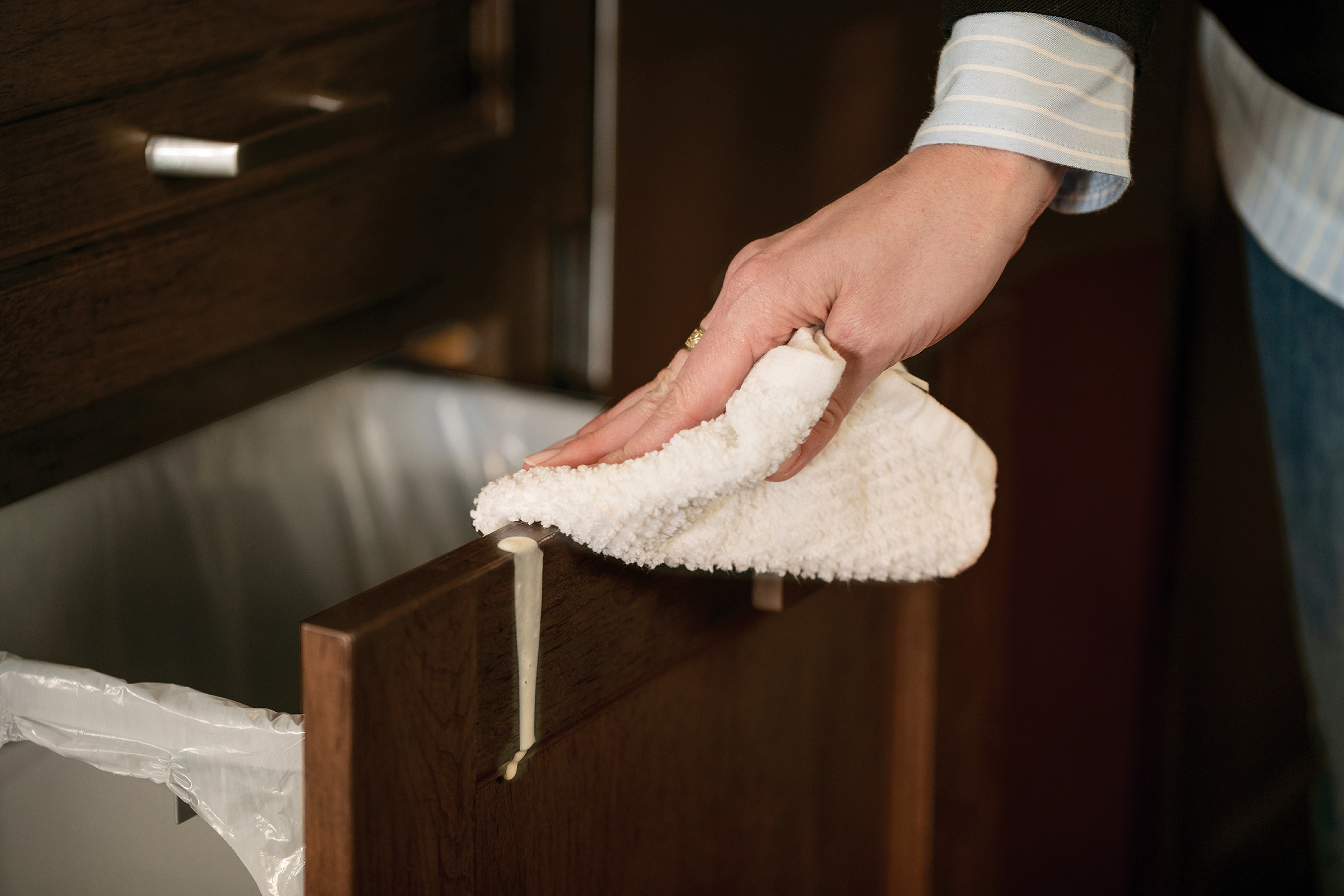 You're proud of your kitchen. And you always want it looking its best. We do too. So we put our cabinet finishes through some rigorous testing to make sure they'll stand up to the sauce splatters, sticky fingers and where-did-that-come-from grunge of everyday life. All you have to do is keep things clean along the way. Here's how to do it the right way.
DO ROUTINE CLEANING
Wiping down your KraftMaid cabinets on a regular basis will help keep them looking showroom fresh. How often? That depends. If you cook a lot, then a weekly wipe-down may be necessary – especially on the cabinets near your stove, oven, sink and wastebasket.
DO ACT QUICKLY WHEN THERE'S A MISHAP
Wipe up any dirt as soon as you notice it and any drips when they happen. It's easier to clean most substances before they dry. Plus, you'll greatly minimize any chance of having discoloration or staining left behind.
DO USE WARM WATER
Always choose a soft, damp cloth as your go-to cleaning tool. (It's OK to add a few drops of mild grease-cutting dish soap or an emulsion-type cleaner, like Murphy® Oil Soap, if you've got particularly stubborn grime.) Immediately dry the surface with a lint-free cloth to avoid streaks or spotting.
DO GRAB A FRESH TOWEL
While it's probably second nature to reach for a nearby dish towel or kitchen sponge, it's not the best idea. Those items may be soiled with harsh detergents or food grease – stuff you don't want to unknowingly smear on your cabinets. Opt for a clean cloth instead. We recommend cotton or microfiber.
---
DON'T BE ABRASIVE
Nylon scrub pads, powdered cleansers and steel wool are all no-no's when it comes to cleaning cabinets. You don't want to rub anything harsh against the clear topcoat.
DON'T USE PETROLEUM-BASED CLEANERS OR POLISHES
To prevent clouding or dulling, avoid mineral spirits and acetone (nail polish remover). Protect your cabinets from oven cleaner because it will etch the surface. Silicone polishes, and even natural waxes, can build up, streak and haze over time. If there's a doubt, then don't use it.
DON'T FORGET THE DOOR AND DRAWER TOPS
Airborne cooking grease tends to settle on the top edges of doors and drawers. You don't want hidden gunk to build up there. During your routine cleaning, remember to open and wipe around each door and drawer as you go. (Tip: Minimize the grime by always using your range hood when you cook too.)
DON'T POLISH (BUT IF YOU MUST … USE KRAFTMAID POLISH)
Protective topcoat layers in our DuraKraft™ Plus Finishing System are designed not only to protect the finish on your cabinets but also to save you from ever having to polish them. If you still want to get hands-on, then order a KraftMaid cabinet care kit that has cleaner and polish formulated just for our products.
Run into something that a good cleaning can't fix? Get tips on how to touch up your cabinets and make those minor dings or scratches disappear.
---