How to Pick the Perfect Kitchen Backsplash Tile
Posted by KraftMaid on 4th Feb 2021
---
You'll come across thousands (and thousands) of tile options for your kitchen backsplash. Finding the right one in this sea of choices can be a challenge. We'll break down the process.
---
Sure, a backsplash protects your walls from sudsy splashes and saucy splatters – but it's also an opportunity to add interest and a touch of your own personality to the space.
We've seen everything from beadboard panels and vintage tin ceiling tiles on rustic kitchen backsplashes, to back-painted glass and mirrors in contemporary spaces. But far and away, tile is the most common backsplash application.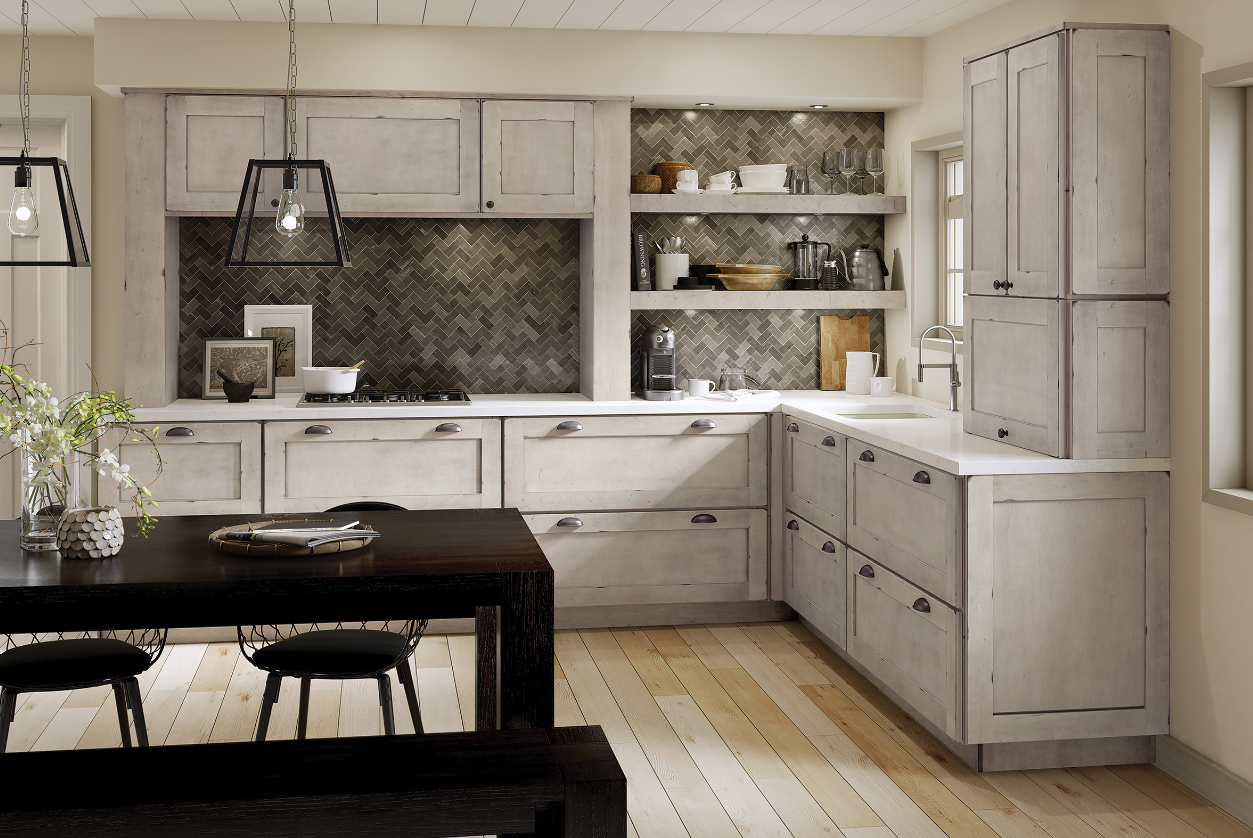 Five Key Considerations for Picking Backsplash Tile
Before you start your search, let's go through some of the options you'll find and decisions you'll face when shopping for tile:
1. Material
Settling on a type of tile is one way to begin narrowing your options. Different materials offer different advantages.
Ceramic and porcelain tile have long been popular options based on their affordability, durability and nearly unlimited design potential.
With a sophisticated appearance and timeless appeal, it's hard to beat a natural stone . Keep in mind that stone, like marble or tumbled travertine, is porous. It must be properly sealed (and resealed) to ensure stain resistance.
Glass, stainless steel and other metallic tiles are easy to wipe clean and add an eye-catching sparkle to the room – a high-end look that often comes with a higher price tag.
With lively graphic patterns pressed directly into the material, cement tile is a hot trend right now. Note that these tiles are thicker than typical ceramic tile and come with slight irregularities that complicate installation.
---
2. Color
Color plays a big role in the look of your backsplash. Do you want it to be a unifying element? Or do you want it to stand out as a design feature?
If you want your backsplash to become a cohesive part of the overall color scheme in your kitchen, take color cues from your countertops, your cabinets or both. Find a tile that coordinates well with those nearby colors.
On the other hand, you can make a bolder statement with your backsplash. Add colorful tiles to an all-white kitchen. Or draw your attention to the backsplash with a band or inset of contrasting accent tiles in a field of neutral tiles. One common spot to create a focal point is the wall area above the range.
---
3. Size
The standard distance between countertop and wall cabinet is 18 inches. Choose a size relative to that space.
If you're going for a sleek, streamlined look, consider a large-format tile to cover the entire distance between your counter and cabinets and, in turn, limit the number of grout lines.
For a more customary application, it's best to choose tile less than 6 inches high, so you get at least three courses, or rows, of tile on your backsplash.
---
4. Shape
Square, subway and multisize mosaic. Penny rounds, octagons and chevrons. Arabesque, scallops and elongated pickets. If you can imagine it, there's probably a tile in that shape.
Shape is largely a matter of personal preference.
With a sophisticated appearance and timeless appeal, it's hard to beat a natural stone. Keep in mind that stone, like marble or tumbled travertine, is porous. It must be properly sealed (and resealed) to ensure stain resistance.
Generally speaking, the more unusual the shape, the more playful and contemporary the feel.
Complex tile shapes can make installation more difficult and inflate labor costs.
---
5. Pattern
Some tiles have intricate patterns molded into the tile itself. But even plain, white, 4" x 4" tile creates a design just by how it's applied. Once you find a tile you like, consider how you'd like it installed.
Square tiles arranged in a standard grid or diamond pattern, and subway tiles applied in a horizontal offset (brick) pattern, are common because they tend to work well with nearly any design style.
Intricate arrangements, like basketweave and herringbone patterns, offer a sense of luxury. But the more complex patterns can look busy to some.
Straight-set (stacked) subway tiles or other rectilinear tile shapes applied in a vertical or diagonal arrangement are popular choices for hipper, contemporary-style kitchens.
Pick a grout color that closely matches the color of the tile if you want to minimize the tile installation pattern. Contrasting grout will accentuate it.
Now grab the finish chip for your KraftMaid cabinets®, your countertop sample, an inspirational pic or two, and head off to the tile showroom.
---
Pro Tips:
Get a luxe look by carrying your backsplash tile all the way to the ceiling on either side of the sink or behind your cooktop vent hood.
If you picked a countertop with bold veining or a powerful pattern, contrast that with a simpler backsplash so the two don't compete for attention.
Use undercabinet lighting to accentuate your backsplash.
Order extra tile to account for the waste that results from making necessary cuts during install. Add 10% to the area you need to cover for simple grid patterns and 15-20% additional for more complex shapes and patterns.
---