Be Your Own Barista: At-Home Kitchen Coffee Station Ideas
Posted by KraftMaid on 22nd Nov 2022
---
Turn your kitchen into a café by integrating a coffee bar into your remodel plans.
---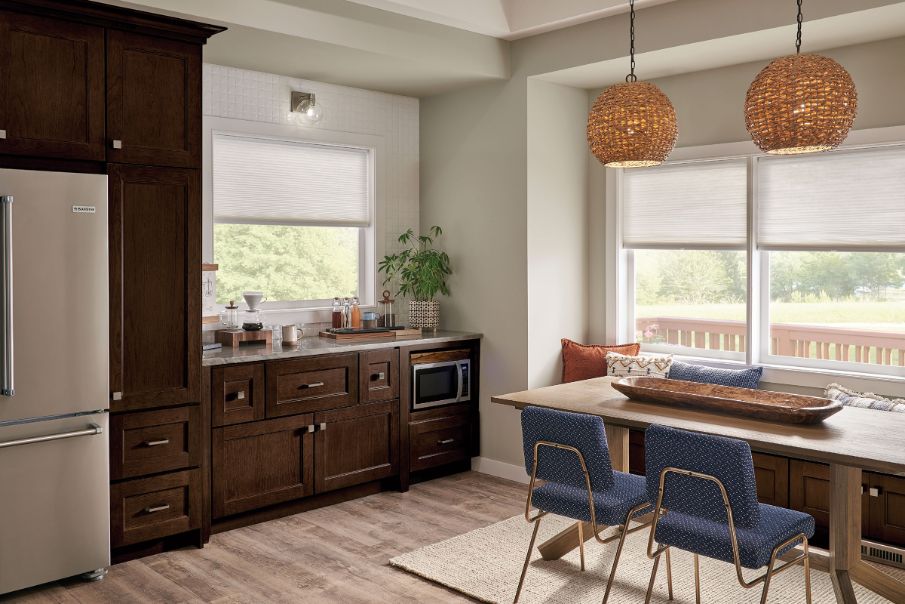 For many of us, coffee is life – from that get-me-going cup in the morning to the after-dinner espresso. But not everyone has the time or budget to venture to a local coffeehouse when the cravings hit. Carving out space for a dedicated coffee station in your kitchen is an easy, convenient way to treat yourself to a fresh brew (tea or hot cocoa, too) any time of the day. Here are a few things to consider as you design your at-home coffee bar.
---
PLAN A WELL-ORGANIZED COFFEE AREA IN YOUR KITCHEN
An efficient home coffee station has everything you need within reach. So, come up with a storage plan to house all the coffee-related supplies you use most often. Open shelving is great for mugs and decorative sugar canisters, while drawer organizers help corral spoons, napkins, and bags of coffee beans or single-serve coffee pods.
Open shelving provides easy access to coffee supplies.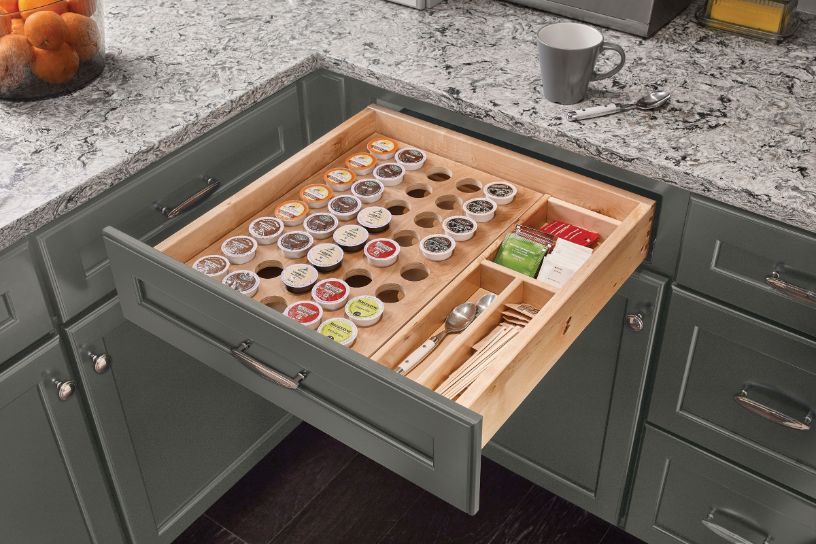 Organized storage helps you keep your home coffee bar neat and well-stocked.
---
COFFEE, HOLD THE CLUTTER
As much as you love your coffee, you don't necessarily love the idea of having a home coffee station in plain sight. Use an appliance garage to hide equipment, like your coffee maker, French press and coffee grinder, behind closed doors when you're done with it. Or embrace your inner barista and set up a fully loaded, floor-to-ceiling coffee bar behind a walk-in pantry cabinet.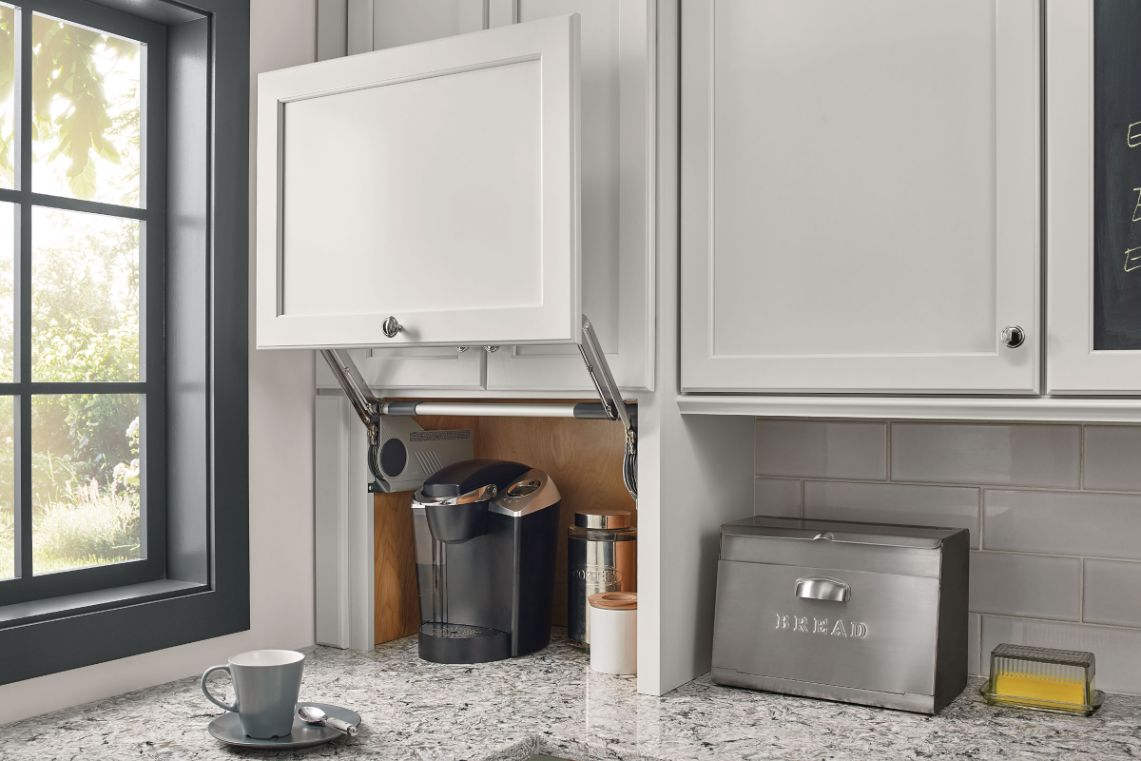 An appliance garage offers easy access to coffee gadgets and a neat appearance.
---
NO COUNTER SPACE FOR A COFFEE STATION? NO PROBLEM.
It can be a challenge to find a spot for a coffee station in a compact kitchen with limited counter space. Why not make one that appears and disappears at a moment's notice? It's as easy as turning a KraftMaid base cabinet with mixer shelf into a coffee station cabinet. With a pull-up shelf that easily rises to counter height, your coffee maker will remain plugged in and ready to use without taking up permanent residence on your counter.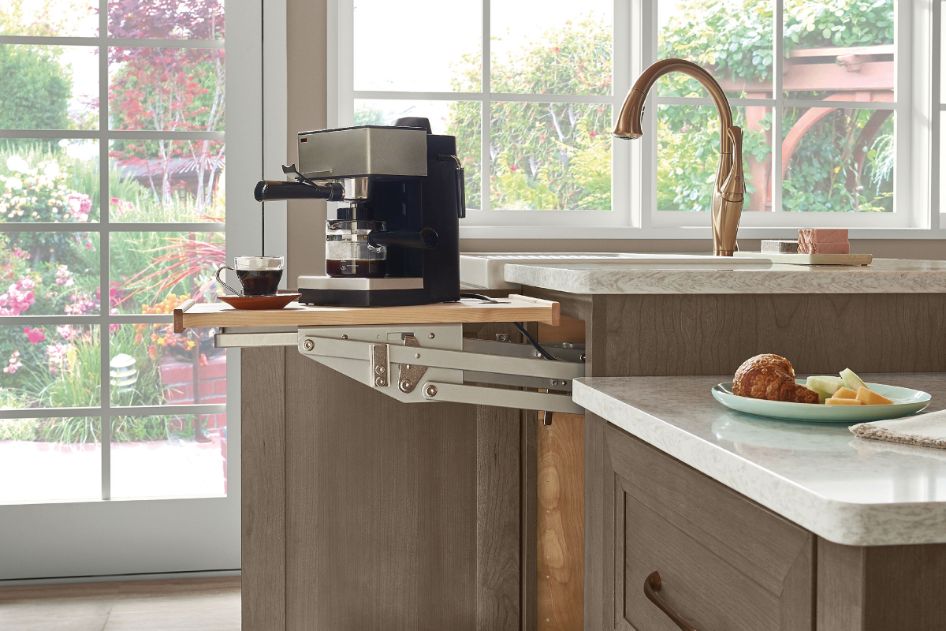 Use a pull-up mixer stand for a here-one-minute, gone-the-next coffee station.
---
MORE WAYS TO PERSONALIZE YOUR COFFEE STATION
Early risers will appreciate undercabinet LED lighting on mornings when coffee comes before the sunrise.
A pull-out wastebasket near your coffee station eliminates the mess of disposing wet grounds.
Consider adding a beverage sink or wall mount faucet to quickly refill your coffee maker.
Expand your coffee station beyond coffee by installing a built-in microwave for heating up snacks and a beverage fridge for refreshments.
Ask your local KraftMaid designer to help you create the perfect coffee bar in your home.