Kitchen Storage Ideas: Pantry Cabinets
Posted by KraftMaid on 31st Jan 2022
---
Pantry storage is a hot feature in today's kitchens. It can be as easy as including a few purpose-built pantry storage cabinets in your design plan or as elaborate as building out an entirely separate room.
---
A pantry is more than just a hideaway for cans, cookbooks and bins of dog food. Keeping things well organized and readily available in a kitchen pantry can help you run a more efficient home – with faster meal prep, fewer trips to the grocery store and less waste from letting hidden foods expire. And with more clutter hidden away neatly in your pantry cabinets, your kitchen can be a more beautiful space too. Use these kitchen pantry cabinet ideas to transform your kitchen.
FOUR THINGS TO CONSIDER FOR KITCHEN PANTRY STORAGE
Accessibility – Shallow pantry storage shelves, up to about 12" deep, let you easily see what you have on hand and quickly grab what you need. Nothing is overlooked or forgotten. If you want to create pantry storage in an area deeper than that to maximize your storage, roll-out trays and pull-out pantry cabinets can bring your items out to you.
Customization – Think about the dry goods, appliances and cookware you'll keep. Plan your pantry storage around those items but allow for future flexibility. For example, consider adjustable racks on the back of your pantry doors or EZ Adjust Deluxe Roll-Out Trays, which can be repositioned up or down in minutes and without tools.
Location – A pantry stocked with ingredients you use all the time should be within easy reach of your meal prep zone. One with bulk paper towel storage and holiday-themed dishware can be tucked around the corner and out of sight. (There's no rule that says your kitchen can only have one pantry, either. Place a pantry storage cabinet in the middle of your space for frequently used items and another off to the side for longer-term storage.)
Style – Do you want your pantry cabinets to blend in with the rest of your kitchen? Or would you like to make them focal points with a contrasting cabinet finish, glass doors or open shelving with baskets and decorative containers on display? With so many pantry storage ideas, you can design yours to suit your needs and your style.
---
TYPES OF KITCHEN PANTRY DESIGNS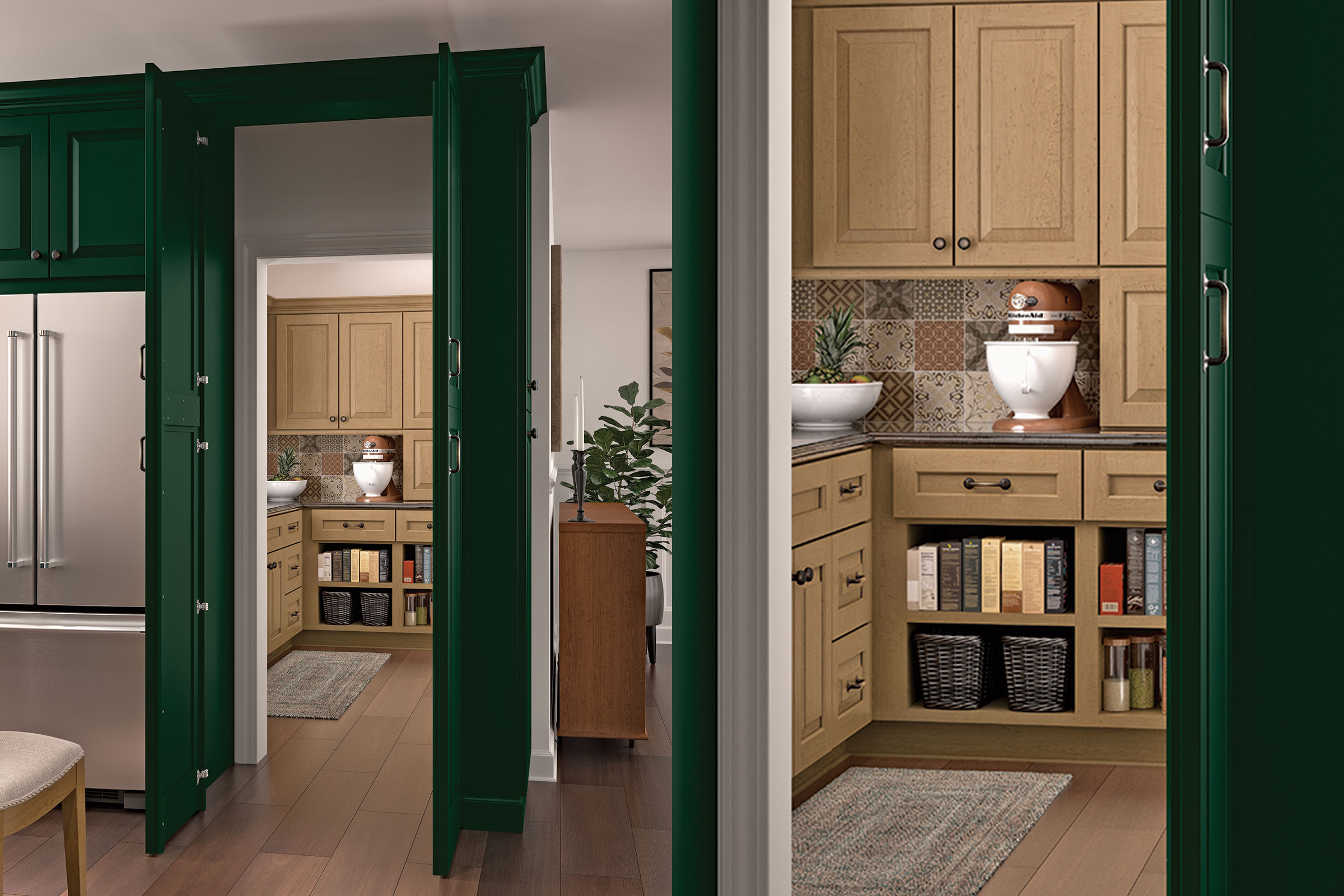 Butler Pantry Ideas
With countertop work space, electrical outlets and loads of pantry cabinets, a traditional Butler's Pantry can act like a second kitchen. Here, a Walk-Through Pantry disguises the entry to a hidden, separate room – with a door style and color that seamlessly blend in with the rest of the kitchen cabinetry.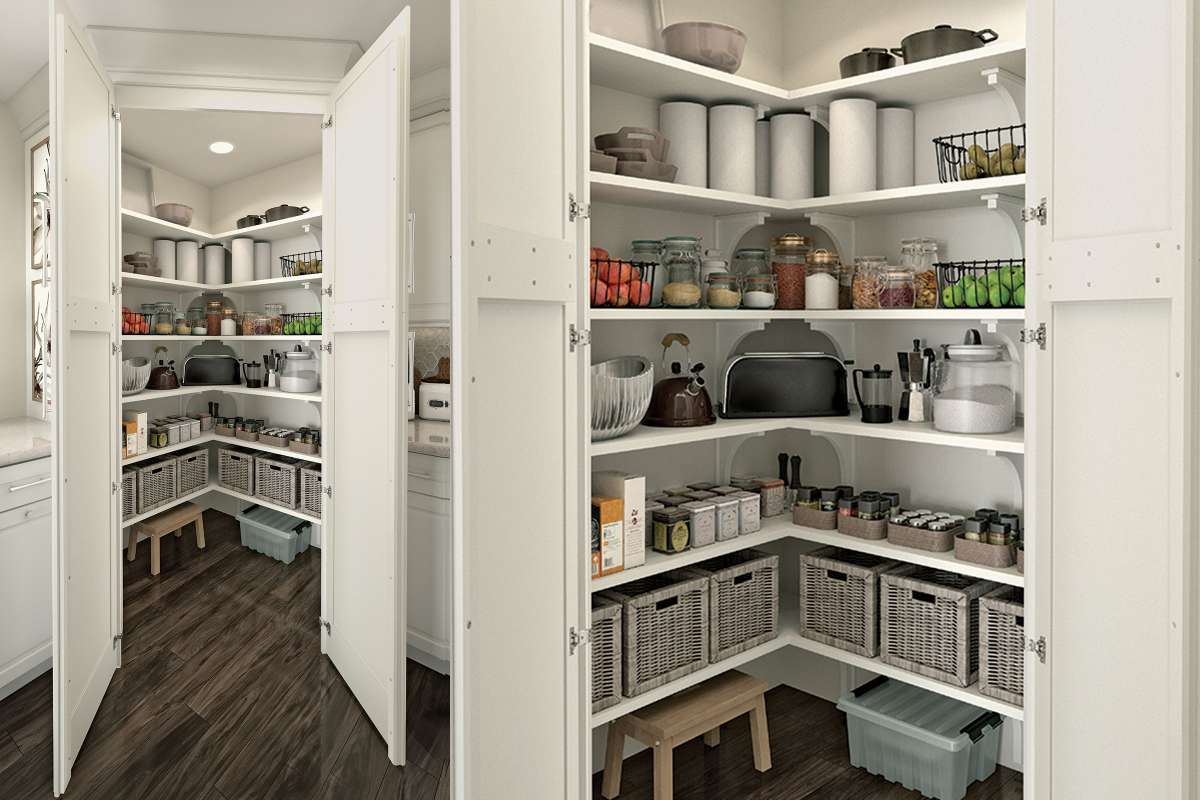 Walk-In Pantry
Lined with floor-to-ceiling shelves, a Walk-In Pantry in the corner of the kitchen can add tons of convenient storage. Plus, walk-in pantry storage is a great solution for the harder-to-use (or wasted) spaces created by running upper and lower cabinets all the way into the corner.
---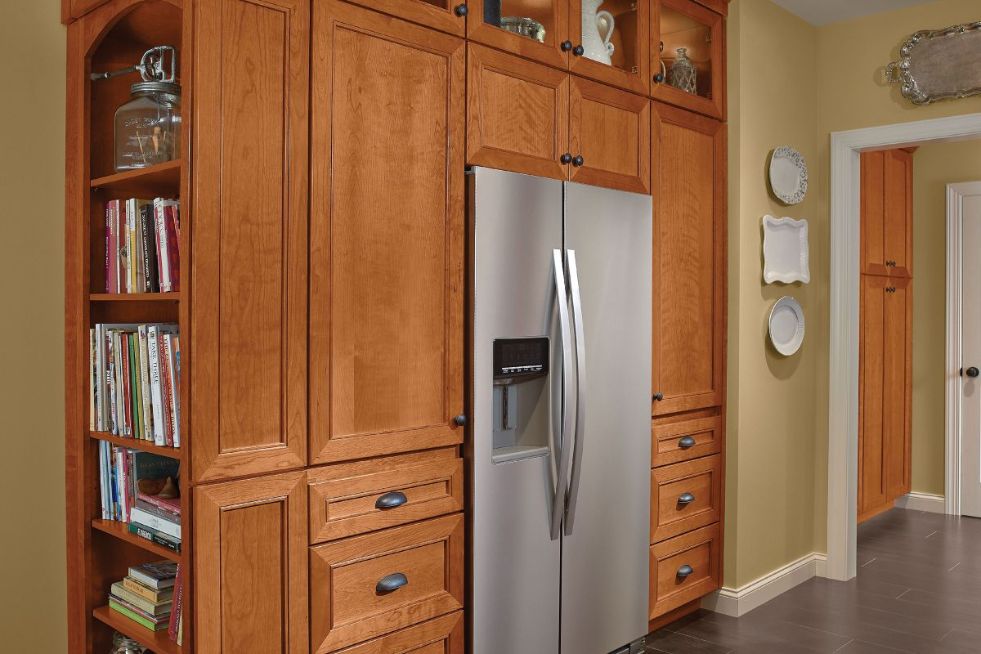 Reach-In Wall Pantry Cabinets
Create a custom reach-in pantry by designing an entire wall of storage as part of your kitchen layout or by recessing kitchen pantry cabinets in an annexed closet space nearby. Either way, you'll get functional pantry wall storage behind those beautiful cabinet doors.
---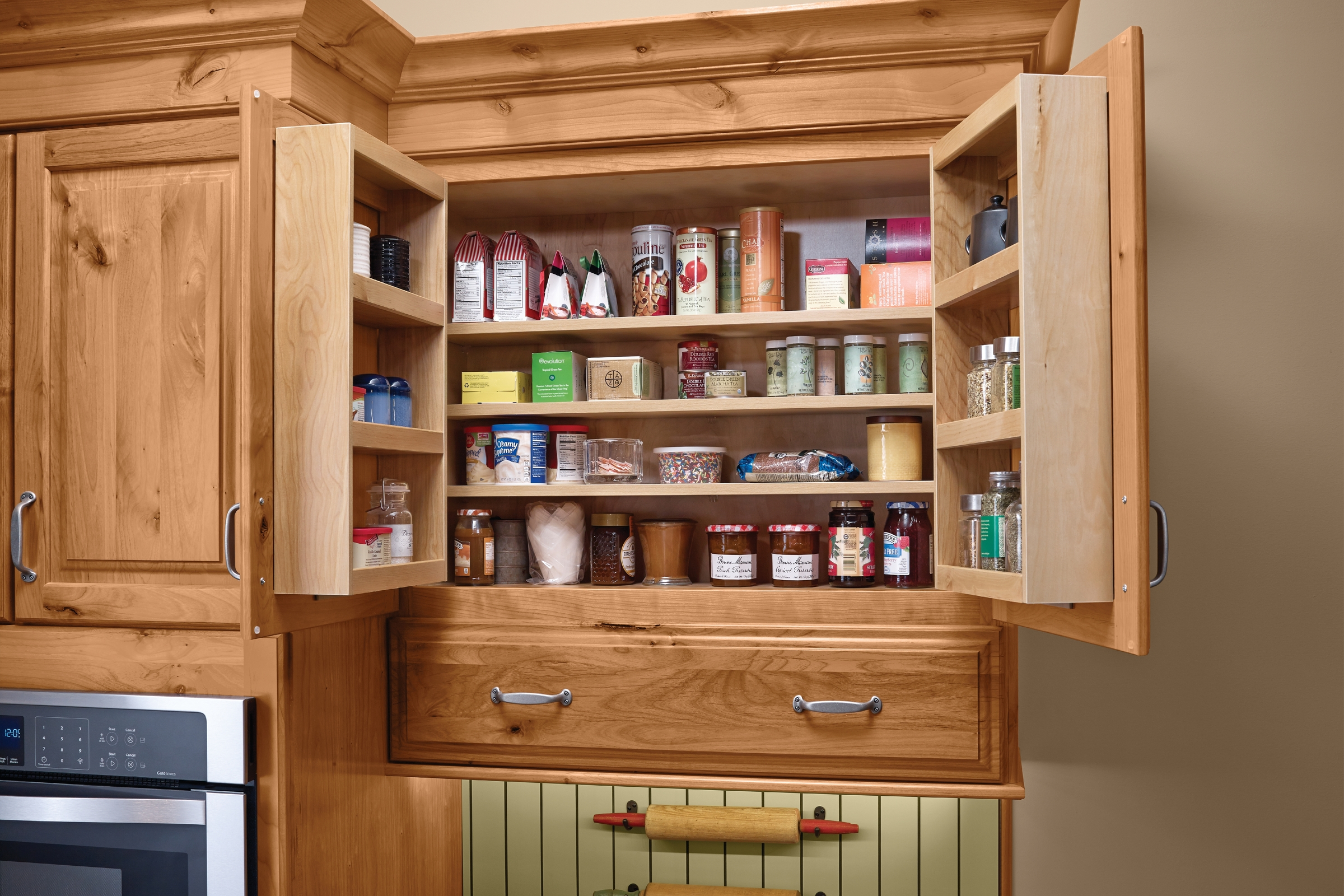 Integrated Pantry Storage
Sometimes you don't have room for an entire pantry. That's why KraftMaid makes individual small pantry storage cabinets for upper, lower and corner placement to fit right into your kitchen design. Combine these with useful innovations, like our Tiered Storage Shelf, to get the benefits of a pantry in a smaller footprint.
---
MORE WAYS TO PERSONALIZE YOUR STORAGE
Get more out of every KraftMaid cabinet you have with innovative storage accessories. From inserts that make your drawers smarter to racks designed to organize your pots and pans, you'll find a storage solution for every need.