Top-Five Most Popular Kitchen Cabinet Stain Colors in 2022
Posted by KraftMaid on 23rd Sep 2022
---
Explore our best-selling kitchen cabinet stain colors and get ideas on how to use them in your kitchen.
---
While white painted kitchen cabinets seem to be everywhere you turn, stain remains a fashionable choice for kitchens. In fact, Houzz Kitchen Trends Study survey found that one in five homeowners (21%) chose wood tone for their new kitchen cabinets in 2022. Many are choosing these popular KraftMaid® cabinet stain colors for their projects.
---
NATURAL STAIN COLOR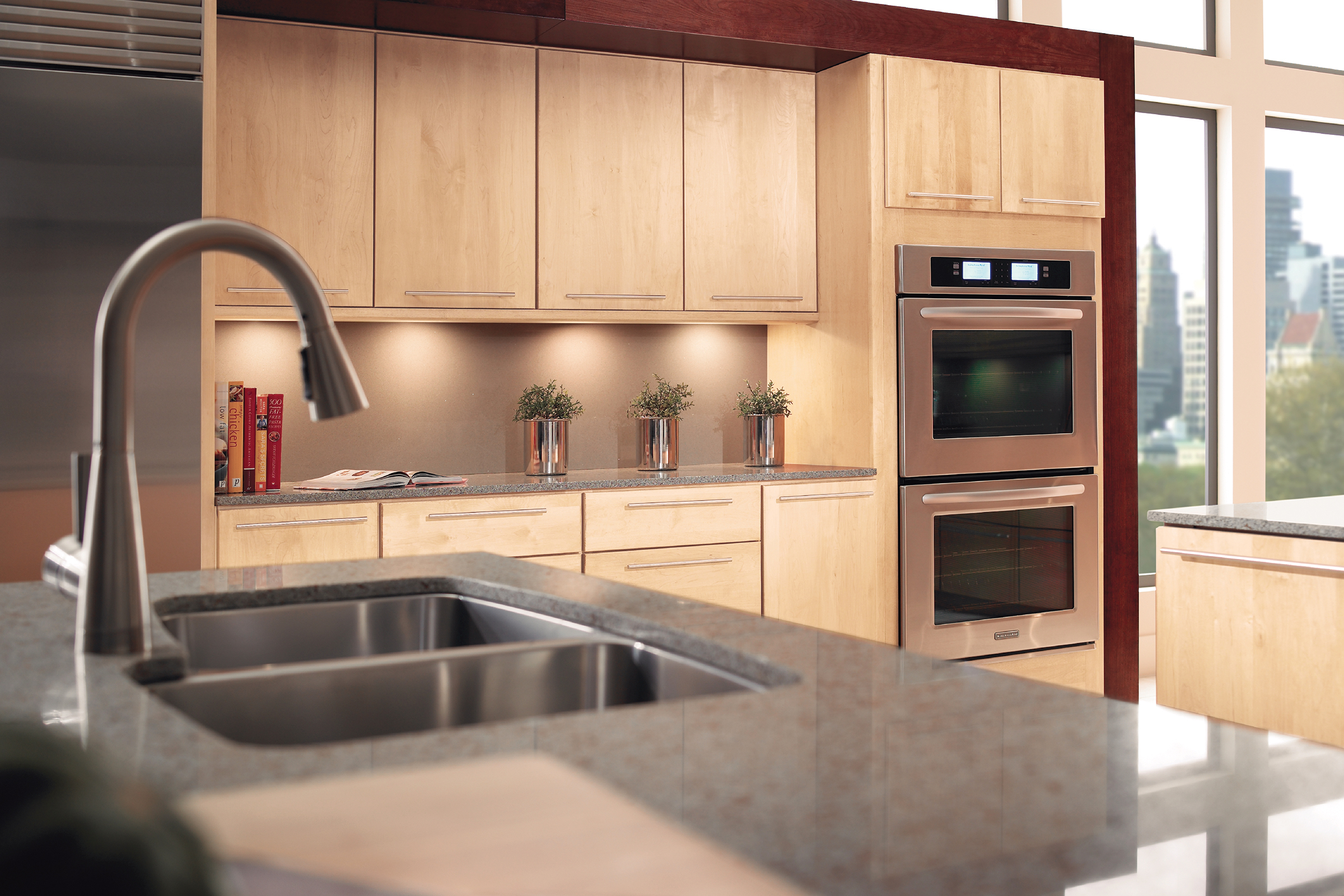 Blonde Bombshell kitchen featuring Natural stain on Maple
Natural stain has long been one of our most popular cabinet stain color options. While technically not a color, this clear cabinet stain adds a subtle luster to the natural wood grain patterns in the wood species you choose, and highlights organic characteristics and color variations present in every board used to build your cabinets. In other words, a natural cabinet stain makes what's already beautiful about wood even more attractive.
---
HONEY SPICE STAIN COLOR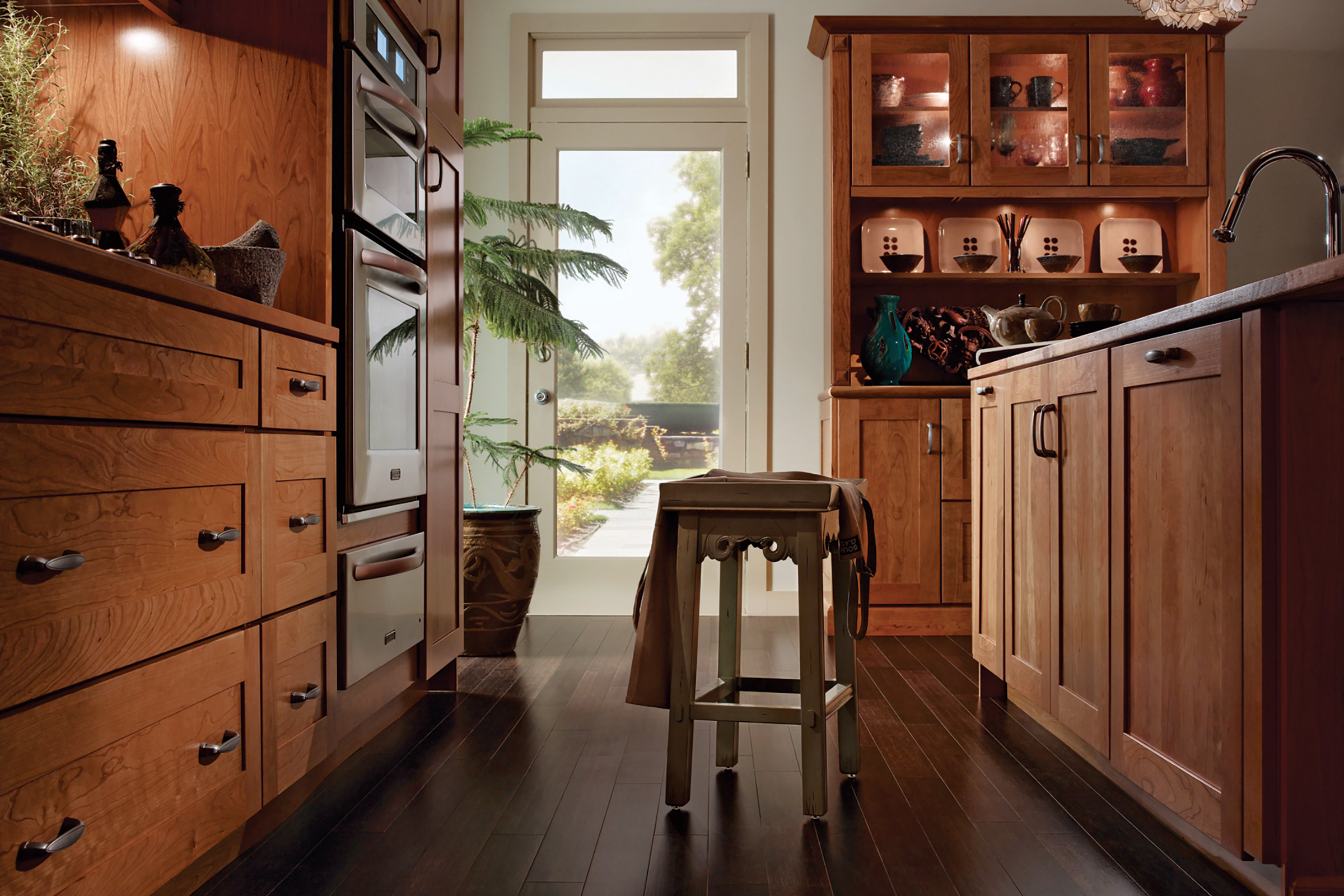 Outdoors in kitchen featuring Honey Spice stain on Cherry
When you think of a classic cabinet stain color, you probably picture something like Honey Spice. The amber undertone of the KraftMaid Honey Spice stain brings a warm, inviting appeal to any room. There's just a hint of color in this stain – nothing that will hide the natural traits of the wood – and that light touch makes Honey Spice so versatile. It looks especially sharp with warm neutral paints (Cottage, Riverbed) or stark colors (Dove White, Onyx).
---
BARLEY STAIN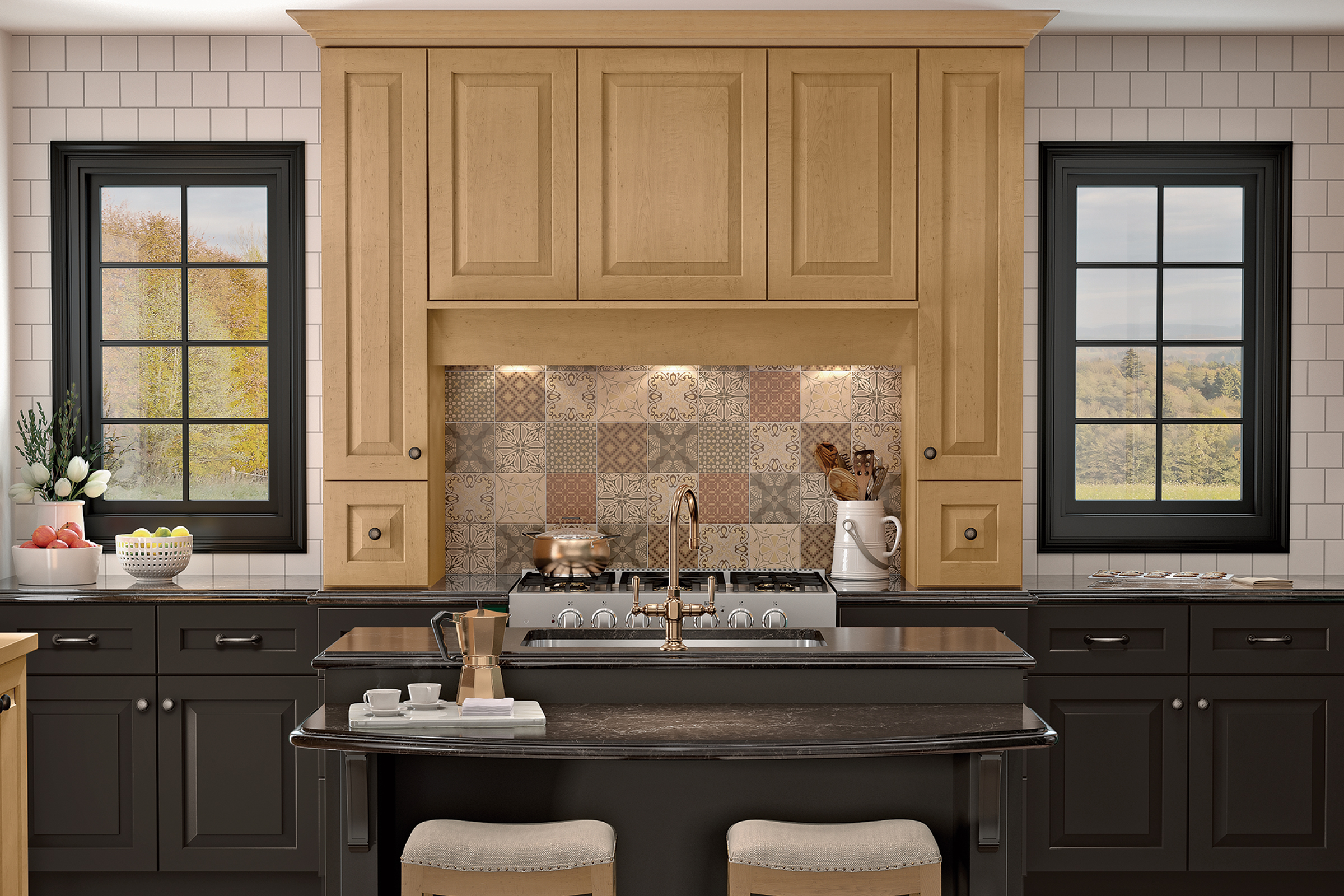 Natural Charm kitchen featuring Barley stain on Maple
Within just a few years of its introduction, Barley has become a favorite within the KraftMaid stains lineup. Barley stain is a contemporary take on a light stain that balances a warm overall look with cooler undertones. This means Barley acts like a neutral – picking up the tones of nearly any color you pair with it. Try the KraftMaid Barley cabinet stain on Maple, the species we had in mind when we created Barley.
---
HUSK STAIN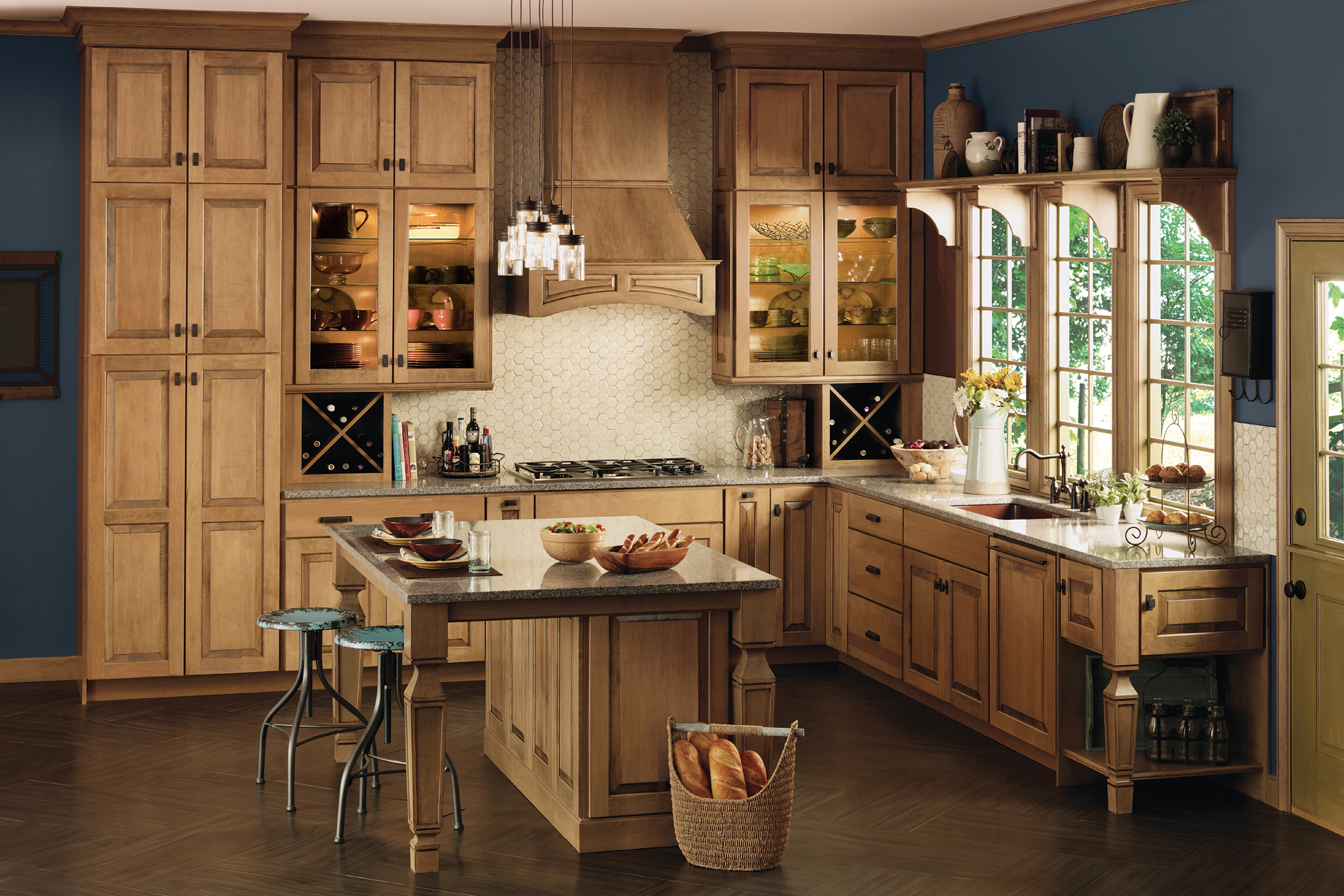 Old-World Treasure kitchen featuring Husk stain on Rustic Maple
If you love Cherry or Alder, then Husk may be the ideal stain option for you. Our Husk cabinet stain soaks into those porous woods to highlight the attractive grain patterns, while its cooler undertones neutralize the natural reddish hues present in those species. The result is a rich, neutral appearance that fits design styles ranging from traditional to contemporary.
---
PRALINE STAIN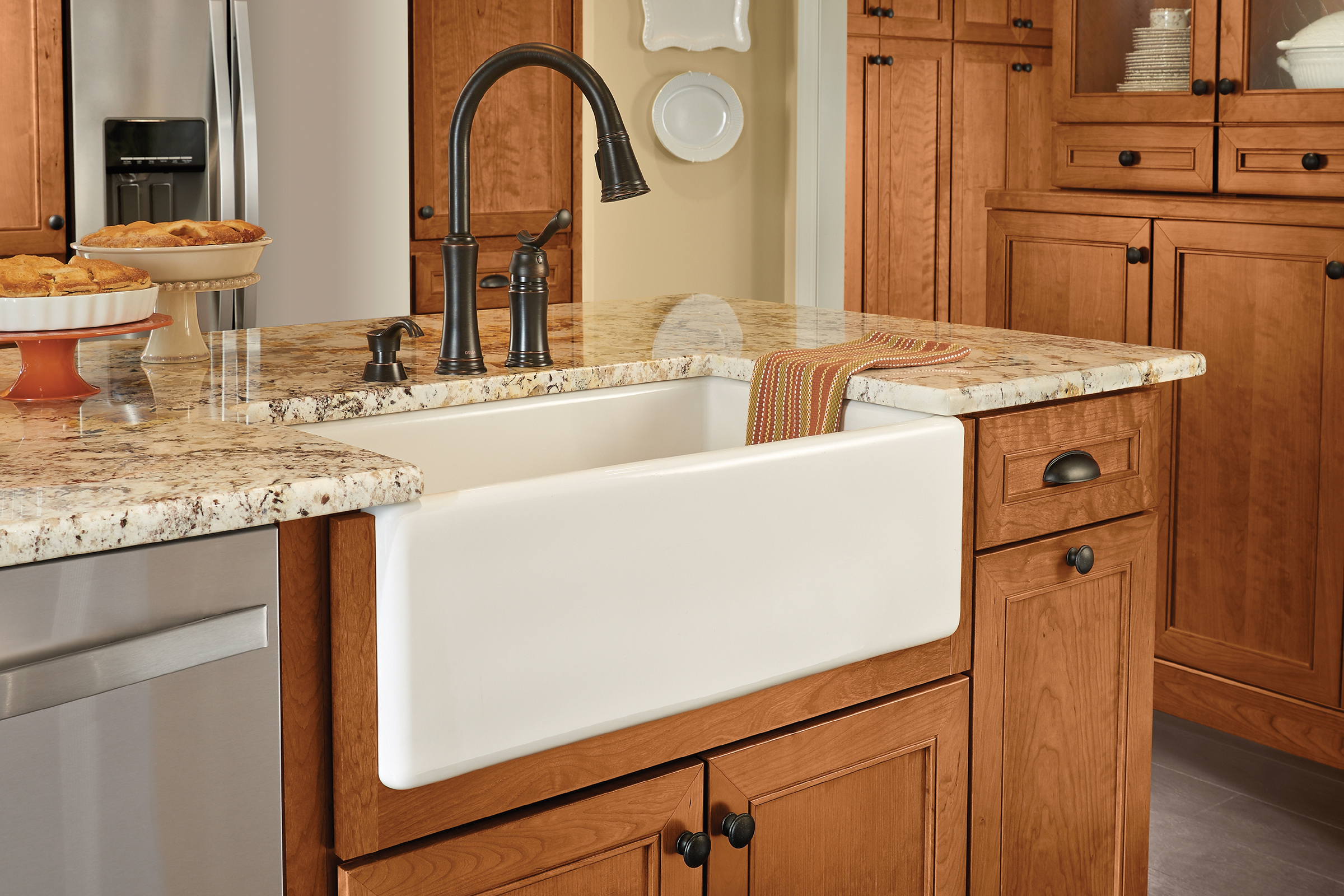 Homespun Comfort kitchen featuring Praline stain on Cherry
Praline is a slightly darker alternative to Honey Spice, so it shares a lot of the same traits. It has a classic stain appearance that's typically associated with traditional designs. Praline wood stains are often used to add warmth and character to an otherwise white kitchen (Dove White, Warm White or Canvas). But you can also make a more trend-forward style statement when you create a two-tone color scheme that pairs KraftMaid Praline stain with Midnight or Onyx.
---
FIND THE BEST CABINET STAIN COLOR FOR YOUR KITCHEN
In addition to these popular cabinet stain options, you'll find a surprising variety of color and depth in the KraftMaid stains collection. Plus, you can add a glaze or a distressed finish technique to further enhance the look of your cabinets. Once you've found your finish, order a sample finish chip so you can coordinate the rest of your design with confidence.