Top 5 Reasons to Use a Kitchen Designer when Remodeling
Posted by KraftMaid on 2nd Dec 2020
---
As exciting as the idea of having a new kitchen is, planning one can be equally mysterious and exhausting. A kitchen designer can help you get through it and get it right.
---
Let's start with a true story: During a remodel, one homeowner went with her contractor's recommendation to relocate her dishwasher. After everything was installed, she discovered she couldn't open the drawer of the cabinet directly perpendicular to her new dishwasher because it hit the dishwasher's handle. Oops.
While the solution was straightforward – swapping out the dishwasher for a model with a recessed door handle – a kitchen designer could have easily spotted this disappointing mistake before it happened.
That's just one example of why it pays to plan your project with a design pro. Want more reasons? Here's our top five:
#1: THEY'RE THE GO-TO AUTHORITY FOR PLANNING
You might take on a kitchen remodel once or twice in your life. Kitchen designers do it every day. So they know all the ins and outs of the planning process and can help make every step as smooth as possible.
Overwhelmed by all the decisions? A designer can offer suggestions on how to break down the process into more manageable chunks.
There's a lot that needs to happen between dreaming about a kitchen and actually getting it done. Your designer can help you set up a checklist of to-do's so you don't forget anything and needlessly prolong your timeline.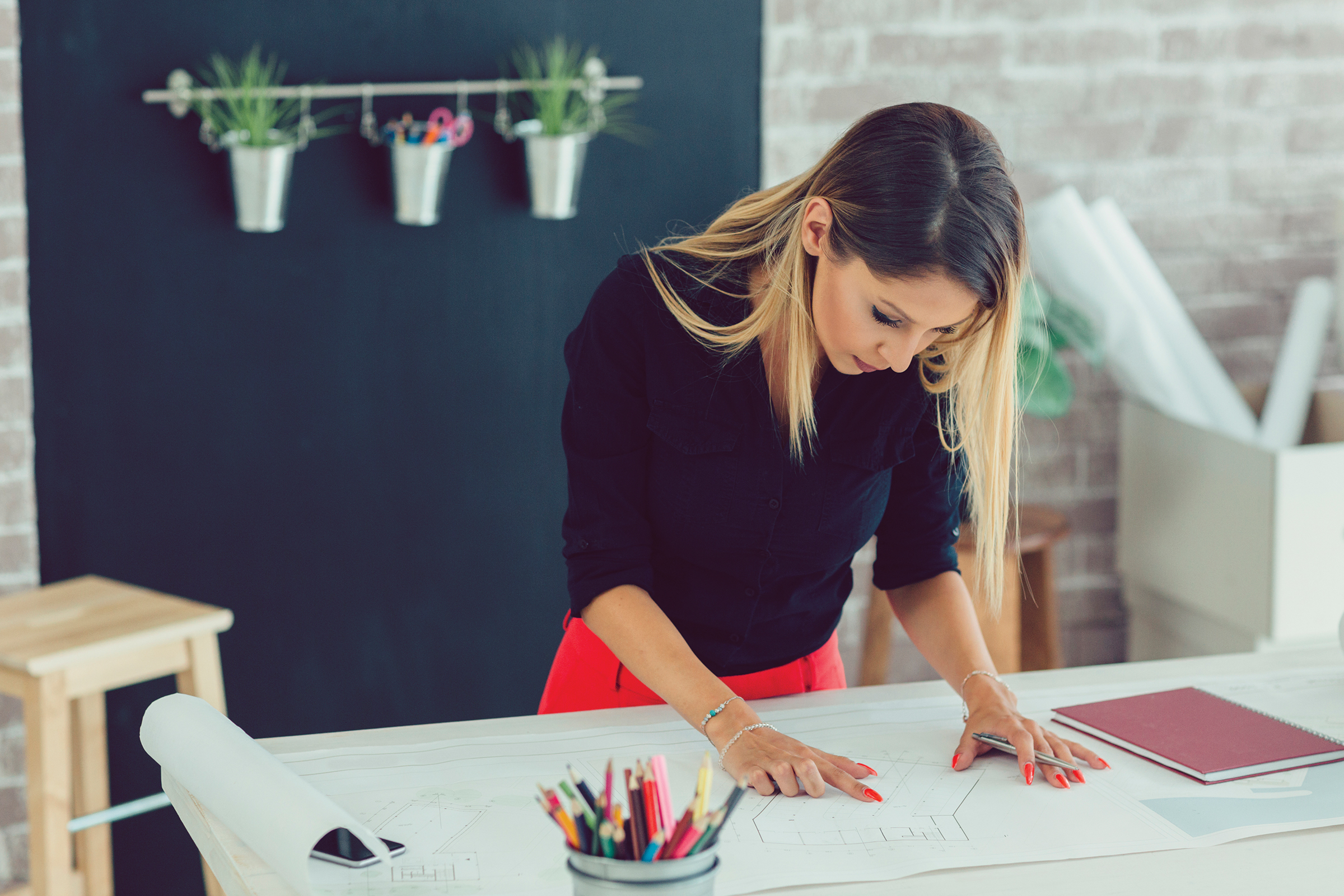 ---
#2: THEY CREATE PERSONALIZED, ONE-OF-A-KIND DESIGN
Any contractor with a tape measure can come up with a layout that fills your kitchen with cabinets, but a kitchen designer will customize a design plan based on the life you want to live there.
A kitchen designer will ask as many questions about how you want to use your kitchen as how you want it to look. Then, they'll create work zones, storage solutions and personalized spaces to fit your needs.
---
#3: THEY'RE DOLLAR STRETCHERS
Every project has a budget. No matter what your number is, kitchen designers are experts at turning your wish list items into a reality without breaking the bank.
Armed with in-depth knowledge on the latest products and materials, designers can direct you to affordable alternatives that still capture the overall vision you have in mind – such as using a door style with a veneer center panel instead of a similar style with a solid wood panel or half overlay door instead of full overlay.
Even if you're not necessarily looking to save money upfront, designers help you steer clear of common mistakes before they cost time and money to fix later down the road.
---
#4: THEY'LL BE YOUR STYLE GUIDE
It's always great to have options, right? When you're trying to pull together dozens of elements that go into a kitchen, all those choices can quickly become too much of a good thing. Having a design professional at your side can keep your head from spinning.
Whether you've got a particular style in mind or not, your kitchen designer can help you narrow in on a look that you'll love. It can be as simple as showing them a handful of kitchens that inspire you.
Will Moonshine cabinets look better with a Chestnut or Cognac island? Should your countertop match the cabinets or the floor? What hardware and faucet finish looks best in a cottage-inspired kitchen? It always helps to have someone with an eye for design as a resource when you're trying to coordinate colors, materials and finishes.
A designer can help you see your vision come to life. By creating a 3D rendering of your exact kitchen layout with all your design choices in place, you'll know if you're going to love it before you commit.
---
#5: THEY KNOW WHAT YOU DON'T
Even if you're set on exactly what you want, a kitchen is a complex room. If you're not experienced in all the technical aspects of designing and assembling the space, it's easy to miss something that matters.
There are best practices to follow so your kitchen works properly. A designer can tell you how much counterspace you should have next to your sink and stove, how much room you need to comfortably seat four at your island and how high your vent hood should be above your cooktop.
Your designer will be sure to account for the often-overlooked details of your cabinet order – like where to add a filler strip or whether you need to order decorative end panels.
Something got you stumped? Is there some quirk that you think you just have to live with? Designers can suggest options you may never have heard of and creative solutions you may never have even imagined were possible.
---
(BONUS) #6: WORKING WITH A DESIGNER MAY NOT COST A DIME EXTRA
Retailers like Lowe's®, The Home Depot® and many KraftMaid dealers offer free kitchen and bath design services. (Even those who charge a design fee will almost always offer a complimentary consultation for your first meeting.) So there's no reason not to talk to a local kitchen designer about your project.
If you're not quite ready to meet with a designer in your area, you can send a question directly to KraftMaid. One of our in-house designers will respond with the expert help you need to keep your kitchen remodeling plans moving forward.
---