3 KITCHEN TRENDS FOR 2018 AND BEYOND
Posted by KraftMaid on 17th Nov 2017
When designing a new kitchen, one of the first decisions you'll want to make is the overall look you're aiming for. You may want to pick a style trend or color theme to help guide your choices. This blog post can help give you a place to start. These three kitchen trends are expected to be on the leading edge of home décor in 2018.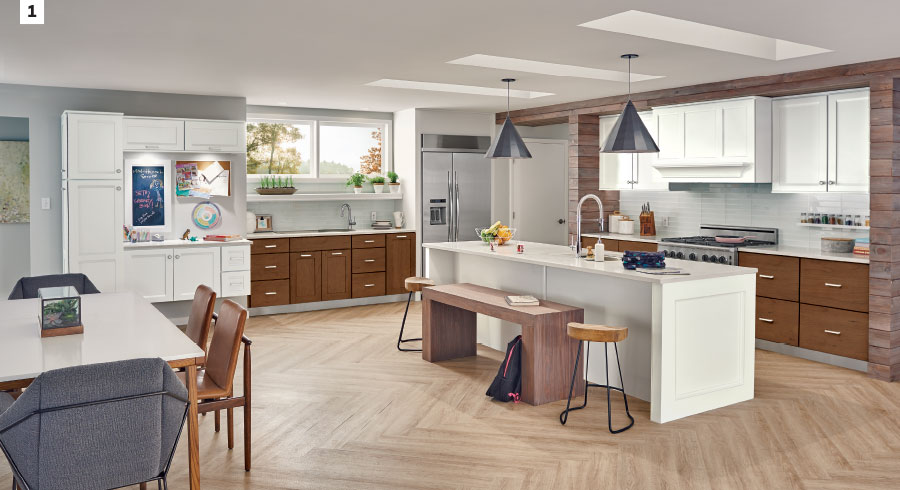 1. WARM MODERN DÉCOR
This coming year, we'll see even more homeowners embracing modern design with a warm, inviting twist. Think light color schemes with plenty of white and warm wood stains. Darker colors will be used as accents. For example, shown here are KraftMaid® EverCore® cabinets in Dove White, plus a few Cherry cabinets in Husk for contrast.

This style also uses a lot of clean, simple lines with a few intentional disruptions to the order. Consider playful details and softer shapes for accessories, like seating. Natural textures, like wood accent walls, can be used to add even more warmth.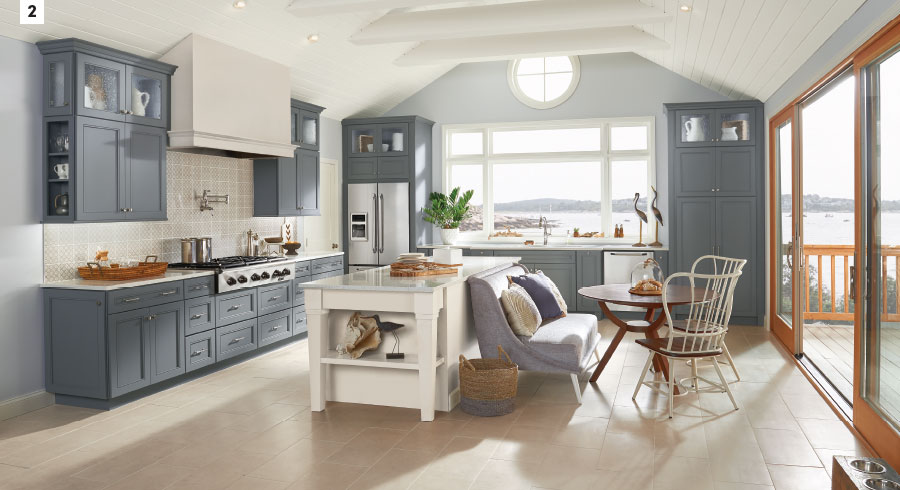 2. GREYED COLORS
Greyed colors have been an emerging trend recently, and they're not going anywhere anytime soon. Expect to see this trend continue for at least three to five years. Greyed versions of brighter colors or pastels let you use colors you love while making them less overpowering, and therefore more livable.

For your kitchen, consider painted cabinetry in Lagoon or Bonsai. Lagoon (shown here) is a medium blue with smoky grey undertones. Bonsai is a medium green with a hint of grey.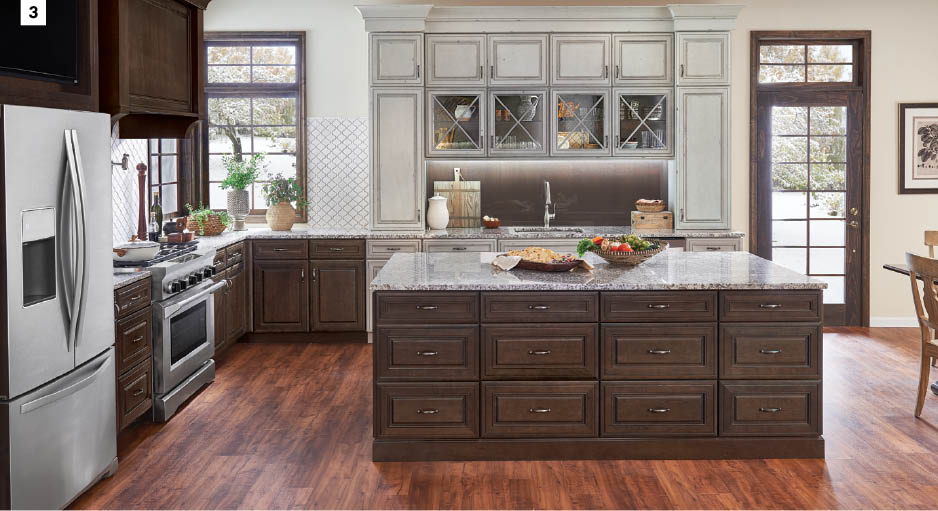 3. WOOD STAINS
More and more, designers are incorporating natural textures into interior spaces. That includes using wood stains that show off the wood grain, rather than hiding it with paint.

In 2018, expect to see lots of greyed wood stains with rich brown undertones. Shown below is KraftMaid Cabinetry with Molasses wood stain, a grey-brown stain that provides the perfect balance of cool and warm tones.
CHOOSE ONE, OR MIX AND MATCH
You can apply any of these three kitchen ideas individually, or combine them any way you like. You could even use all three at once. The most important thing is that your new kitchen reflects your personal taste.
WHAT DO YOU THINK?
Which of these home décor trends would you like to see in your kitchen? Share your answer in the comment box below.