Posted by KraftMaid Marketing on 28th Aug 2015
Housekeeping. Conflicting schedules. Getting to practice, getting home, handling late nights of homework mixed with parental career demands and—don't forget—meal planning, prep, serving and clean up.
A kitchen can be designed to function as the single location from which heavily scheduled lives are managed alongside everything that goes into a meal—it's just another day in the life of The Command Center Kitchen.
HERE ARE A FEW IDEAS THAT MAKE LIFE A LITTLE EASIER IN THE COMMAND CENTER KITCHEN.
TIDINESS FROM MESSINESS.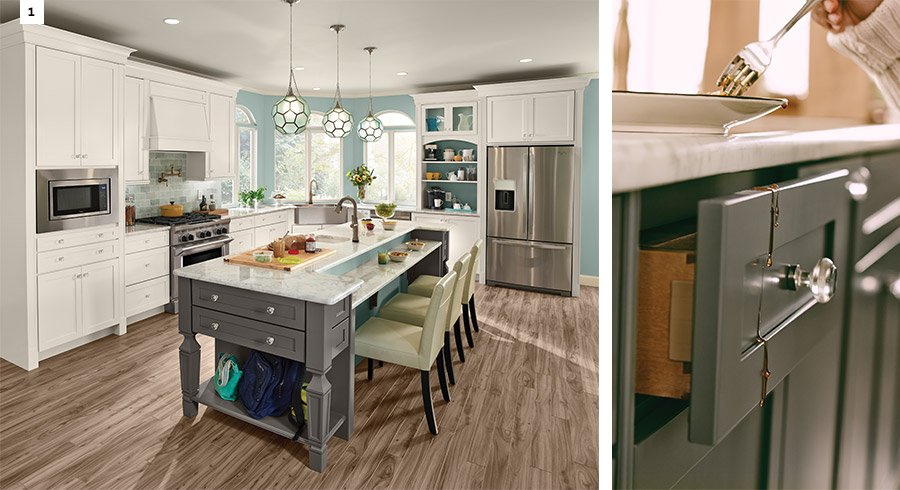 1. DURAKRAFT™ PLUS FINISHING SYSTEM
No one else has it. Our finish is 40% thicker than we've ever done, resistant to scratches, easier to clean and smoother to the touch. When you're at a local dealer, run your hand over our finish, then a competitor's. You'll feel a difference. Order a sample if you can't get to a showroom, to see for yourself.
PEACE FROM CONFUSION.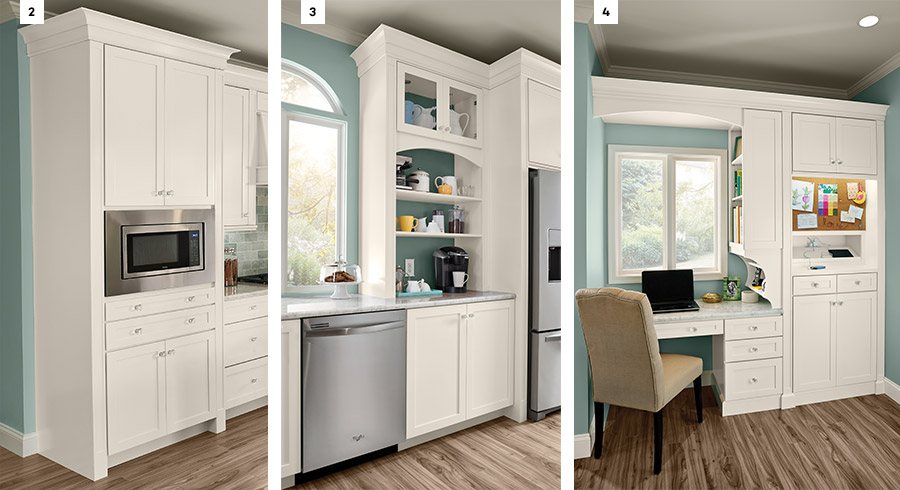 2. SNACK ZONE
Lets kids grab snacks out of this mini pantry (and use the built-in microwave) without interrupting the main kitchen action.
3. COFFEE STATION
Prevents coffee making (and mess) from intruding on the rest of the kitchen activity.
4.DESK, CHARGING STATION AND MESSAGE BOARD
Keeps electronics from migrating to the island, where they're in the way, and gives everybody a communications center. Desk area can also serve as a mini office so parents can stay in the kitchen while kids do homework.
CONTROL FROM CHAOS.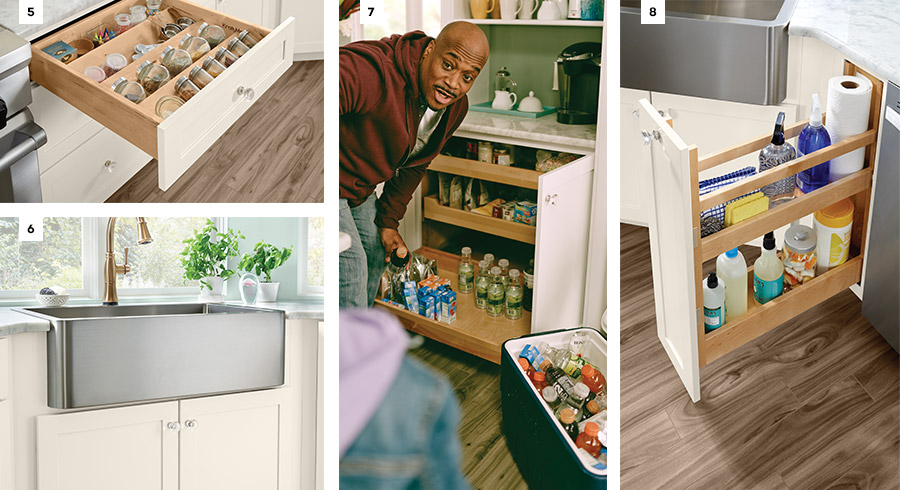 5.SPICE DRAWER INSERT
Encourages cooks to experiment with spices a little more, since the rack is well-organized and right next to the range.
6.APRON-FRONT SINK BASE
Serves as just one example of the many sink bases available—and there are plenty of storage options for whichever sink style makes most sense to you.
7. DELUXE ROLL-OUT TRAY
Provides easy access to pans and dishes kept in the back of the cabinet—then gently closes with nothing but a nudge.
8.CLEANING SUPPLY PULL-OUT
Simplifies the search for the cleaning product of the moment—a search often conducted urgently, whether in response to an accident or just to get the job over with.