BREAK OUT OF THE KITCHEN WORK TRIANGLE: PART 4 – BEYOND THE BASIC WORK ZONES
Posted by KraftMaid on 11th Sep 2017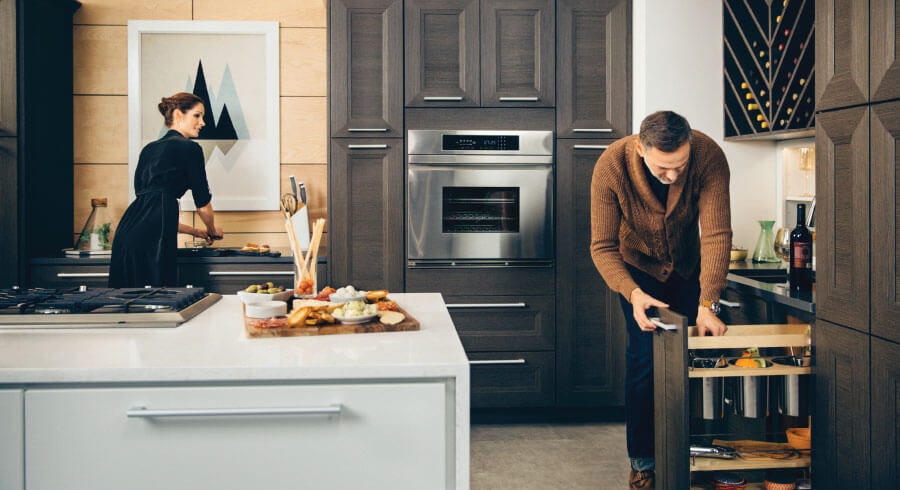 GET IN THE ZONE
Work zones are quickly replacing traditional work triangles in today's kitchen design. They streamline kitchen activities and make things like food prep easier and more efficient. In Part 3 – Popular Work Zones, we focused on some of the most common work zones in today's modern kitchens. This post will feature more task-specific zones that many homeowners are finding useful in their homes.
BAKING ZONE
A baking zone is the perfect place for everything from whipping up a casserole to rolling out pizza dough. A slightly lower counter puts pies at the perfect height for filling. Plus, there's plenty of space to store mixing bowls and baking tools in the cabinets below. This zone wouldn't be complete without a Baking Station with Base Mixer Shelf . It stores a heavy mixer out of sight until it's needed, which creates more useful countertop space. It then swings up from the cabinet below and locks in place when it's time to do some baking.
OFFICE ZONE
A mini office in the kitchen really comes in handy. It provides a place to sort mail, pay bills, answer emails and make grocery lists – all while keeping the cook company. Designated cubbies are great for storing office supplies and keeping mail from piling up on the counter. The office zone is also a great place to use electronics as they charge, out of the way, yet near the action happening in the kitchen.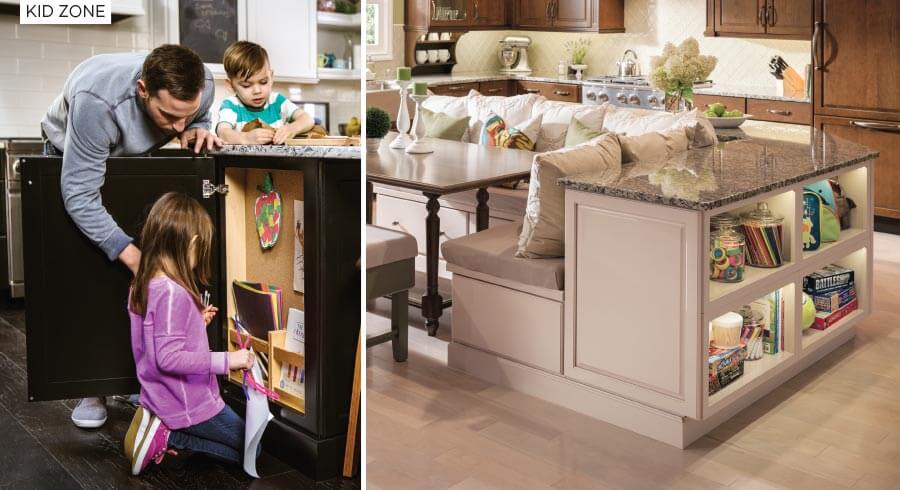 KID ZONE
If you have children, make your kitchen family-friendly by creating an area where the kids can hang out, do homework and eat snacks. This will provide a safe space and enable you to all be in the kitchen together without little ones getting underfoot while you're prepping a meal or doing dishes. A Desk Area with a Charging Station, electric outlets for laptops and shelves for books is the ideal area for children to do homework out of the way, yet near, the action. give the kids an approved space to draw, or to keep the family schedule visible at all times. Also consider a mini snack zone where kids can grab snacks and use the microwave without interrupting the main kitchen action.
PARTY ZONE
If you have an open kitchen and like to entertain often, it's nice to have an area for guests. A party zone with a Bar Area keeps guests entertained and enables them to mix a cocktail or two, while getting them out of the way of the cooks. A counter-height space is great for drink supplies. Consider keeping them hidden behind closed doors when you're not entertaining. Also think about including several kinds of storage, from Roll-Out Trays to Floating Shelves, to help keep some stuff hidden and while putting possible conversation starters out on display.
Before you start creating work zones in your kitchen, think of the tasks you perform regularly to determine which ones are right for you. And remember, it's YOUR kitchen. No one understands how you use it better than you. So don't be afraid to ask your designer to make changes that will make life easier in your kitchen. To learn more about work zones, check out these articles: Part 1 – Why Work Zones, Part 2 – Kitchen Zone Tips and Part 3 – Popular Work Zones.