Kitchen Cabinet Storage Solutions to Maximize Space
Posted by KraftMaid on 2nd Dec 2020
---
Smart kitchen cabinet storage solutions you can use to customize your space and create a more efficient, more functional design.
Remodeling a kitchen makes for a dramatic visual transformation. But it's also an ideal time to completely reshape the way your kitchen works too. Optimizing storage goes a long way to help you get the organized kitchen you've always wanted, and KraftMaid® has dozens of specialized storage innovations to meet your specific needs.
---
Tiered Drawers
From the outside, tiered drawers look and operate like any other drawer. But inside, you get a second level of sliding storage. This clever, two-tiered design nearly doubles the usable space within each drawer, making it easy to store cutlery, corral the lids for your plastic storage containers, and keep smaller items from sinking to the bottom of a deep drawer and becoming soon forgotten.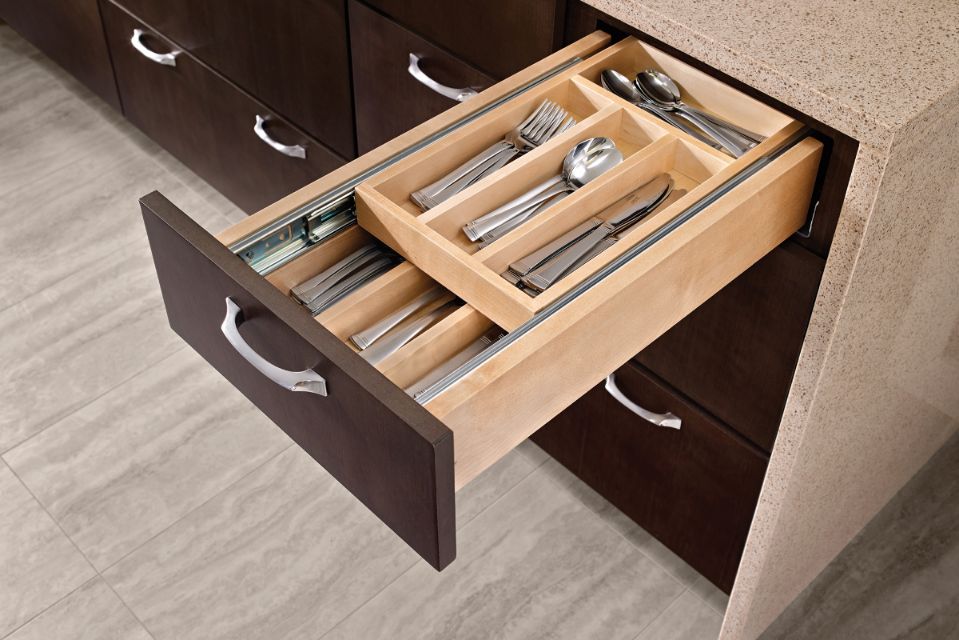 ---
Integrated Shallow Storage
A convenient solution for storing slim items is right around the corner. Incorporate shallow storage on the return side of a wall cabinet or the end of an island to create usable space that's easily accessible, yet seamlessly blended into your kitchen layout. You can set up a cleaning closet by tucking your mops and brooms behind a cabinet door or proudly display your wine collection by opting for an open design.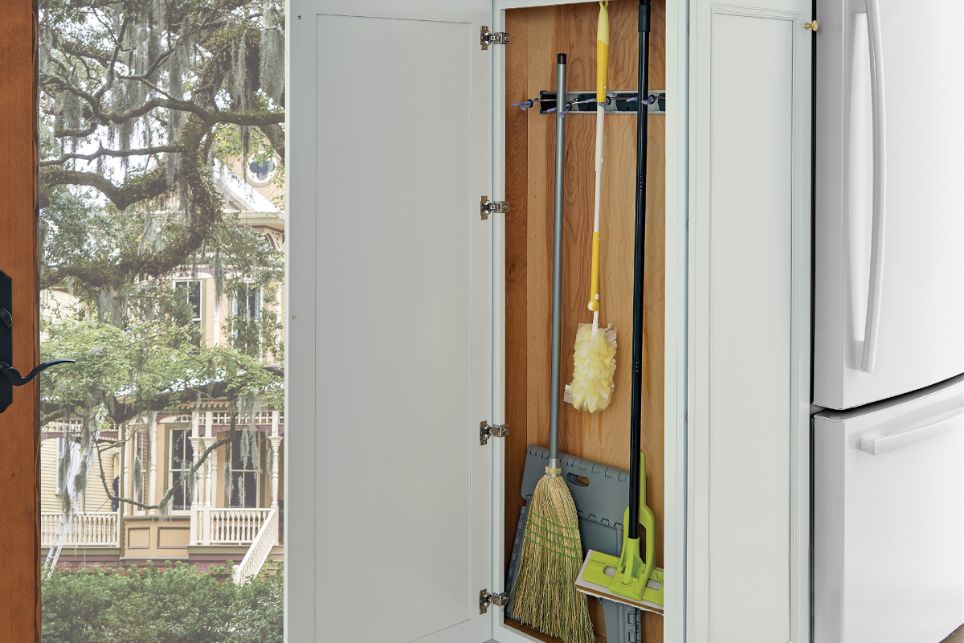 ---
Hidden Solutions
Some of the most ingenious ideas simply take advantage of the overlooked storage opportunities in your kitchen – like using a toe kick drawer to put normally wasted space beneath your base cabinets to good use, or turning a hard-to-reach blind corner cabinet into a swing-out pantry. Others artfully disguise storage to keep the things you frequently need within easy reach, then instantly out of sight once you're done.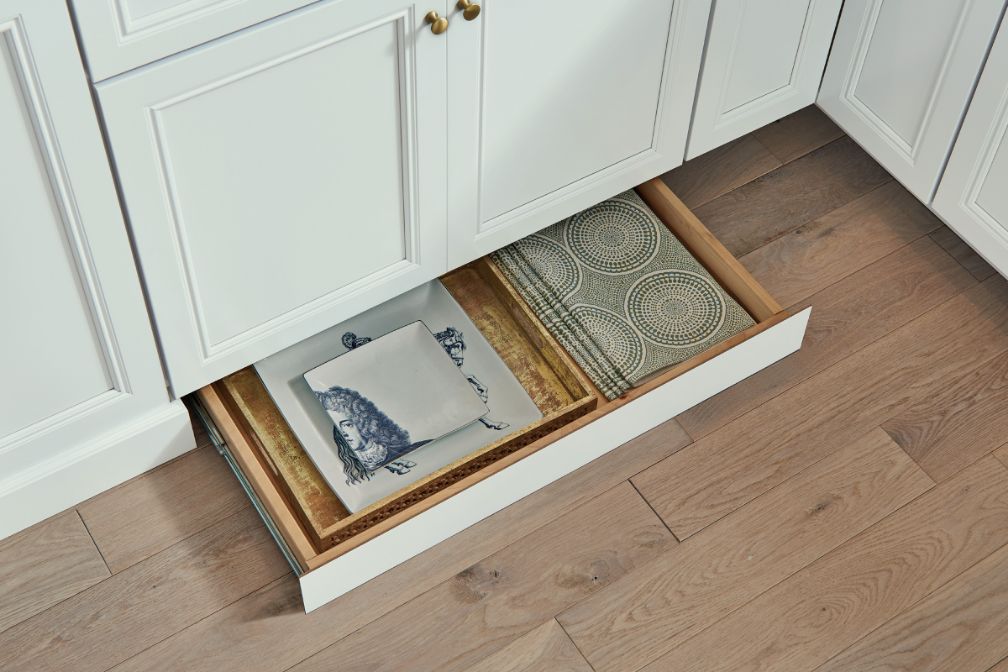 ---
Door Storage
Cabinet doors can do more than make a style statement. Adding storage kits to the inside of your doors brings your spices, cutting boards or cleaning products right to you every time you open the door. Plus, you'll have less-crowded shelves inside the cabinet.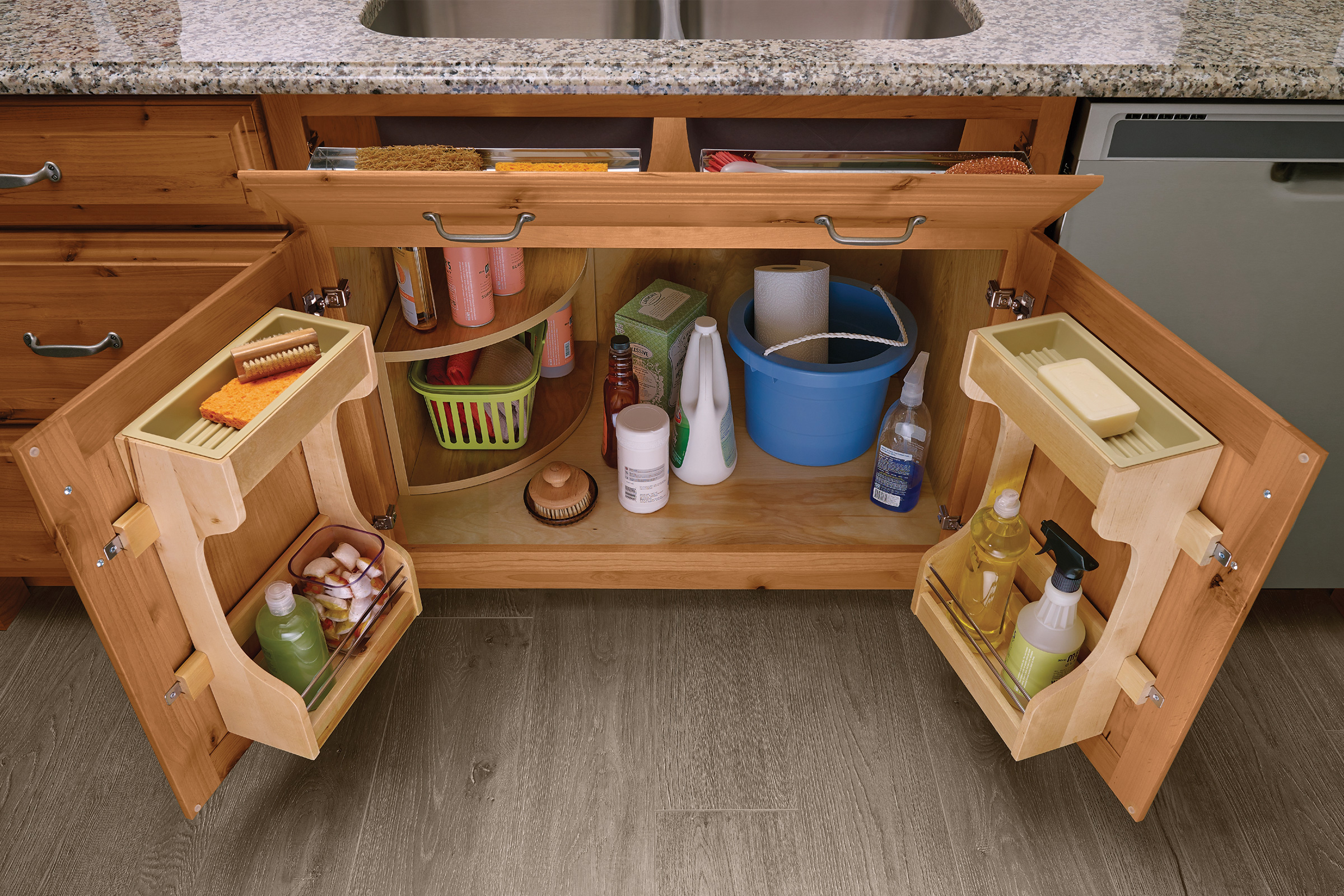 Between making layout decisions, choosing design elements and balancing the overall budget, what goes inside the cabinets is often overlooked during the planning process. But we've found that homeowners who had their storage needs in mind from the onset are even happier with their kitchen in the end.
Got a storage need not highlighted here? Browse the KraftMaid site for more storage innovations.
---