Modern Kitchen Ideas : 5 Hardworking Products
Posted by KraftMaid Marketing on 20th Oct 2015
At first they rented. Then she and her husband bought older homes and lived on tight budgets. After years of forcing herself to make those inherited workspaces work, she knows what she wants.
Sound familiar? The Kitchen She Waited A Long Time For represents the modern kitchen your past-life kitchens have been building up to.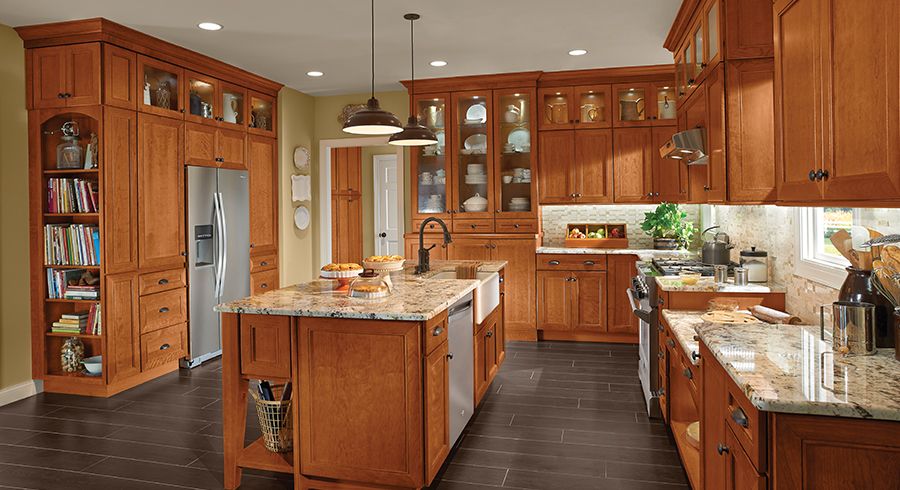 A modern kitchen can be designed to look like, feel like and be as functional as anything a person can imagine—which for some people is daunting. But for those who have lived with less-than-ideal kitchens for years, the ability to choose the kitchen layout, kitchen colors and kitchen island that are exactly right feels like freedom.
HERE ARE 5 IDEAS THAT MAKE LIFE A LITTLE EASIER IN A MODERN KITCHEN—WITH THE #1 GOAL BEING NO COMPROMISES.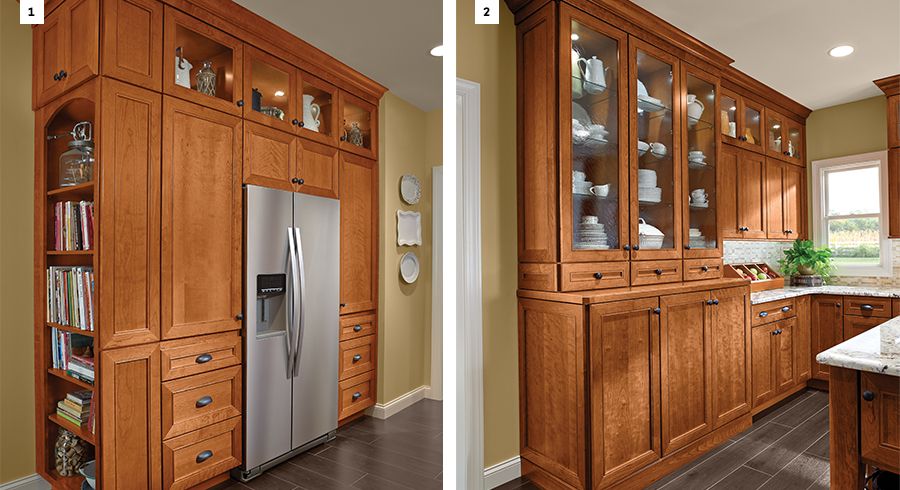 1. PANTRY ZONE
Built-in pantry cabinets create a place for bulk storage of cans and boxes in the kitchen when there is no separate, formal walk-in pantry. Cherry cabinets with glass doors display decorative items to keep the area from being solely functional.
2. HUTCH
Provides two kinds of storage in the kitchen. On the top, wedding china is on display in cherry cabinets with glass doors. Hidden in the bottom of the hutch are the mismatched plastic lids every kitchen secretly contains.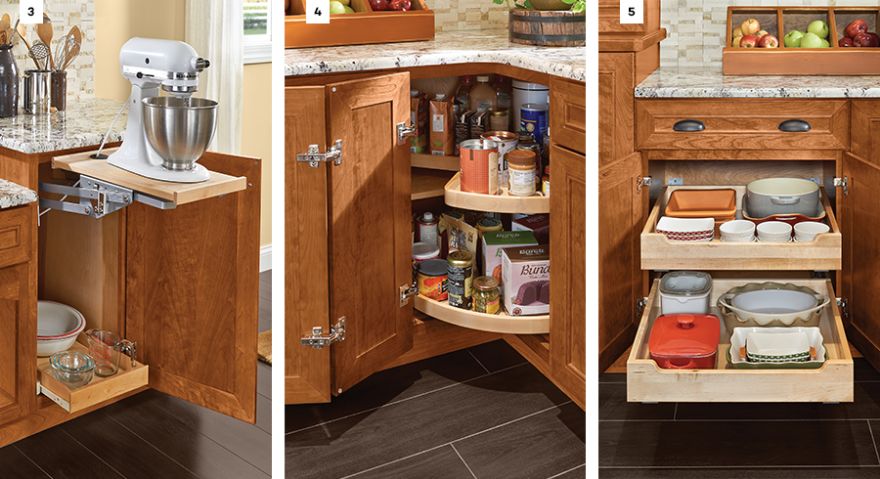 3. BAKING STATION WITH BASE MIXER SHELF
Lifting a big mixer out of storage is a pain, but not everybody wants it occupying counter space—so this mixer shelf swings up from the cabinet below and locks in place, then lowers out of sight.
4. WOOD SUPER-SUSAN
Adds a twist to one of the all-time great kitchen space-savers. The base cabinet shelves revolve independently. Swivel only what you need to swivel, and get easier access to items on the lower level.
5. DELUXE ROLL-OUT TRAY
Deluxe roll-out trays in modern kitchen cabinets make everything easy to reach, even items in the back. Then they're simple and quiet to close again since Whisper-Touch™ soft-close doors are standard on KraftMaid kitchen cabinetry.
When it's time to design the kitchen you've waited a long time for, choose hardworking products that add functionality. Plus, check out 6 Products To Organize Your Kitchen (Video) and Make Your Kitchen Work As Hard As You Do With Smart Storage Solutions for more ideas.