Real-Life KraftMaid® Remodels
Posted by KraftMaid on 19th Apr 2023
---
Whether you want to make a unique style statement or include features that fit the way you want to live, there are countless ways to customize with KraftMaid®. To spark some ideas for your remodel, we're featuring personalized designs that proud homeowners recently shared with us.
---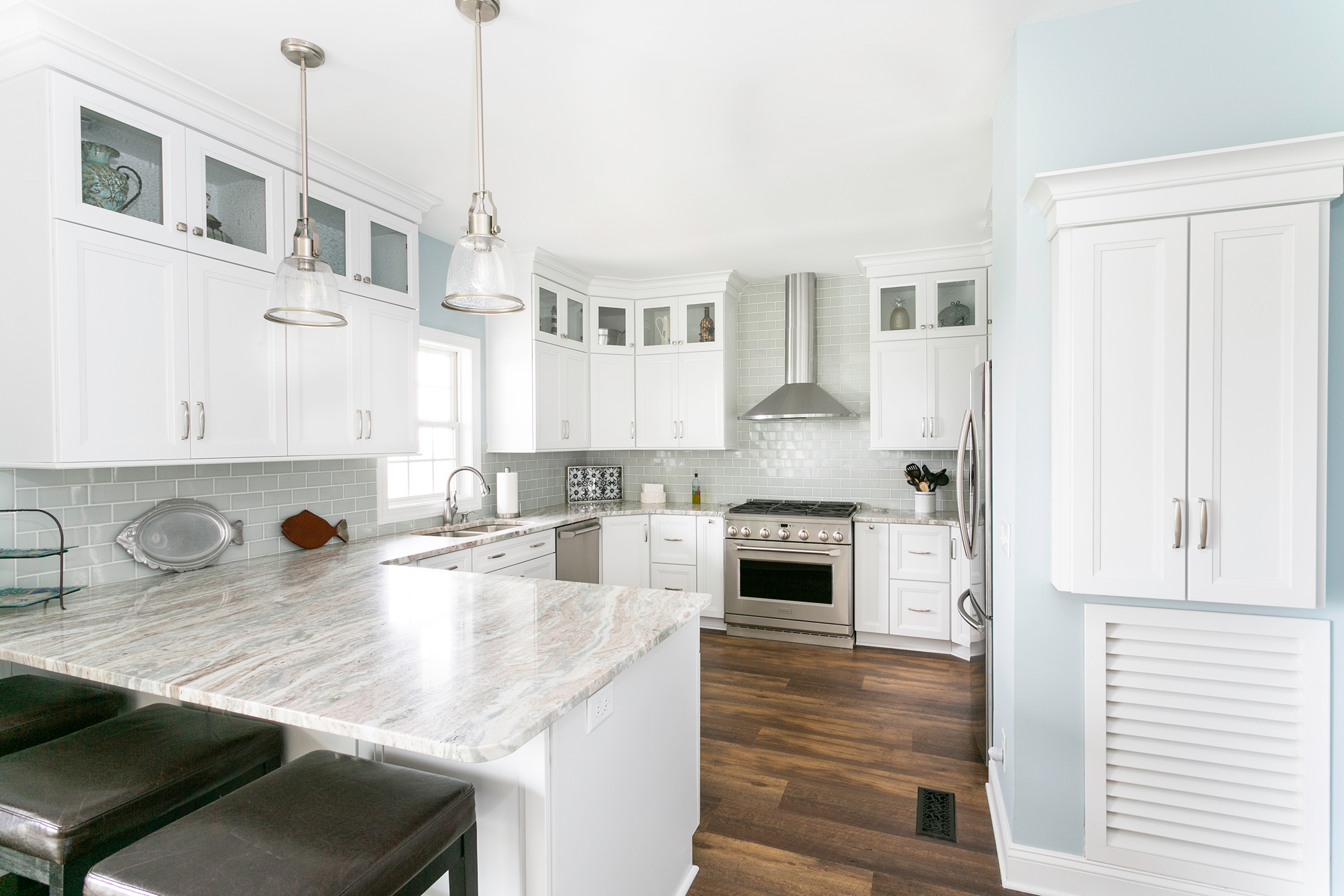 Glass doors are a featured design element in this South Carolina kitchen.
MAKE YOUR KITCHEN YOUR ART GALLERY
One way to personalize your kitchen is to showcase favorite works of art in your design. In South Carolina, designer Niki Komorek incorporated lots of space for her clients to display some of the beloved treasures they'd accumulated over their lifetimes. Her kitchen design plan rings the entire room with stacked wall cabinets with Antiquity seeded glass doors. In-cabinet LED lighting draws attention to the objects and sculptures within and accentuates the ceiling height of the kitchen.
Check out before and after photos of this real-life kitchen remodel.
---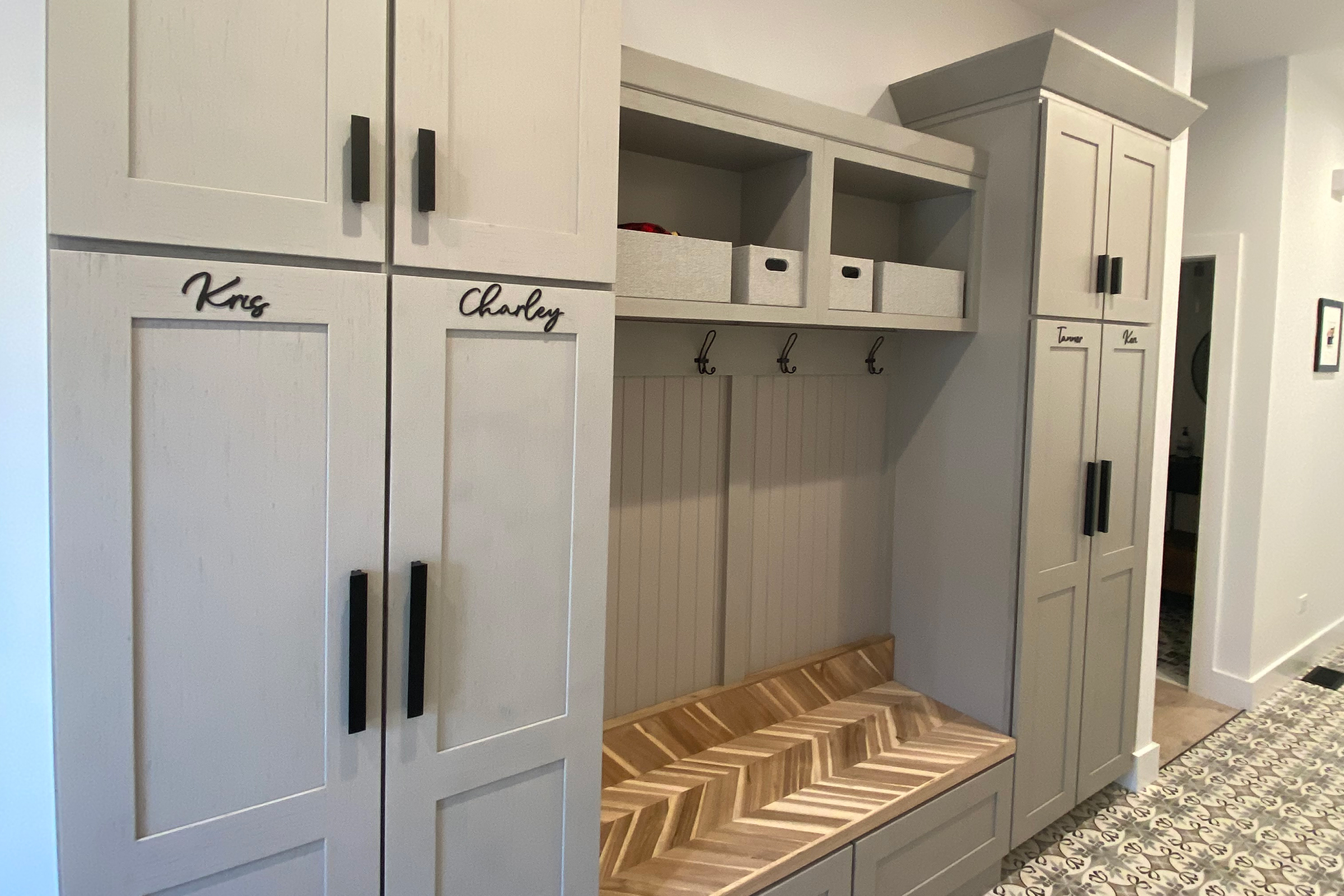 An organized entry keeps the mess from making it to this Rhode Island kitchen.
GIVE EVERYONE IN THE FAMILY A SPACE OF THEIR OWN
What could be more personalized than having your very own coat closet with your name on it? That's just what the Lagor family of Rhode Island created in an entry hall leading into their KraftMaid kitchen. This useful and beautiful space features a pair of tall utility cabinets that flank a seating area made from two drawer-style pedestal cabinets – all executed in the same Shaker-style door as the kitchen cabinets for room-to-room design flow.
View more images of KraftMaid cabinets in this home.
---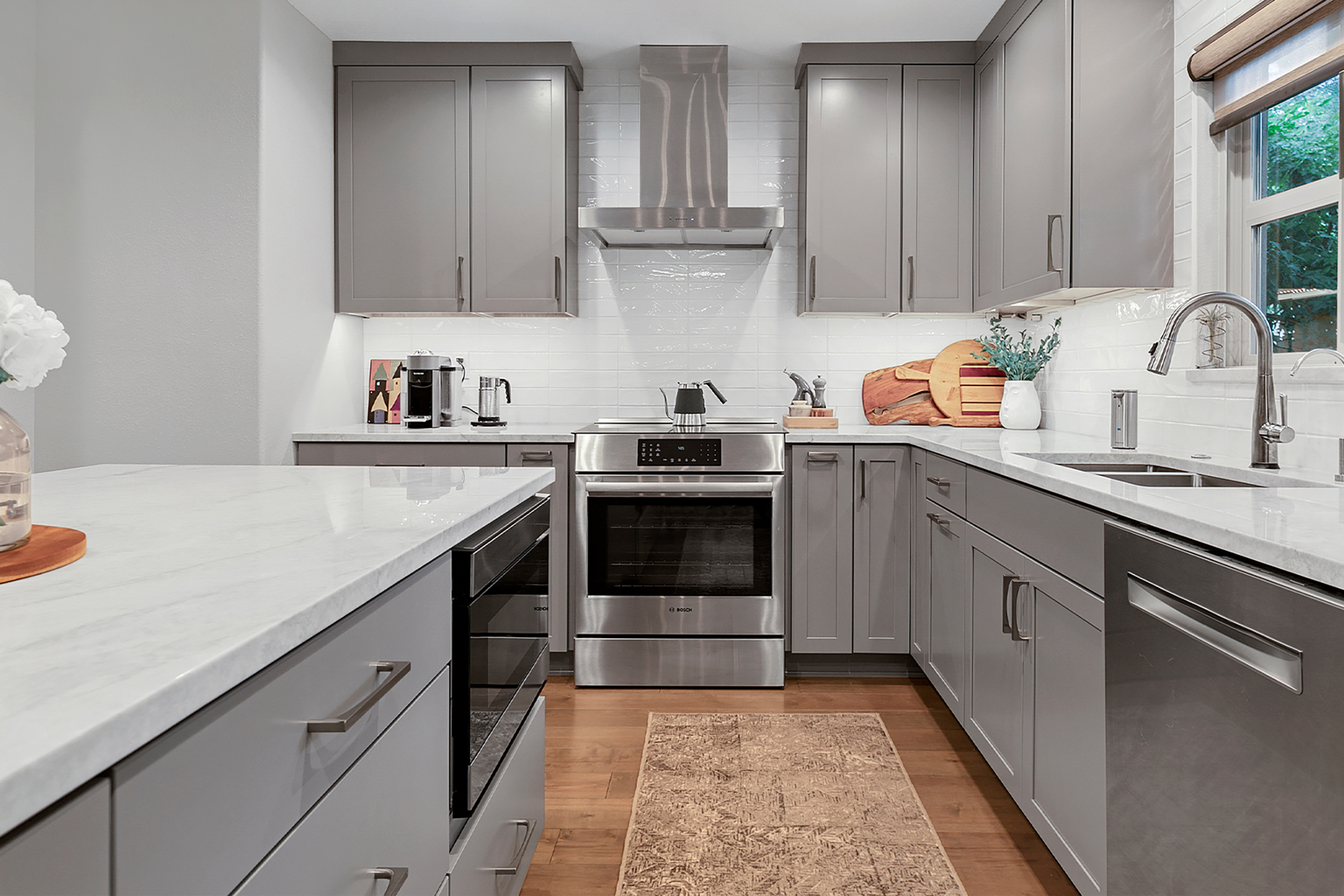 This Idaho homeowner created a delightfully quirky wine bar.
FIND YOUR NICHE (AND TURN IT INTO A WINE BAR)
When you're planning out your kitchen remodel project, you might uncover a hidden or overlooked space that you can utilize in your new kitchen. The Ellis family found just that in their Idaho home. And that's when they got creative. By adding just one additional KraftMaid cabinet, a few square feet of countertop and a wine cooler to their kitchen remodel, they turned a vacant spot beneath their staircase into a funky, but functional, wine bar. (Want a wine bar but don't have a recess in one of your walls? Check out KraftMaid wine storage ideas you can integrate directly into your kitchen design plan.)
Get more kitchen design ideas from this real-life kitchen remodel.
---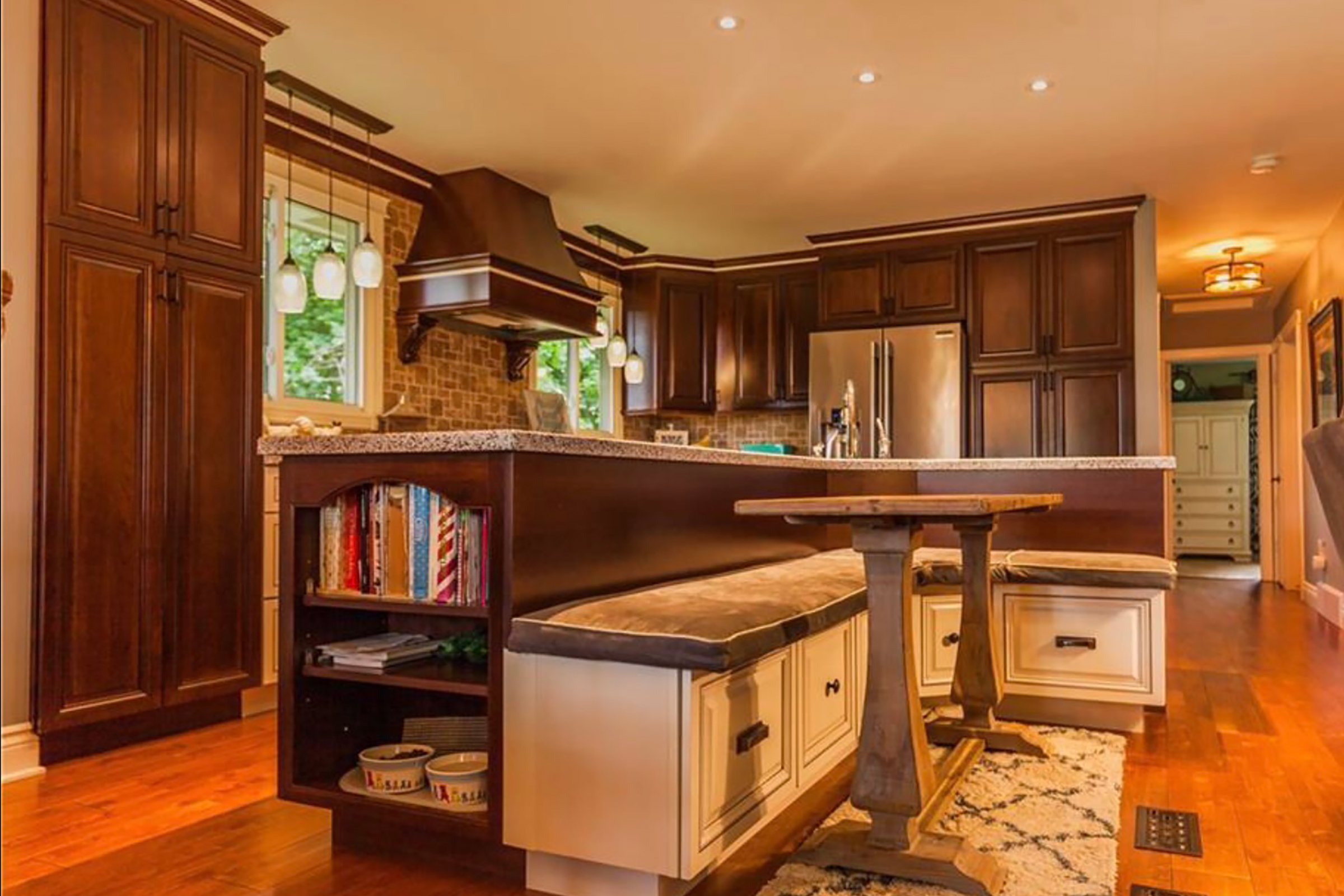 This Canadian kitchen design has corner seating in the center of the room.
CREATE A COZY SPOT TO LOUNGE
There's nothing that can make a kitchen more unique to you than the moments you'll share with family and friends in your new space. So, encourage conversation and togetherness by including a comfy seating area in your kitchen layout. The Lacharity family of Ontario, Canada, carved out room for built-in banquette seating with a slender trestle table and pedestal cabinets attached to their center island – a clever kitchen design idea that brings people together.
See the rest of this kitchen design.
---
CHECK OUT MORE KRAFTMAID KITCHEN TRANSFORMATIONS
Visit our Customer Stories page on kraftmaid.com to get more creative kitchen design ideas and check out the amazing spaces other homeowners created using KraftMaid. And when you finish your project, share your story with us. We'd love to see how you personalized your space and share your kitchen design ideas with others.