Where to Put a Microwave in Your Kitchen
Posted by KraftMaid on 16th Mar 2023
---
Microwave ovens have become indispensable cooking appliances for most of today's households. We'll share the best microwave placement ideas that don't undermine the space or style of your kitchen.
---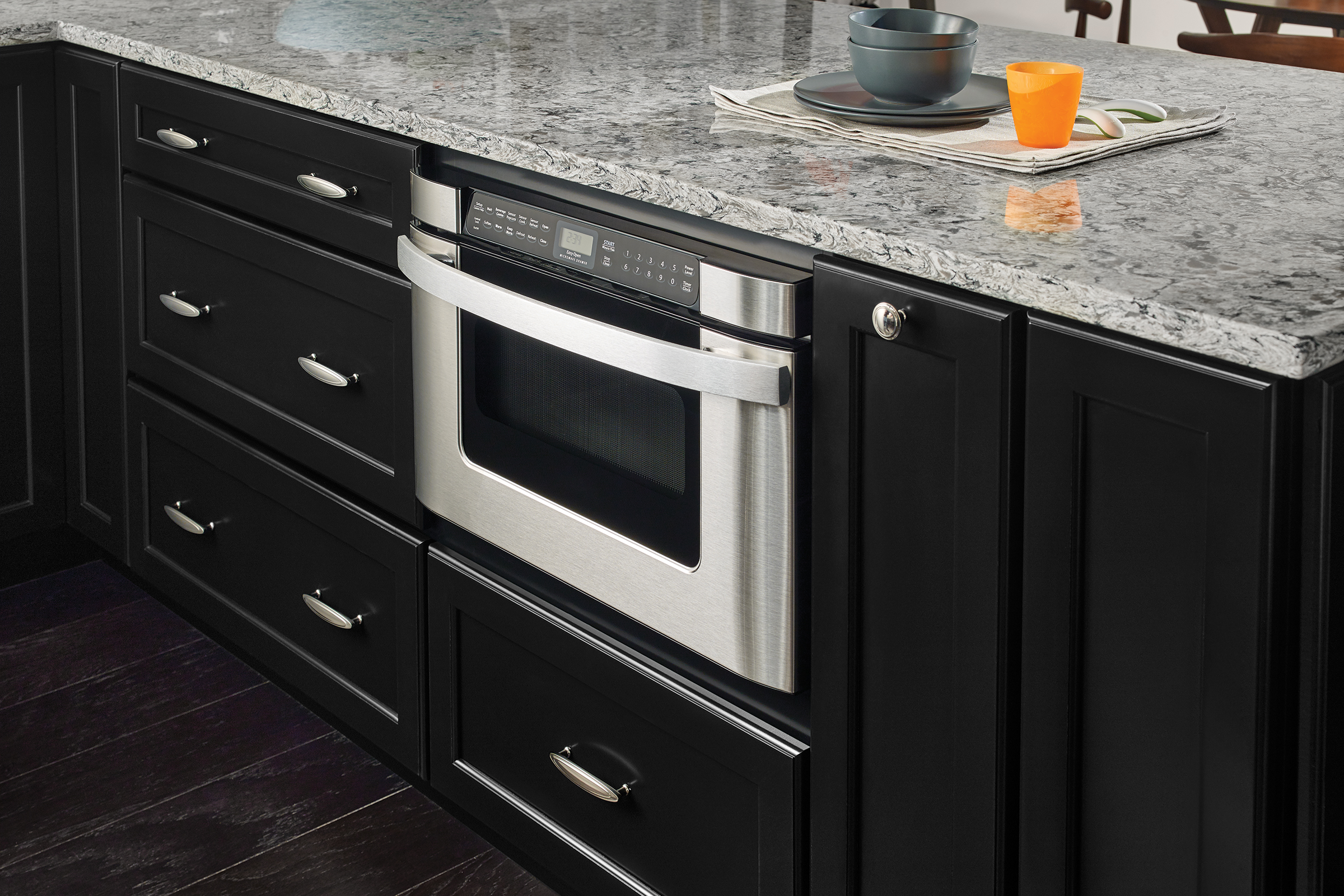 When you're planning a remodel, thinking about what kind of microwave you should buy or where to put a microwave in your kitchen rarely gets as much of your attention as picking cabinets, countertops, or bigger appliances, like ovens and refrigerators. That's OK. Simply knowing a little more about the pros and cons of the microwave options you have can go a long way in helping you pick the right placement for a microwave in your kitchen.
---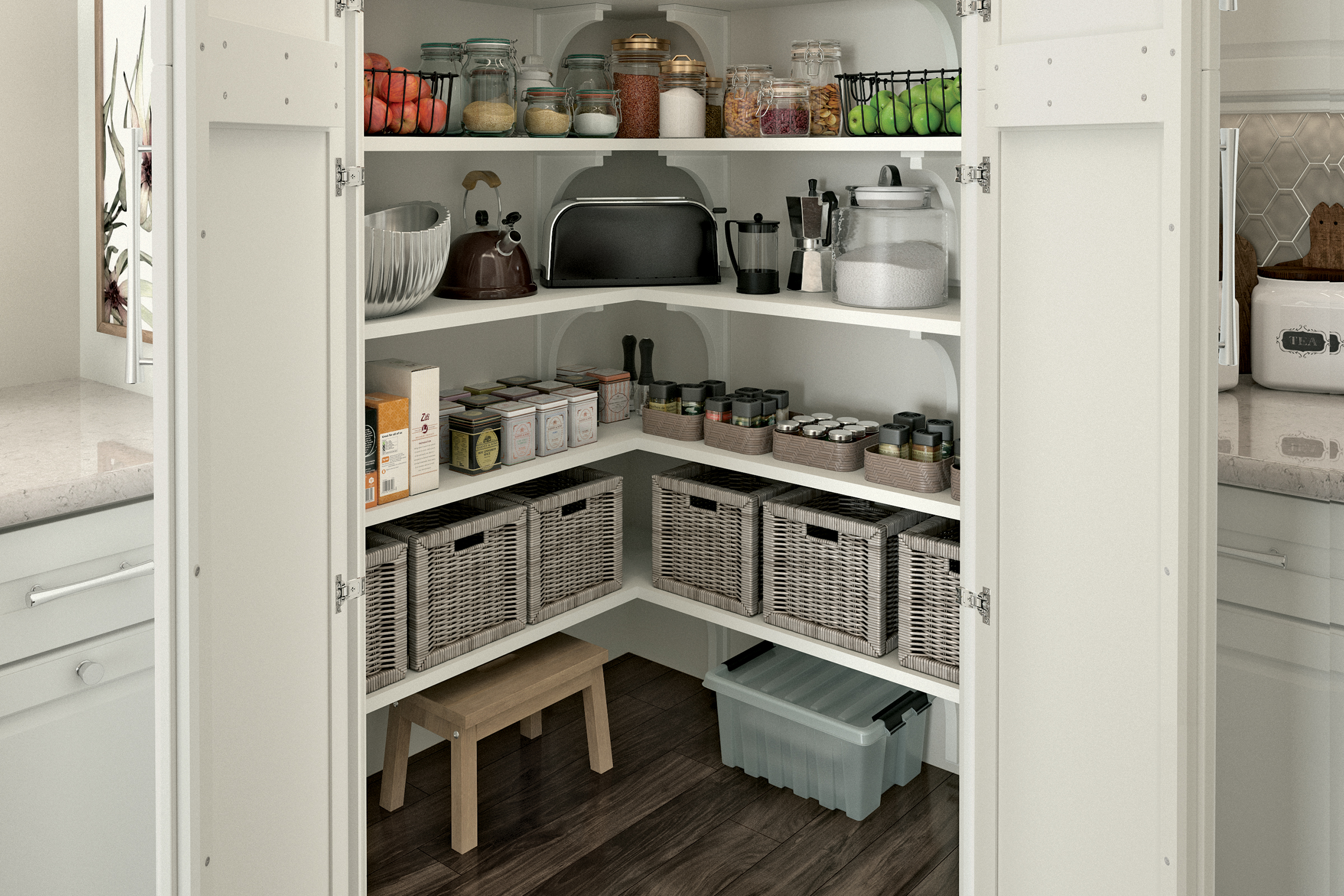 A walk-in pantry is a great place to hide a countertop microwave.
KEEP IT EASY AND AFFORDABLE WITH A COUNTERTOP MICROWAVE
Among the most common desires people have for a new kitchen is more counterspace, so countertop-style microwaves are normally scrapped along with the old space. However, there are still reasons to consider one.
Countertop microwaves come in a wide range of sizes, are the most affordable type of microwave, offer DIY-friendly installation (plug it in) with flexible placement options, and can be easily moved or replaced (unplug it) if needed.
Better yet, countertop microwaves don't HAVE to take up valuable real estate on your counter.
Preserve prep space with a KraftMaid wall microwave shelf cabinet. These cabinets feature an integrated, 18"-deep bottom shelf that lets you move your countertop microwave up and off the counter.
Conceal it behind a cabinet door. A walk-in corner pantry, angled appliance garage, or a 24"-deep utility cabinet can serve as a home for your countertop microwave, as long as you have an electric outlet and adequate air flow.
---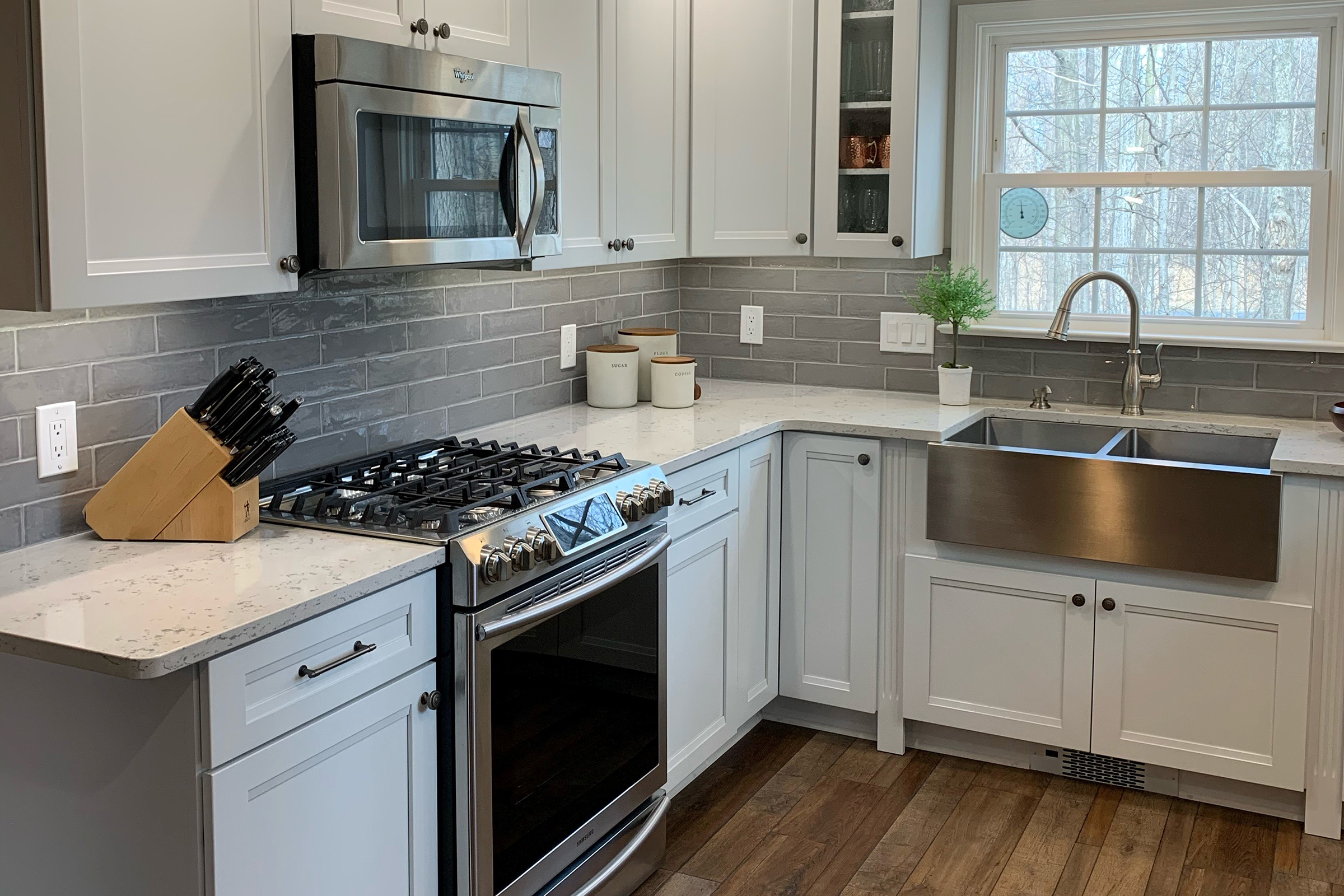 Over-the-range microwave cabinets keep counters clutter-free. (Photo: Israelson family)
SAVE SPACE WITH AN OVER-THE-RANGE MICROWAVE
If your kitchen is starved for space, then an over-the-range microwave will most likely be your best bet. This design mounts to the wall above your cooktop and integrates microwave cooking and range hood venting into one appliance.
To properly capture steam, smoke, and odors, you'll want your over-the-range microwave to be as wide as the cooking surface it will sit above. You'll find a large selection of 30"-wide models to match common cooktop and range widths. If you have your heart set on a larger, multi-burner stovetop, then be prepared to pay more for your over-the-range microwave and have fewer options to choose from.
While the efficient design of a kitchen with a microwave above the stove is a no-brainer, there can be a few drawbacks to keep in mind:
Not everyone likes the visual statement over-the-range microwaves make.
Avid cooks will tell you the ventilation isn't typically as good (or as quiet) as a dedicated range hood.
The high location can make for a tricky reach over boiling pots.
---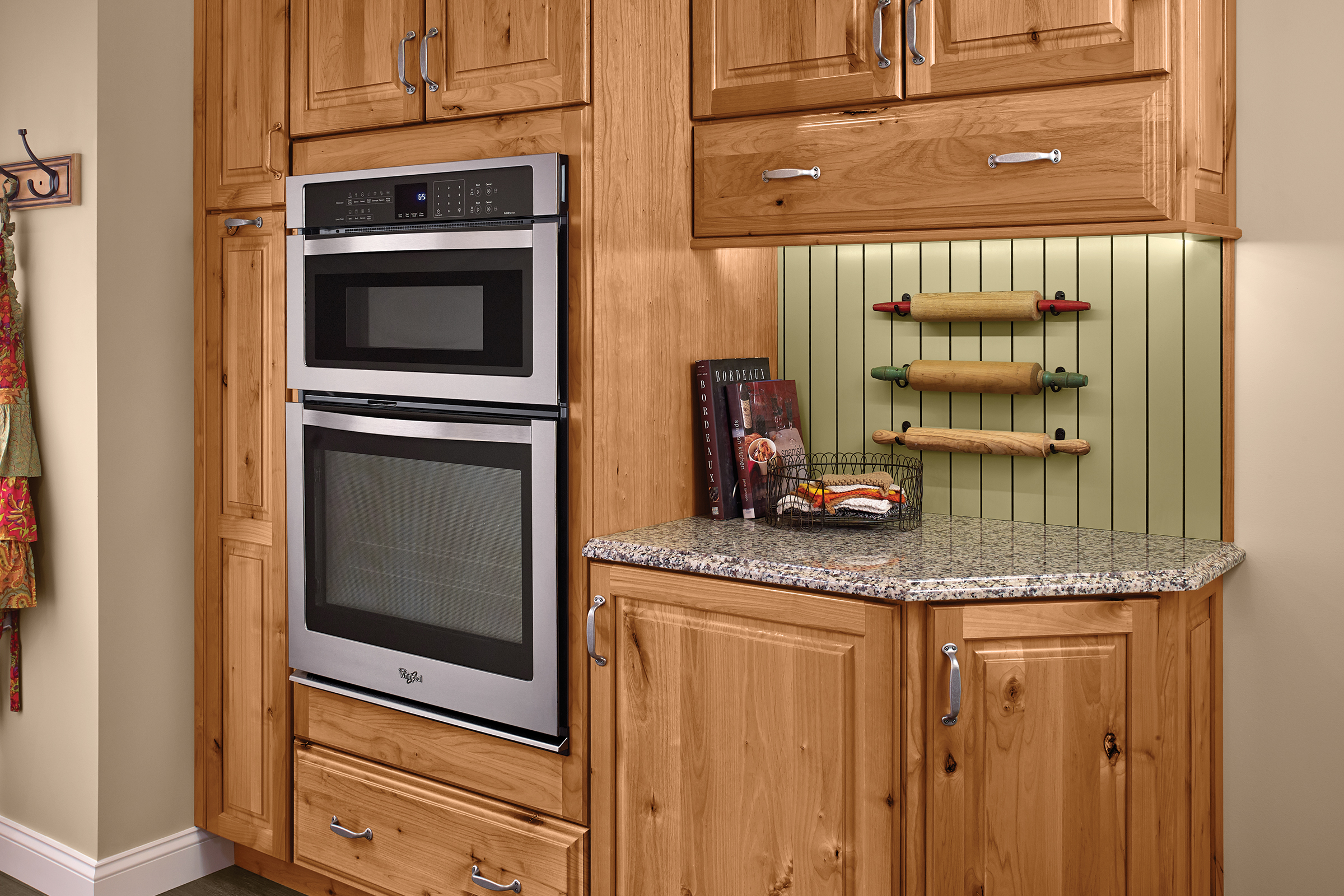 A built-in, above-the-oven microwave cabinet is a stylish choice for a high-end look.
CREATE A CUSTOM LOOK WITH BUILT-IN MICROWAVE CABINET IDEAS
Built-in microwave ovens are permanently mounted in a cabinet and present a sleek, custom-fit appearance. You'll often see them installed in a tall cabinet above a wall oven. (Not planning to include a wall oven in your kitchen? KraftMaid also offers base microwave cabinets and microwave cooking centers created just for built-in microwaves.)
Many built-in microwave models feature drop-down doors. There are also built-in microwave drawer-style options. Both designs allow you to access contents from either side, so you have more placement flexibility in your floor plan than you would with microwaves that have standard side-swing doors.
Note that installation is a bit more complex than other microwave options and the integrated design does take up cabinet space you'd otherwise have for storage. On top of that, built-in microwaves tend to carry higher price tags. However, it's possible to achieve a built-in look for less with a countertop model and trim kit.
Many manufacturers offer trim kits specifically designed to work with their countertop microwaves. The trim kit creates a seamless, integrated look when mounted in a cabinet and allows for proper ventilation.
---
MORE IDEAS FOR PLACING YOUR MICROWAVE