Under Cabinet Lighting Placement Guide
Posted by KraftMaid on 16th Nov 2021
---
An eye-catching glow and loads of practicality make under cabinet lighting a low-cost kitchen remodel essential.
---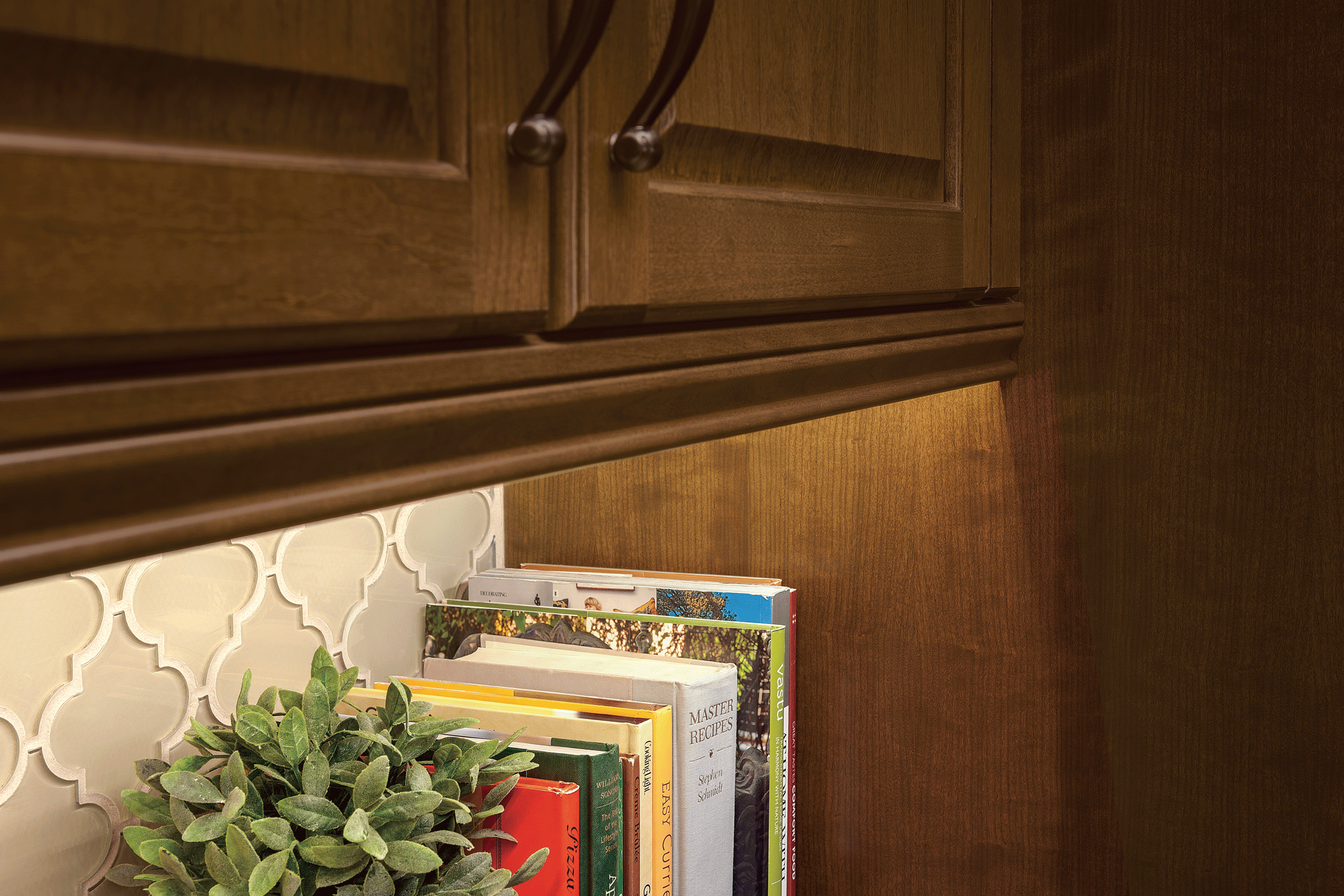 Under-cabinet lighting placement is often a tricky dilemma for homeowners. Make your kitchen shine by properly adding under-cabinet lighting to your existing space or upcoming remodeling plans.
---
WHY SHOULD UNDER CABINET LIGHTING BE USED?
It makes food prep safer. The combination of sharp knives and dark corners sounds like the makings of a horror scene. Under cabinet lighting floods your countertops with task lighting so it's easier to see what you're chopping, deboning or filleting.
It eliminates shadows. In kitchens with upper-wall cabinets, there's no way to locate overhead ceiling light fixtures directly above your countertops. The result is you always cast a shadow over your work surface. Under cabinet lighting positions the light in front of you.
It's an ideal nightlight. You don't want to blast your entire kitchen with bright light when you're on a late-night snack run. Instead, you can use the subtle glow of under cabinet lighting to make your way to the fridge without stubbing your toe (or alerting everyone else in the house you're cheating on your diet).
It elevates the look of your space. Under cabinet light fixtures are a great way to accent decorative backsplash tile and bring a premium flair to your kitchen design.
---
WHAT IS THE BEST KITCHEN UNDER CABINET LIGHTING?
From accent lighting to task lighting, LED lights are great for many different uses in the kitchen. While we offer LED Puck Lights for in-cabinet accent lighting, our LED Flexible Strip Tape Lights are the best kitchen under-cabinet lighting.
Energy efficiency. LED under cabinet lighting uses far less electricity than halogen or fluorescent lighting options.
Long life. LEDs are known to last much longer than traditional lightbulbs. Better yet, they won't gradually dim over that time.
No heat. LEDs don't produce heat, which is a bonus in a room that already includes ovens, cooktops, toasters and steaming hot water.
Nearly invisible. The ultra-thin, low-profile design of the LED tape light is easily hidden behind the face frame of your cabinet. Simply expose the self-adhesive backing and press it in place, resulting in endless kitchen strip lighting ideas.
A continuous wash of light. You can run up to 16 feet of LED tape light from a single power source, making it easy to cover long lengths of your countertop. Plus, diodes are spread evenly across the entire tape so you don't have to settle for just a few spotty bulbs along the span.
Dimmable control. Add a dimmer to your LED tape light to control exactly how much under cabinet lighting you see.
---
WHERE SHOULD UNDER CABINET LIGHTING BE MOUNTED?
For maximum light output, mount under cabinet strip or puck lighting toward the front of the cabinet – nearest the door – with the LEDs facing directly downward.
If you have a shiny, reflective countertop material, then it's often better to affix lighting to the inside back of the face frame, with the LED under cabinet lighting facing the backsplash, to prevent glare. Adding a light rail to your upper cabinets can make this mounting option easier.
---
TALK TO A DESIGNER
Looking for more under cabinet lighting options? Your local KraftMaid kitchen designer can help you design a lighting plan that works best for your needs and space. Get in touch with a designer near you.
Source: RICKI – The Thinking of Affluent Homeowners and High-End Designers, 2020
---