7 Tips To Make a Small Kitchens Feel Bigger
Posted by KraftMaid on 7th Jan 2016
---
It's among the most common questions out there: "How can I make my small kitchen look bigger?" These small kitchen remodel ideas can make any space-starved kitchen feel and function like a much larger one.
---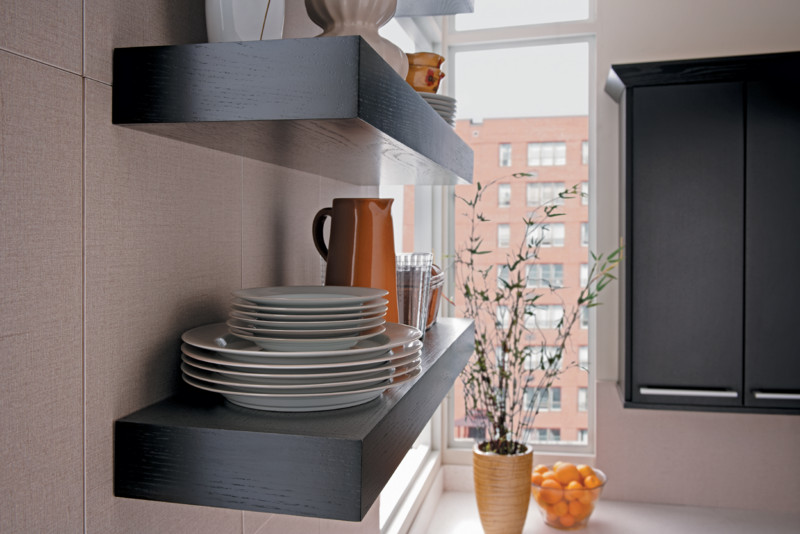 Open shelves in a small kitchen add a lighter, airy appearance.
1. GLASS DOORS AND OPEN SHELVING EXPAND YOUR VIEW
Use glass doors on some (or all) of your upper cabinets. Or opt for floating shelves instead of wall cabinets. Either way, this design trick works because your eyes will be able to see past what you've got stored there. That little bit of extra depth goes a long way toward helping a small kitchen seem bigger. (Just don't pack your cabinets full of stuff or clutter up every inch of your shelves. You'll simply defeat the purpose.)
---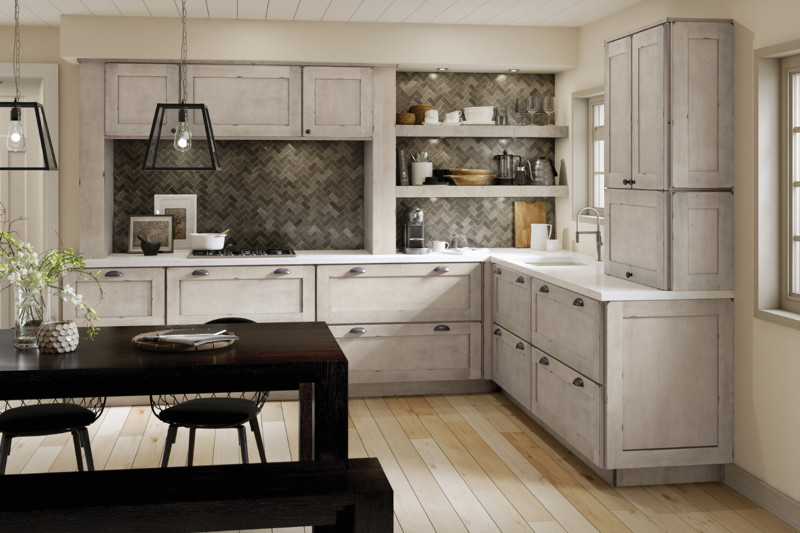 Keep your color palette simple in a small kitchen.
2. MONOCHROMATIC COLORS ENLARGE THE FEEL
Another small kitchen idea: Keep everything one color. Featuring a single color, or a palette that's very similar in tone and value, erases visual boundaries. . When selecting paint colors for small kitchens, conventional wisdom says you should stick to white and light grey cabinet colors and wall paint to reflect light and make your kitchen feel bigger. But don't be afraid of using a dark color or palette. Darker colors for smaller kitchens visually recede, making all your walls appear farther back than they really are.
---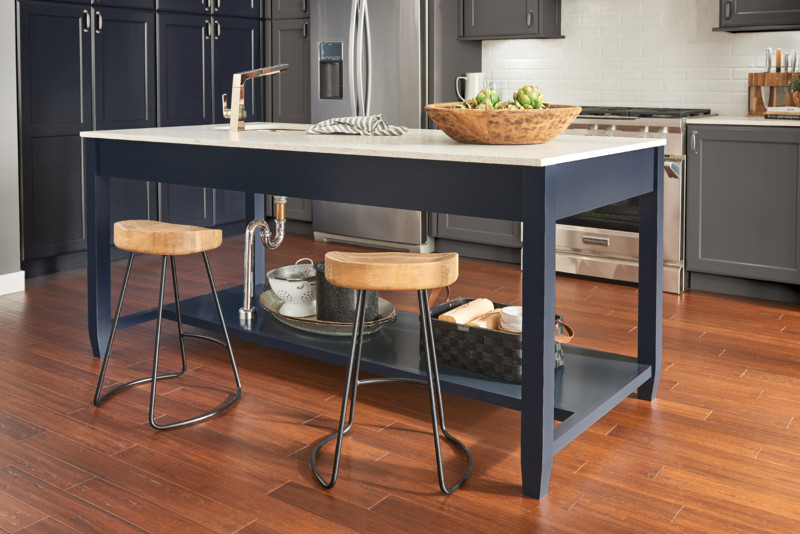 Use furnishings and design elements with slim silhouettes to reveal more floor space.
3. SMALL, SIMPLE FURNITURE WON'T HOG SPACE
The last thing a small kitchen needs is larger-than-life furnishings. Avoid stools with backs and dining tables with chunky legs. Instead, choose things that don't take up valuable floor space, like small islands with open lower shelving, slim chairs, streamlined stools and narrow tables. Small kitchen furniture ideas like these trick your eye into thinking a space is larger by revealing better sight lines and more flooring.
---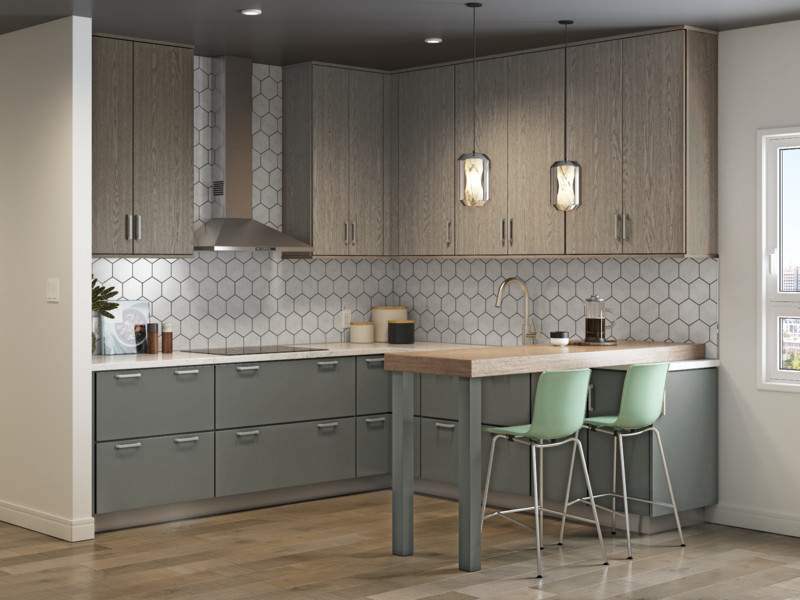 Consider simple design styles in kitchens with limited square footage.
4. CLEAN LINES MAINTAIN VISUAL FLOW
Don't overcomplicate style in a small kitchen. Ornate design elements, like big corbels and fussy details, can interrupt the flow and make the room feel busy. Instead, try a Modern or contemporary look. These styles are known for simple, sleek and uncluttered appearances that can make a small kitchen look bigger.
---
Shiny surfaces reflect light in this small-footprint kitchen.
5. LIGHTING OPENS UP SMALL SPACES
No matter what size kitchen you have, lots of light will help it feel as big as possible. Use sheer curtains or light-filtering shades to maximize the natural light coming into your kitchen. (Or eliminate your window treatments entirely.) Install more recessed lights and choose pendant fixtures that are minimalist in design to amplify artificial light without adding visual clutter. Finally, boost the shimmer by adding LED puck lighting and LED tape lighting as accents – inside, under or above your cabinets.
---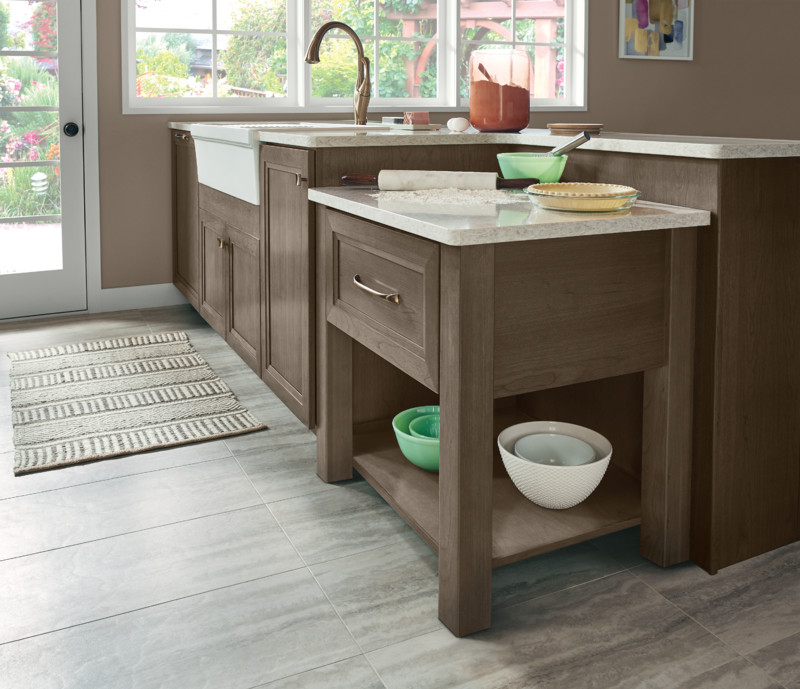 Preserve limited counter space in a small kitchen with clever appliance storage.
6. CLEAR COUNTERTOPS LEAVE ROOM FOR WORK
It's important to utilize every square inch of workspace in a small kitchen. Constantly having to move cutting boards or work around a coffee maker is a hassle. Look for creative storage ideas, like a base cabinet with a pull-up shelf that can double as a coffee station and a drawer that holds your knives and your cutting board. The idea is to get all that you can off of your countertops to keep your small space functional, but have everything that you frequently use handy and within easy reach.
---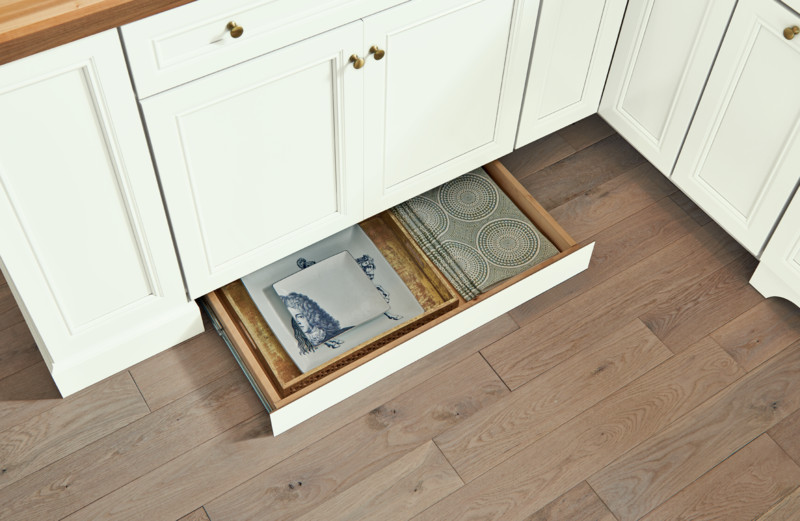 Make the most out of every inch of potential storage.
7. SMART ORGANIZATION TUCKS YOUR STUFF OUT OF SIGHT
Clutter cramps any size kitchen. So perhaps the best way to make a small kitchen feel big is to keep only the essentials and have a designated place to store everything you have. (Read our blog on 5 Effective DIY Kitchen Organization Ideas to formulate your storage strategy.) Your KraftMaid® designer can introduce you to an amazing array of clever storage products that will make it easier for you to keep your kitchen neat and tidy.