What Are Standard Kitchen Cabinet Sizes?
Posted by KraftMaid on 23rd Jun 2022
---
There's no standard cabinet door or drawer size that would work for every kitchen. So, we'll walk you through all the different kitchen cabinet sizes for the base, wall and full-height pantry cabinets we make to help you find the right ones for your design.
---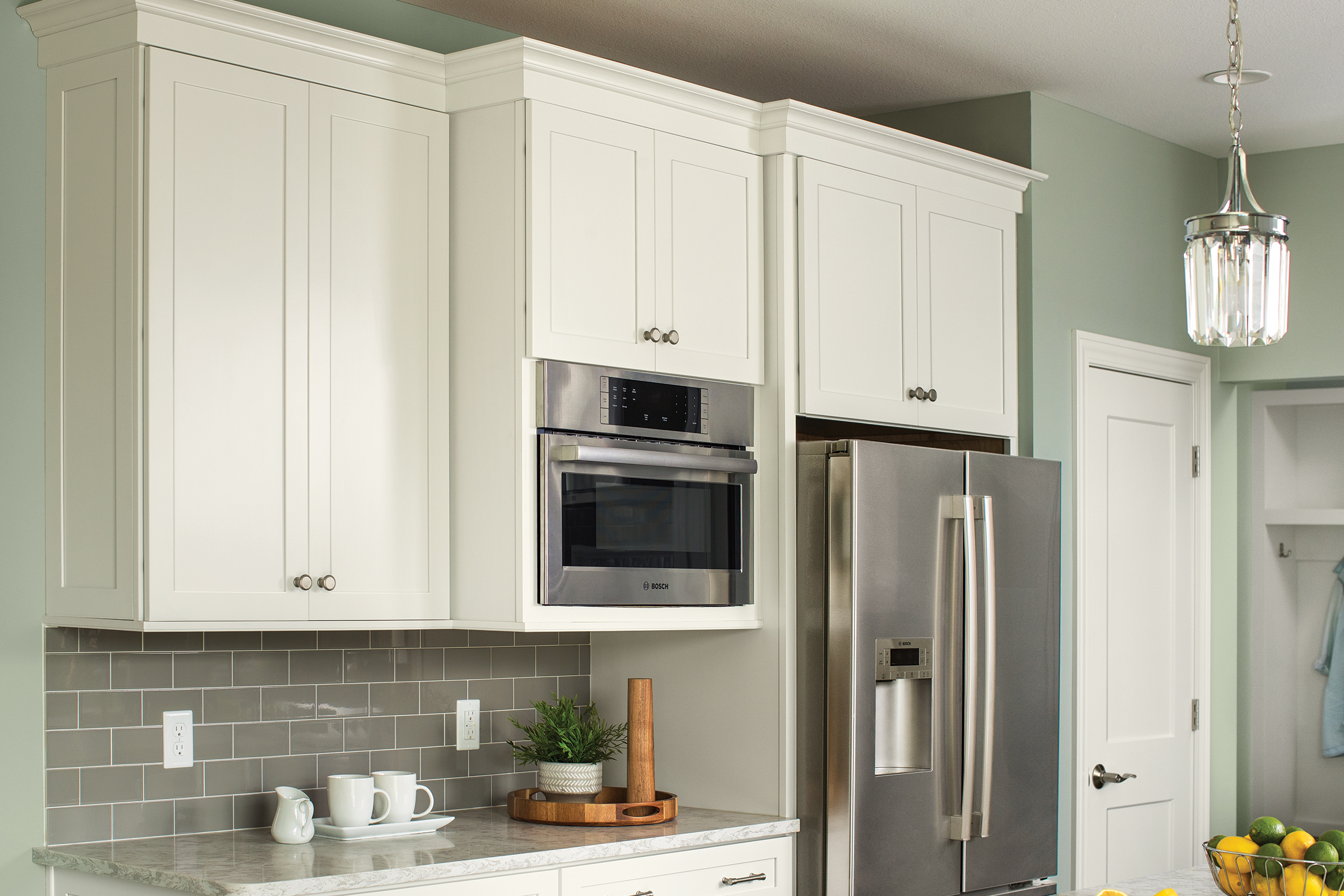 Customize the look and functionality of your kitchen with different sizes of cabinets.
As a semi-custom cabinet company, KraftMaid® has an extensive offering of cabinet options that let you design a kitchen that fits your personality, your storage needs and your space. Some of the most common questions people have regarding semi-custom cabinets revolve around cabinet sizes:
Do semi-custom kitchen cabinets come in standard sizes?
What's the largest (or smallest) KraftMaid cabinet available?
Can I order any size cabinets I want?
What cabinet size fits my space?
Though we have thousands of cabinet configurations in our specifications book, there are a few sizing standards and methods we follow. This standard kitchen cabinet sizes guide will help you get a better understanding of what's possible. Your local kitchen designer will help you figure out all the details.
---
WHAT ARE STANDARD KITCHEN WALL CABINET SIZES?
Depth – The standard wall cabinet depth is 12", which accommodates common items like cereal boxes and dinner plates, but won't obstruct access to the countertops below. You'll also find 24"-deep wall cabinets that you can use to create a built-in effect surrounding a refrigerator.
Height – Unlike depth, there is no standard wall cabinet height. To fit varying design preferences and ceiling heights, our cabinets range from 12" to 54" tall. When you consider that standard wall-mounted kitchen cabinets are typically installed 54" above the floor, or 18" above the countertop:
A 42"-tall, full-height wall cabinet will extend all the way to an 8' ceiling, while 36"- and 39"-high wall cabinets leave room for crown molding packages and above-cabinet LED accent lighting.
Upper cabinets that are 48", 51" and 54" high allow you to maximize storage in kitchens with taller ceilings.
Wall cabinets shorter than 36" can be used in kitchens with soffits or combined and stacked to create customized storage.
Width – Our upper cabinets start at a slim, 6"-wide cabinet and increase in width by 3" increments. Our widest standard wall cabinet option measures 48" with either two or three doors.
---
WHAT ARE STANDARD KITCHEN BASE CABINET SIZES?
Depth – The industry standard base cabinet depth for kitchen cabinets is 24", as anything deeper makes it difficult to reach and retrieve items stored inside. (This measurement does not include doors and drawers, only the cabinet box dimension from the face frame to the back panel.) However:
We offer several 12"-deep, shallow base cabinets that are often used in combination with upper cabinets to create a wall of pantry storage.
You'll also find 27"-deep base cabinets specifically designed to accommodate larger cooktops and sinks.
Height – The standard base cabinet height for kitchen cabinets is 34-1/2" tall. When paired with a 1-1/2"-thick countertop, this establishes an overall countertop height of 36" from the floor – an industry standard.
Width – Like wall cabinets, our lower cabinets come in a wide range of widths, starting at 6" wide and expanding in 3" increments up to 48" wide. This array of sizes allows you to customize your kitchen with doors, drawers or pull-out storage units, plus a host of interior accessories like roll-out trays, tray dividers and more.
---
WHAT ARE STANDARD TALL KITCHEN PANTRY CABINET SIZES?
Depth – Tall kitchen pantry cabinets come in 12"- and 24"-deep options that line up with adjacent wall or base cabinets of the same depth.
Height – The height of our tall pantry cabinets starts at 84" high and increases in 3" increments to 96" high. These sizes are designed to fit common kitchen scenarios. For example, an 84"-high tall cabinet will perfectly fill the space in a kitchen with an 8' ceiling and a 12" soffit, while the top of a 90"-high full-height pantry cabinet will align with the top of a 36"-high wall cabinet that is hung 54" off the floor.
Width – You can choose from a host of tall cabinet configurations that go from 9" to 36" wide.
---
STANDARD KITCHEN CABINET SIZES CHART
Need this information in one convenient spot? Use this standard kitchen cabinet size chart to help you make the best decision on what kitchen cabinet will fit in your kitchen.
| Kitchen Wall Cabinet Sizes | Kitchen Base Cabinet Sizes | Tall Kitchen Cabinet Sizes |
| --- | --- | --- |
| Height: 12" to 54" | Height: 34-1/2" or 36" with countertop | Height: 84", 87", 90", 93", 96" |
| Width: 6", 9", 12", 15", 18", 21", 24", 27", 30", 33", 36", 39", 42", 45", 48" | Width: 6", 9", 12", 15", 18", 21", 24", 27", 30", 33", 36", 39", 42", 45", 48" | Width: 9" to 36" |
| Depth: 12" or 24" | Depth: 12", 24", 27" | Depth: 12" or 24" |
---
SIZE MODIFICATIONS
The standard cabinet sizes we've outlined here will cover the vast majority of installations. But we know kitchens can be anything but standard. Through our special order program, we can modify width, depth and height to 1/16" increments so your cabinets fit your space. Ask your local designer for details on placing a modified order.
If you're wondering what cabinet size might work best for your situation, ask a KraftMaid designer for advice.
---
YOU MAY ALSO LIKE:
How to Design a Kitchen Island