Warm Neutral Kitchen Design Ideas
Posted by KraftMaid on 9th Dec 2022
---
Warm neutral colors can help you set an inviting scene in your next kitchen. Use these highly adaptable and exceptionally hospitable warm neutral kitchen design ideas to help inspire your next remodel.
---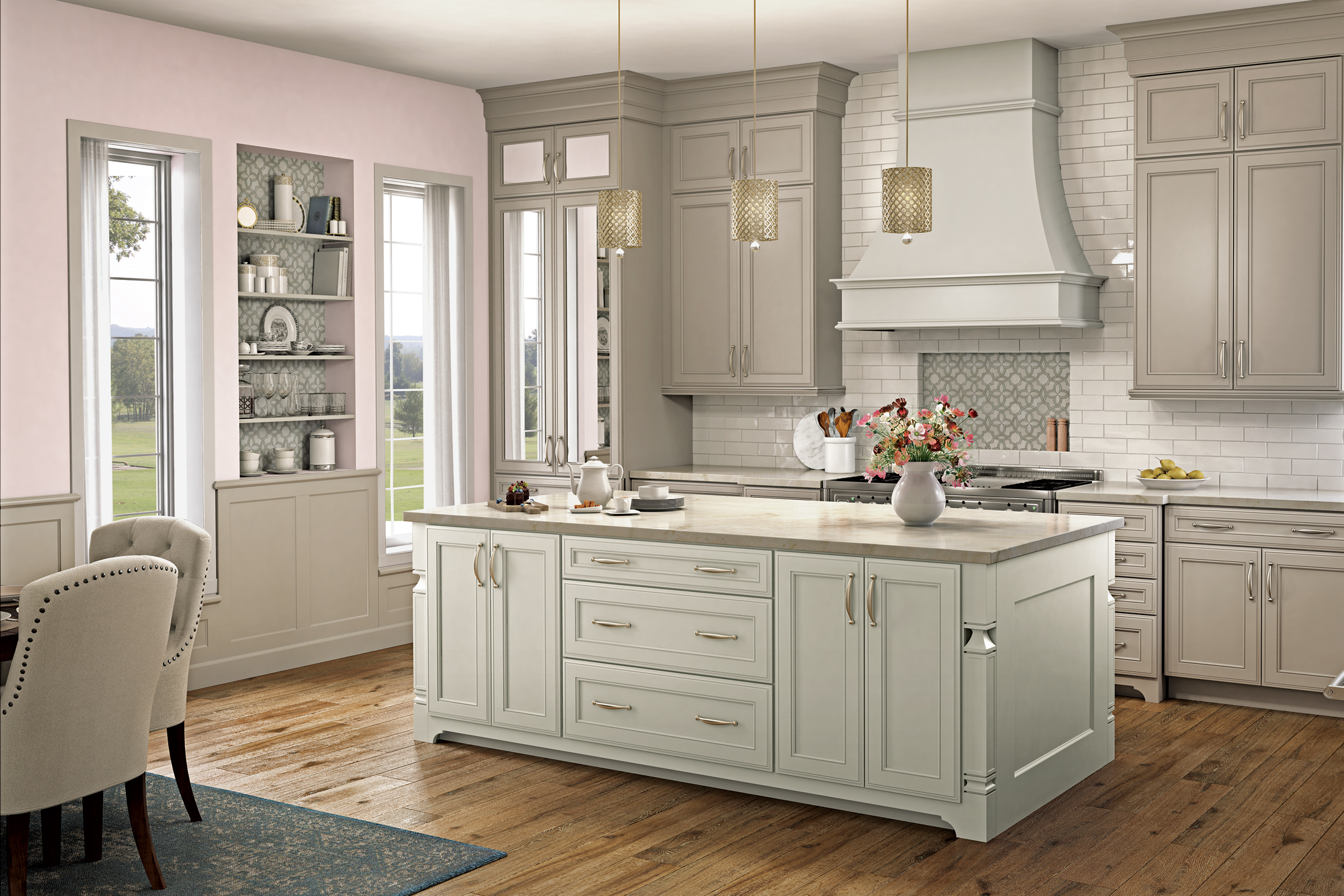 Think beyond boring beige. Warm neutral paint colors Overcast (cabinets) and Moonshine (island) get a glam spin in this kitchen.
There's been a gradual move to warmer colors in the kitchen. It's a shift that makes a lot of sense. As we've spent more time at home, we're reminded how much life happens in our kitchens. And warm neutrals give off a cozy and welcoming feeling that's well suited to the room that brings us together throughout the day.
---
WHAT ARE WARM NEUTRAL COLORS?
Let's break down the two words in the name. Warm is a general term used to refer to the red, orange and yellow families of the color spectrum. Any color with golden, amber, tan or brown undertones is thought of as warm. Neutral signifies colors that don't have a strong, identifiable hue. Black, white and grey are the ultimate examples of neutrals, but muted colors – like taupe or ivory – are often considered neutral as well.
Among KraftMaid® cabinets, you'll find warm neutral kitchen paint colors, including:
---
WARM NEUTRAL KITCHEN COLOR SCHEMES
As the name implies, neutrals don't make a big statement on their own. Instead, warm neutrals set the stage for the look you're trying to achieve in your kitchen.
Create a tonal color scheme by layering one warm neutral with another. You'll end up with a cohesive, calming vibe that's more interesting than a true monotone kitchen.
Inject some drama with a contrasting two-tone color scheme comprised of a warm neutral and a more defined accent color. (Darker accent colors and deeper accent stains will make any neutral you use with them appear lighter.)
Take advantage of the natural warmth of wood by using any light- or mid-tone stain with a warm neutral. Many Scandinavian-inspired designs and farmhouse kitchens feature this look.
No matter how you use them, keep in mind that warm neutrals look best when paired with other colors that also have warm undertones.
---
DESIGN VERSATILITY OF WARM NEUTRAL COLORS
The adaptability of warm neutrals goes beyond their ability to complement other colors. There's hardly a design style that doesn't look amazing with warm neutrals.
A touch of warm neutral color can give traditional kitchen designs a fresh look.
Creamier whites can make streamlined contemporary kitchens feel cozy.
Warm grey can set the ideal stage for transitional spaces.
Better yet, warm neutrals have a timeless appeal. Rich colors can go in and out of style with changing kitchen design trends. (Remember Harvest Gold and Avocado appliances?) Neutrals are foundational colors that have been used throughout many decades. If you do want to keep up with the latest trends, having a backdrop of warm neutrals makes it easy to swap out accent colors for more trendy ones without starting from scratch.
---
FIND YOUR FAVORITE WARM NEUTRALS
Visit a KraftMaid design center near you to see warm neutral colors on various door styles and speak with a professional kitchen designer about finding the perfect colors for your new kitchen vision.