Choosing Cabinet Colors to Fit Your Appliances
Posted by KraftMaid on 14th Sep 2023
---
What color appliances go best with white cabinets? Is it risky to stray from tried-and-true stainless steel? We've got ideas on how to harmonize appliance finishes and kitchen cabinet colors.
---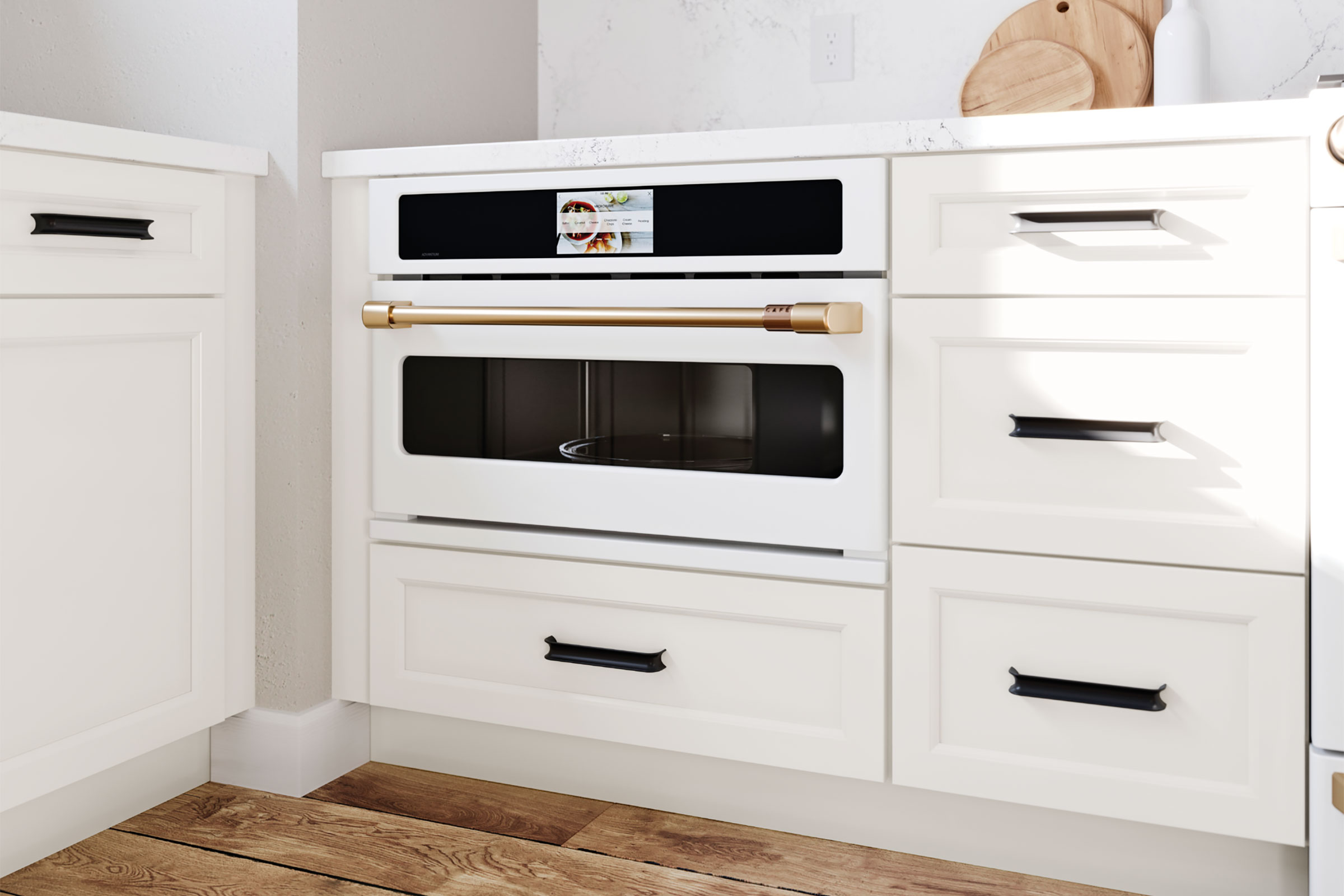 Combining white cabinets with white appliances allows other elements of your kitchen, like countertops or hardware, to step into the spotlight.
DESIGN TIPS FOR WHITE APPLIANCES
White appliances are having a style resurgence, and it's easy to see why. They offer a clean, minimalist look that many people love in the kitchen. Best of all, white appliances go well with lots of cabinet colors.
WHITE CABINETS WITH WHITE APPLIANCES
White cabinetry continues to rank as a bestseller for kitchens of all styles, so it's a no-brainer to marry white appliances with white cabinetry in a classic white-on-white design. (Consider including warm, natural accents, like wicker bar stools or hardwood flooring, in your space to balance the potential starkness of an all-white room.)
COLORFUL CABINETS WITH WHITE APPLIANCES
White appliances look great with colored cabinets too. Light, muted neutrals tend to work best with white appliances because bold, intense colors next to bright white dishwashers and refrigerators can create too much contrast and drama for most tastes. For example, KraftMaid Moonshine Grey cabinets with white appliances make for a can't-miss pairing. But the darker charcoal grey value of our Urban Grey paint can come off as too jarring of a contrast against a white range or microwave.
STAINED CABINETS WITH WHITE APPLIANCES
Light stains, like Honey Spice, make an especially lovely pairing with white appliances. And let's not forget the look of Natural wood. You'll often see this white-and-wood look in Scandinavian-inspired kitchen designs.
---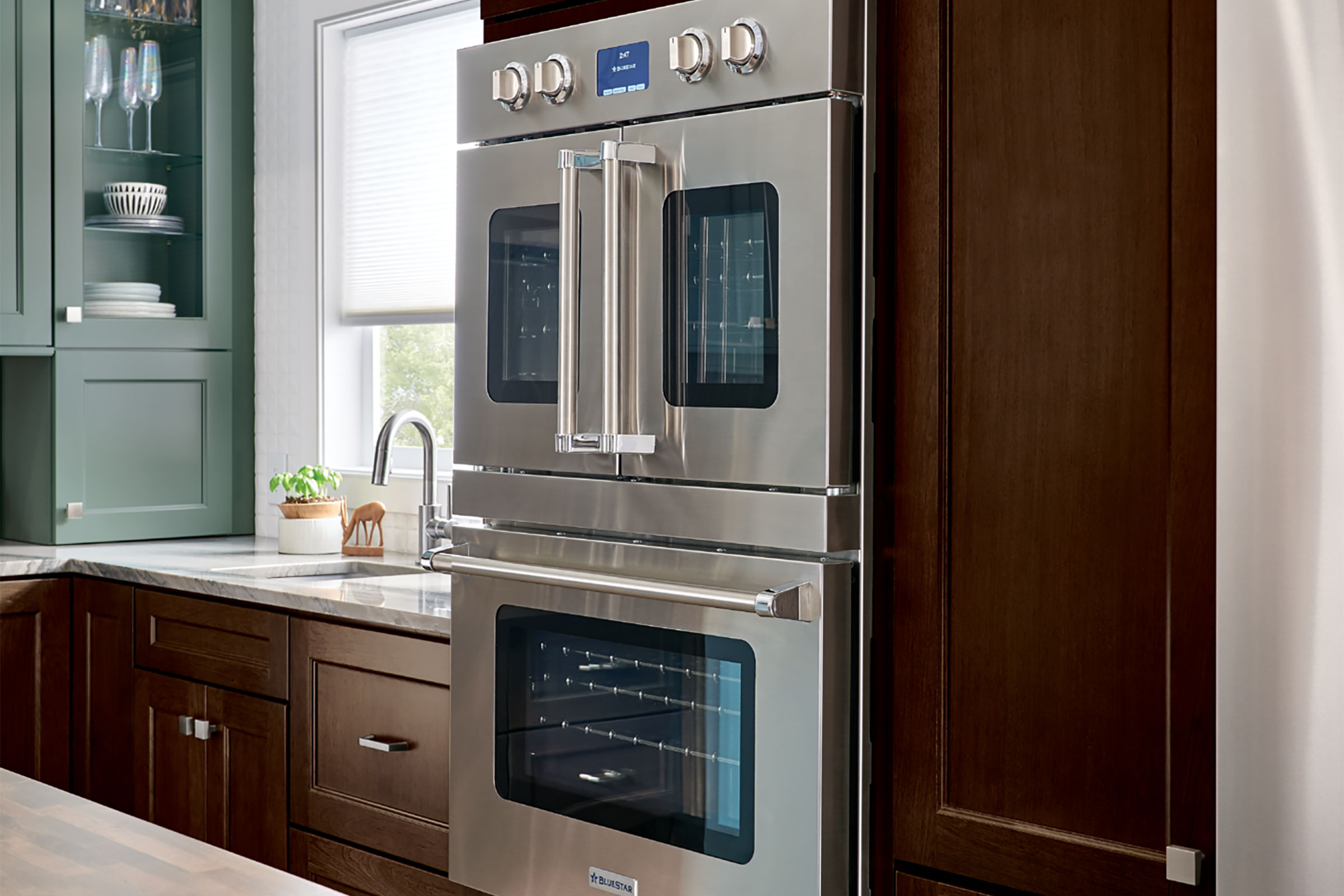 Stainless steel appliances act like the ultimate neutral enhancing any color palette.
STAINLESS STEEL APPLIANCES: A PERFECT MATCH FOR ANY CABINET COLOR
What color cabinets go with stainless steel appliances? Any cabinet color will look great with stainless steel appliances. Really. Stainless steel is simply the most versatile appliance finish option you'll find. And that's one of the reasons why it has ruled the market for decades.
STAINED CABINETS WITH STAINLESS STEEL APPLIANCES
Any shade of stain you choose for your kitchen cabinets will go with stainless steel appliances. Against rich, dark stains, the reflective luster of stainless steel shines like a jewel. With lighter stains that allow more natural woodgrain to show through, the sleek, metallic quality of stainless steel offers an attractive contrast to the organic texture.
PAINTED CABINETS WITH STAINLESS STEEL APPLIANCES
Black or white cabinets with stainless steel appliances? Yes, please. Blue or green cabinets with stainless steel appliances? Absolutely. Stainless steel will look right at home with cabinets in any color paint. Better yet, the mid-tone quality of stainless steel can be a bridge in a palette that includes whites (or light neutrals) and brighter, bolder, or darker colors.
---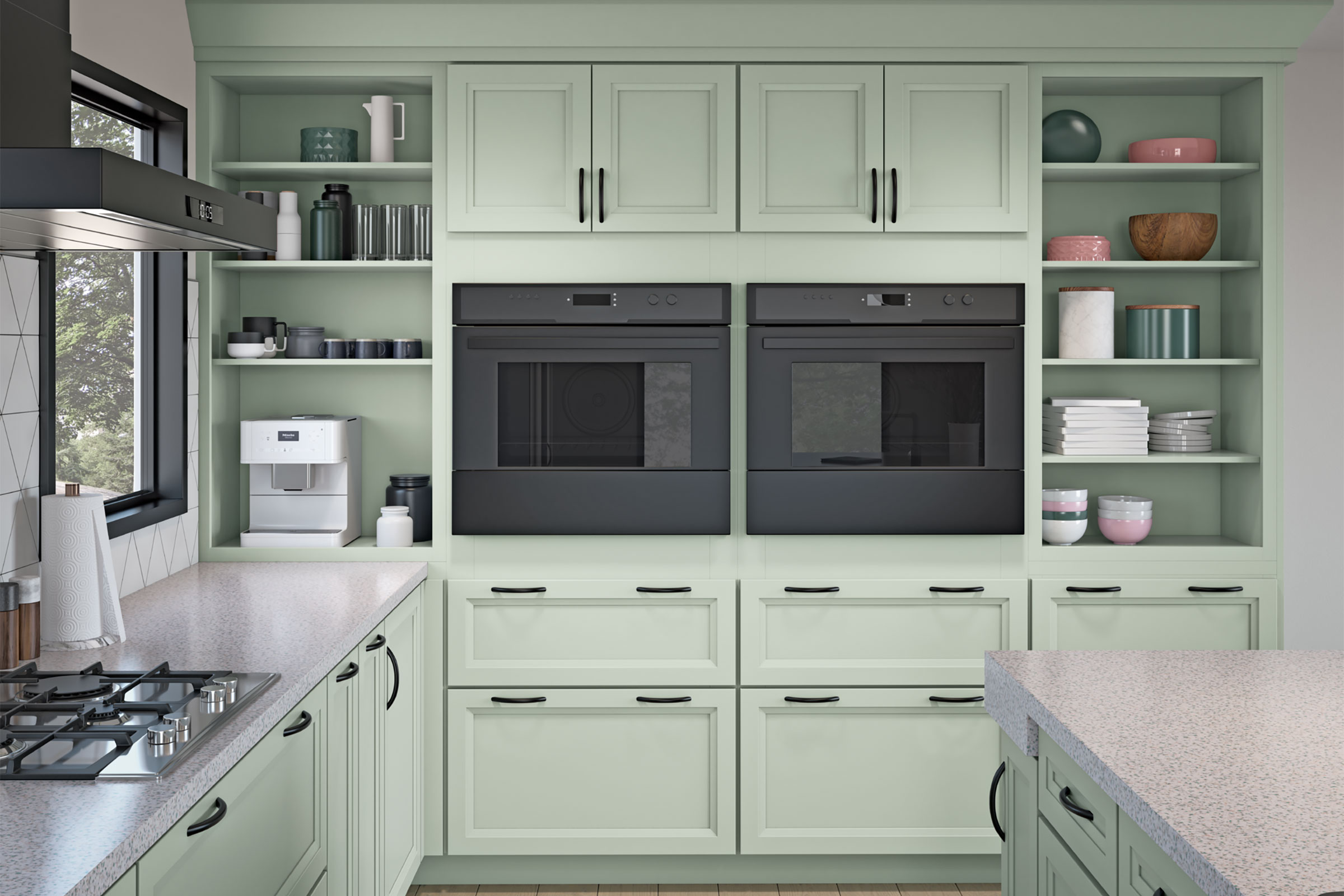 Black appliances become a focal point when they contrast the rest of your kitchen's color scheme.
HOW TO USE BLACK APPLIANCES FOR A TREND-PROOF LOOK
Like black limousines and little black dresses, black appliances are classy, timeless, and always in style. Just be sure to consider the sheen. A retro-styled range in matte black can mimic the appearance of a vintage cast-iron stove – perfect for a traditional- or rustic-style room. On the other hand, a smart wall oven with a glossy black shine will better fit the high-tech, streamlined design of a contemporary kitchen.
WHAT COLOR CABINETS GO BEST WITH BLACK APPLIANCES?
Kitchens with black appliances often look best when those appliances either become focal points of the space or completely disappear into the scene. So, your best bet is to establish a bold, high-contrast cabinet color scheme (like white cabinets with black appliances) or create a strikingly sophisticated design featuring black cabinets and black appliances.
---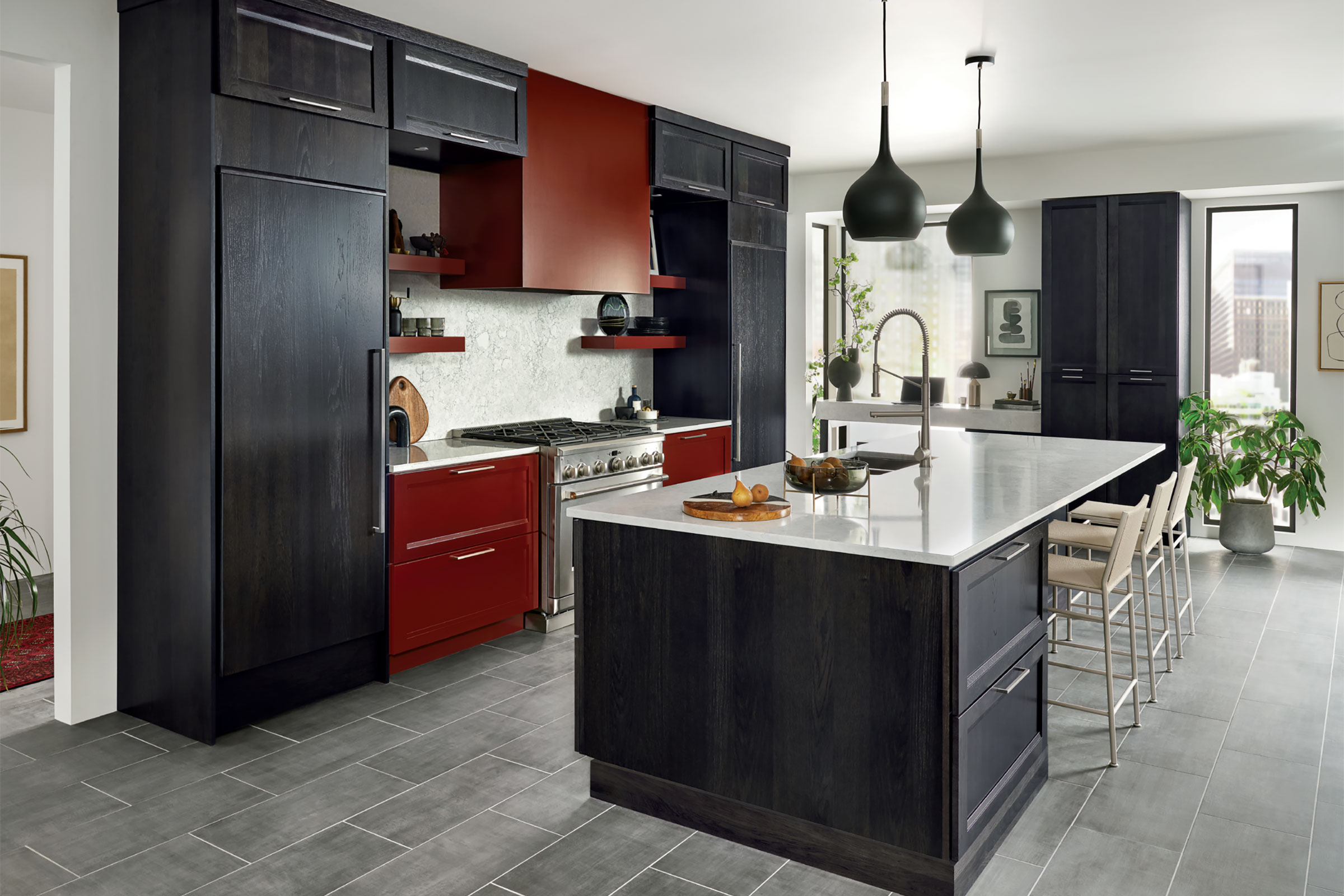 Decorative appliance panels disguise appliances, giving them the look of your cabinets.
COMPLETELY DISGUISE YOUR APPLIANCES BY CHOOSING PANEL-READY MODELS
With panel-ready refrigerators and dishwashers, you don't have to worry about coordinating a kitchen design around white, black, or stainless steel appliances. Panel-ready models accept wood panels (custom-size door fronts) that match the rest of your cabinetry in style and finish. Hiding appliances creates a bespoke, high-end appearance.