Designing a Cozy Hygge Kitchen
Posted by KraftMaid on 9th Mar 2023
---
It might be an unfamiliar (and often mispronounced) word, but you'll immediately recognize the hygge aesthetic. It's that cozy, inviting space that makes you feel warm all over.
---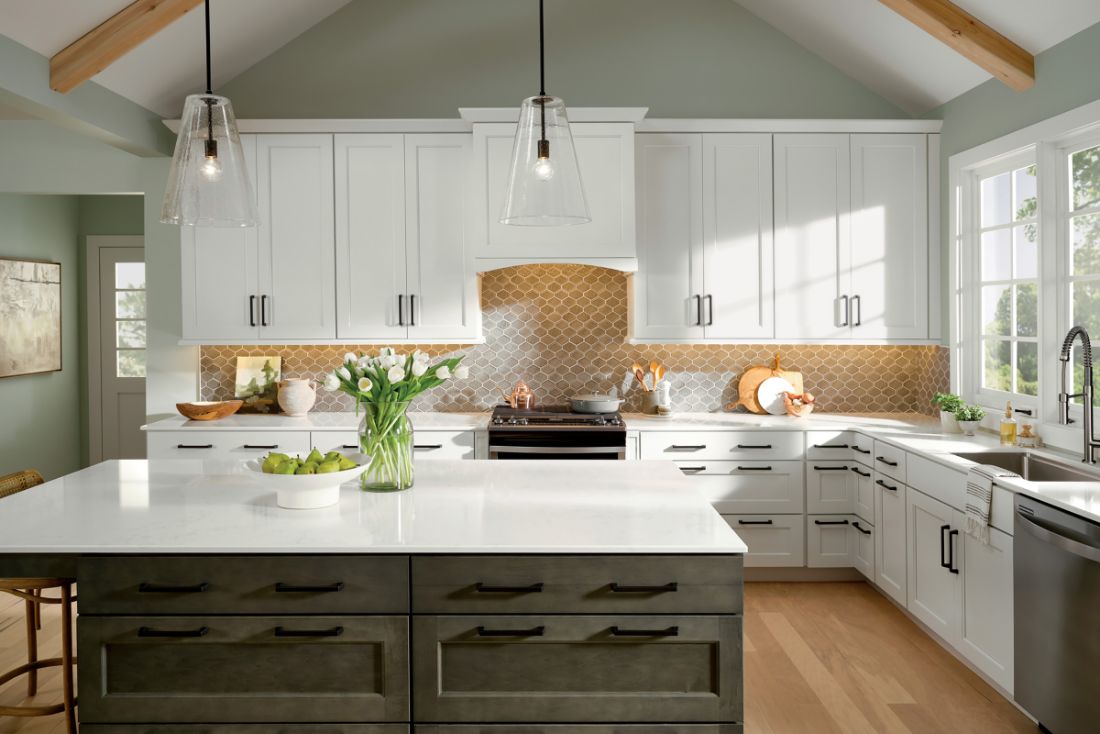 This cozy hygge kitchen design embodies a comfortable and casual atmosphere.
Hygge (pronounced "HOO-gah") is a Danish cultural concept that encourages people to enjoy life's simple pleasures surrounded by friends and family in a comfortable, cozy atmosphere. There's nowhere more perfect than the heart of the home – your kitchen – to bring the hygge aesthetic to life. The secret to creating a hygge-style kitchen design lies in cozy kitchen ideas like these.
---
HYGGE KITCHENS ARE LIVABLE SPACES
Socializing is a key aspect of hygge. So, feeling hygge at home can mean designing kitchens as gathering spaces. Whether it's having a few stools around a central kitchen island or incorporating a corner dining nook with a padded banquette, make room for seating in your floor plan.
---
SIMPLICITY REIGNS IN HYGGE KITCHEN DESIGN
There's nothing fancy or flashy about a hygge kitchen styling. It's more of a back-to-basics, only-the-essentials approach to kitchen design that aims to create a casual, welcoming feeling in your home. There are a few easy ways to express simplicity in your design plan:
Take inspiration from the minimalist Scandinavian kitchen design by using a slab or Shaker-style door to establish a clean-lined, uncomplicated look. But don't stop there. Hide your countertop clutter with charging drawers and appliance garages.
Embrace informality. Create a furniture-like island with decorative legs and open lower shelving. Consider aged finishes to give new cabinets a quaint, antique appearance. Hang your collection of cast-iron skillets or patinaed copper cookware from a wall rack as primitive kitchen decoration. If it feels cozy and lived in, then it's hygge.
Limit the items you put on display to things that are highly functional and used regularly (e.g., vintage wall clock, maple cutting board or coffee press) or have special meaning (e.g., your grandmother's cookbooks or the fruit bowl from your wedding registry).
---
USE WARM, NEUTRAL PAINT COLORS TO CREATE A COZY HYGGE KITCHEN
Typical hygge paint colors include airy off-whites, light greys, and earthy beige neutrals paired with blonde wood for extra warmth. Warm neutral hygge cabinet color combos in the KraftMaid line include Warm White paint with Natural stain and Pebble Grey paint with Brown Sugar stain.
If you crave a little more drama, then you can get hygge style with a darker color palette too. It's a look we call Nordic Noir. Among KraftMaid finishes, Riverbed is a dark charcoal with warm undertones that can be paired with a mid-tone stain, like Aged Bourbon. Or try two stains – deep, dark Slate with a warm brown Molasses stain.
---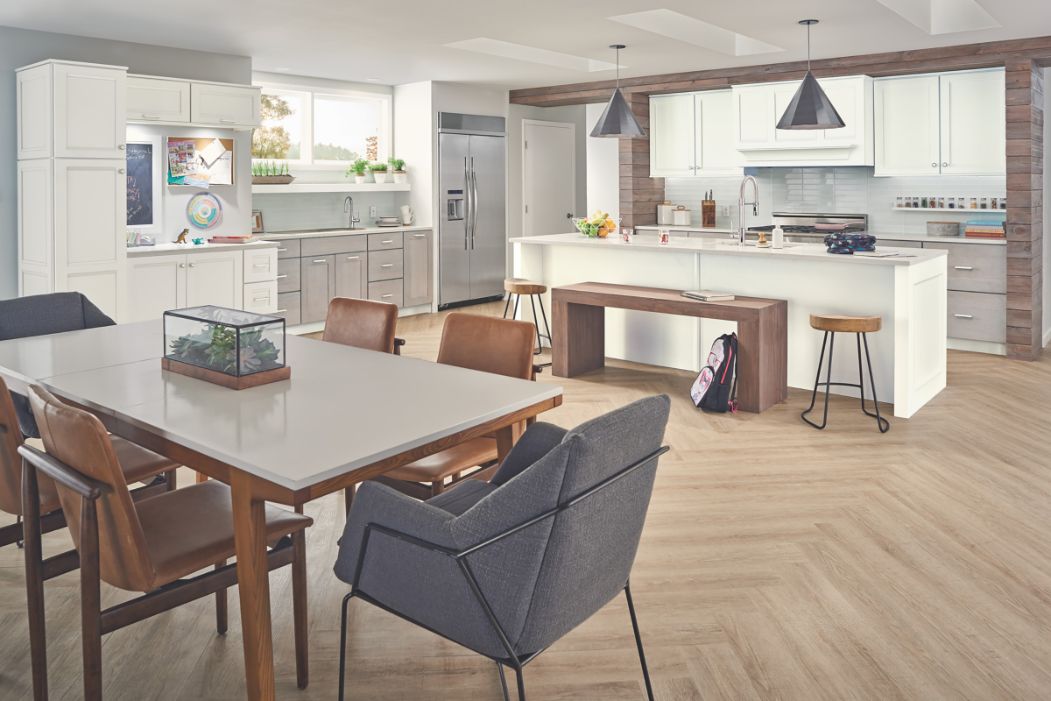 Various tones and textures of wood grain warm up this hygge-inspired Scandinavian kitchen.
---
HIGHLIGHT TEXTURE AND NATURAL MATERIALS WITH HYGGE DÉCOR IDEAS
Regardless of what style you're looking to create, textures soften the look of a space. Doing so with organic materials makes it extra hygge.
Add instant character with textural elements, like a braided cotton rug, granite countertops with a leathered finish, or wicker dining chairs.
Skip highly polished chrome lighting fixtures and faucets. Instead, consider softer finishes, like brushed brass, wrought iron, or matte black.
Bring in nature with a potted plant or a windowsill herb garden.
---
SEE MORE WARM AND COZY HYGGE KITCHEN EXAMPLES
Visit the KraftMaid Hygge Kitchen inspiration board on Pinterest where we've curated images of kitchens that convey hygge style.