2022 Kitchen Trends for Your Next Remodel
Posted by KraftMaid on 3rd Feb 2022
---
There's always something new in kitchen design. Look for these style and design trends in the coming year – maybe in your own new kitchen.
---
MIXED MATERIAL KITCHENS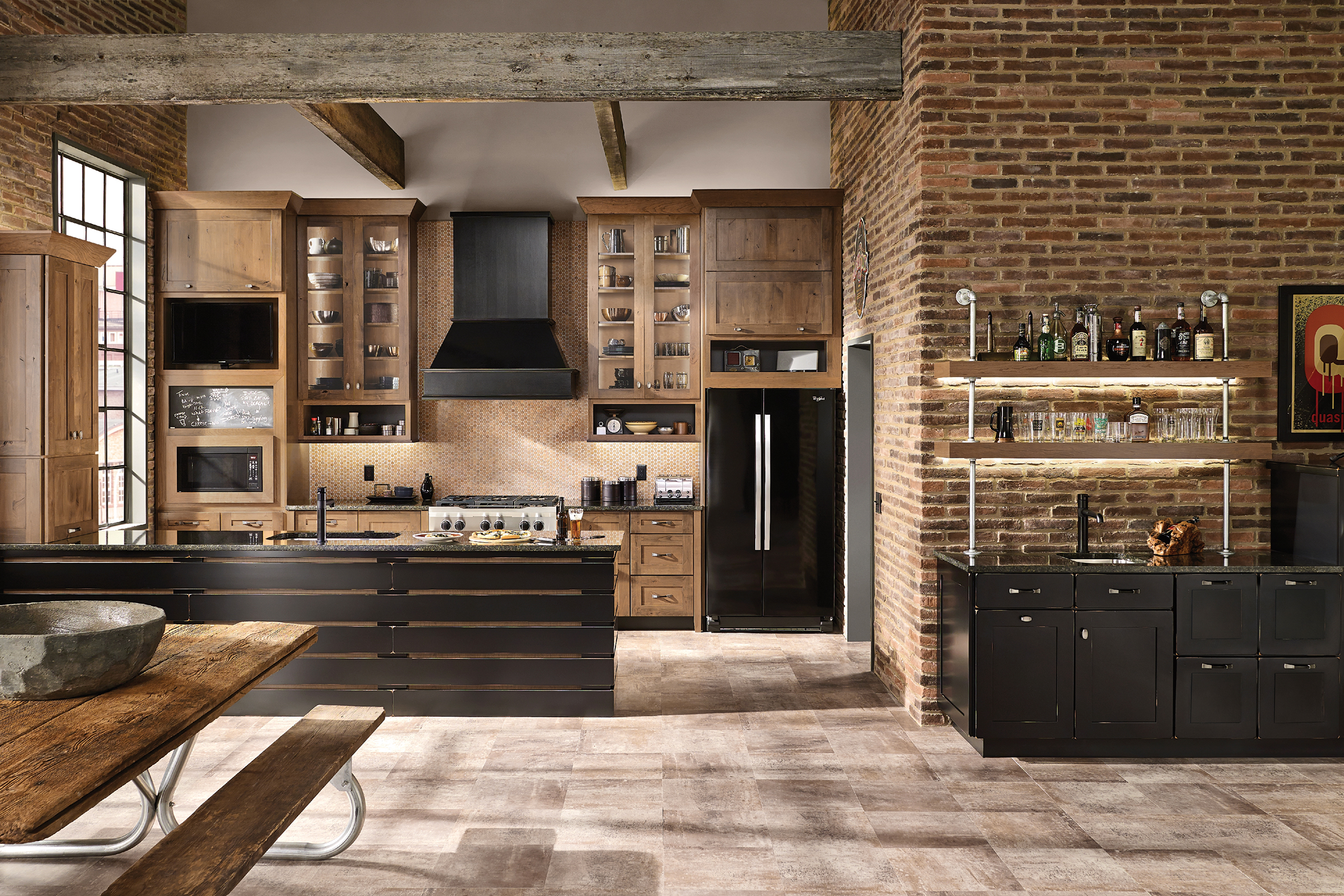 This industrial style kitchen showcases a blend finishes, colors and materials.
The mixed-materials kitchen design trend gained steam in 2021 and keeps growing. That's because using a variety of materials is a great way to create character, build visual interest and express more of your personality.
It's easy to use mixed materials in your design. Mix painted cabinets with stained wood cabinetry ( natural finish or light-tone stains are today's hottest look) to bring in the texture and warmth of woodgrain. Consider more than one countertop material – as a contrasting design feature on your kitchen island or to define separate work zones throughout your space. And explore using different metals among appliances, cabinet hardware and faucet or lighting fixtures.
Work with your kitchen designer to find the right applications and proportions for each material to ensure your mixed-material kitchen design has a balanced look.
---
MORE COLOR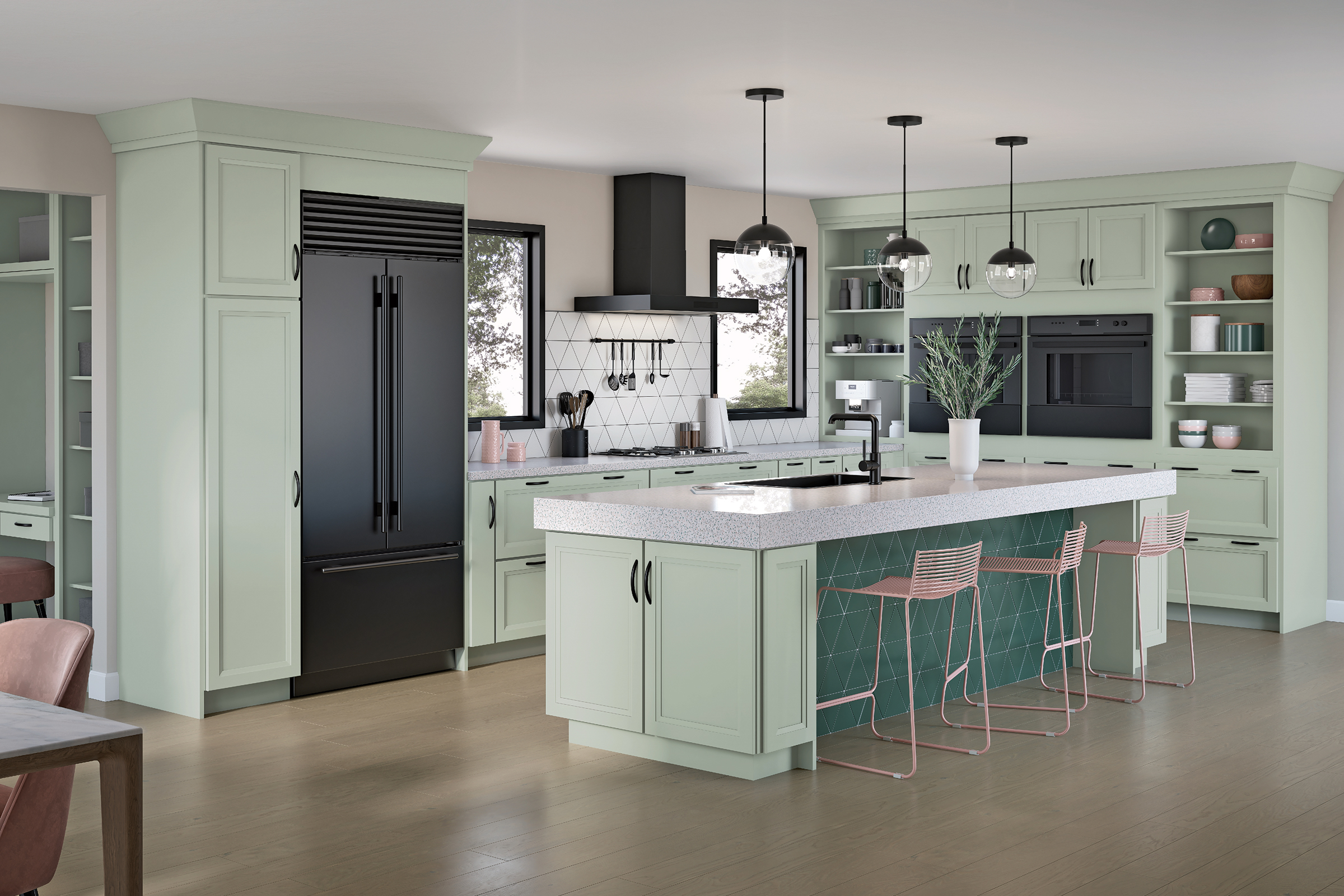 As a light and fresh green, KraftMaid Serenity paint is an on-trend color expression.
All-white kitchens aren't going away any time soon, but homeowners appear to be more comfortable with color in the kitchen. A reported 43% of designers are seeing more colorful kitchens in the next 2-3 years. It's a trend you'll want to keep in mind as you start choosing cabinet colors for your new kitchen. We're forecasting these color categories – and some specific KraftMaid paint colors from each category – will lead the pack:
Black – Use black in large swaths to create dramatic contrast with a light color or in small doses as a sophisticated accent. (Check out Riverbed or Onyx.)
Warm Neutrals – Options include everything from off-white to dark grey with warm undertones. (Think Warm White, Canvas and Pebble Grey.)
Green – Every shade of green is trending. Lighter greens are typically soft and muted, while darker greens offer a wider range of bolder saturations. (Look at Serenity or English Green.)
---
MULTI-FUNCTIONAL KITCHEN DESIGN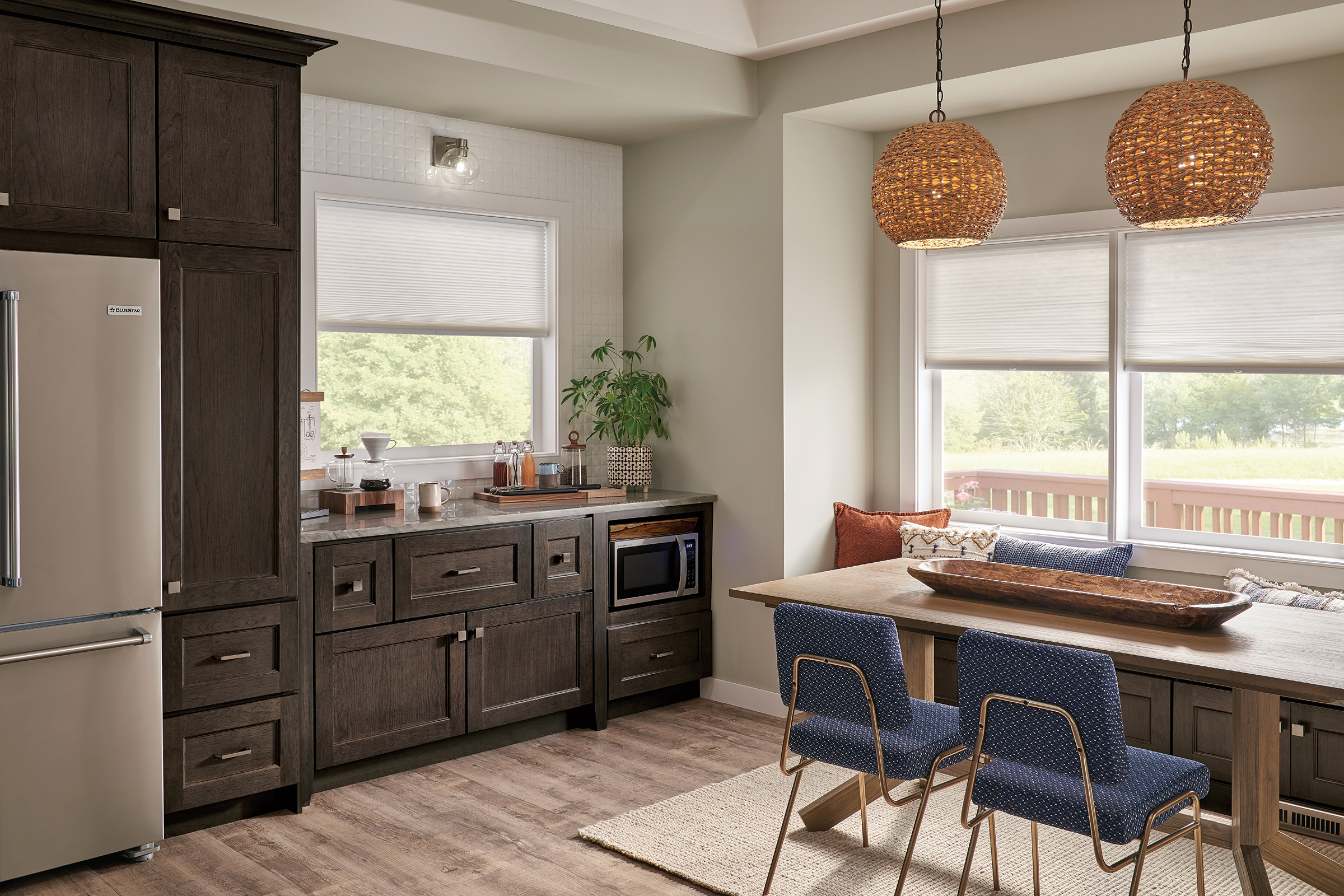 A coffee station and dining banquette make the corner of this kitchen more useful.
You've probably found yourself spending more time at home in the last year. You're not alone. With this shift in lifestyle, there's a growing need for more adaptable, functional kitchen spaces that can cater to a diverse list of activities.
In the kitchen, this can translate to carving out a dedicated kitchen worktable for video conferences or homework. Or it might mean creating a beverage and snack station to better serve kids and guests. Perhaps nothing is as versatile as a well-designed kitchen island that can play host to casual dining, food prep and conversations.
---
CONTINUE TRACKING TRENDS WITH US
Follow KraftMaid Cabinetry on Twitter, Facebook and Instagram to get the latest kitchen design ideas all year long.