Storage Ideas For How To Organize Pots And Pans
Posted by KraftMaid on 12th Jul 2022
---
Kitchen cabinet pots and pans storage ideas to keep your collection well organized, well protected and readily available when you need to meal prep.
---
Anyone who's ever prepared a full-course meal from scratch loves having a variety of pots, pans and lids in different shapes, sizes and materials on hand. But there's a storage dilemma that comes with all those bulky cookware items. And for a lot of folks, installing a hanging pot rack above the island just isn't the look they want in their kitchen.
Over the years, we've come up with lots of inventive ways to maximize kitchen cabinet storage – including ways to neatly tuck all of those pots and pans away and out of sight. Through it all, we can say with certainty that you'll love your dream kitchen even more when you make pots and pan storage part of your design plan.
WHY ORGANIZE YOUR POTS AND PANS?
Protect your investment. Pots and pans can be pricey. Nesting them inside one another can scratch the nonstick layer or chip the ceramic or porcelain coating. Don't discount your investment of time and effort either. Cast iron pans will handle a lot of abuse but stacking them without layering protection between each can wear down the seasoning you worked so diligently to achieve.
Keep it quiet. There are few sounds more unnerving than an avalanche of cookware cascading out of a cabinet the instant you open the door. Even the everyday banging, crashing, or rattles that wake the dogs and the rest of your family when you're hunting for pans to make a big weekend breakfast can be annoying.
Keep it dry. At one time or another, we're all guilty of putting away cookware that's not exactly bone dry. Excess moisture trapped between packed cookware can rust cast iron. Worse yet, it could cause musty smells inside your cabinets.
Make meals more efficiently. Life in the kitchen is just plain better when you can quickly grab a lid to match the pot or pan that you're using. And when your cookware storage solution glides out of the cabinet into plain sight, you can even save yourself the trouble of repeatedly kneeling down and reaching in to get what you need.
POTS AND PANS STORAGE IDEAS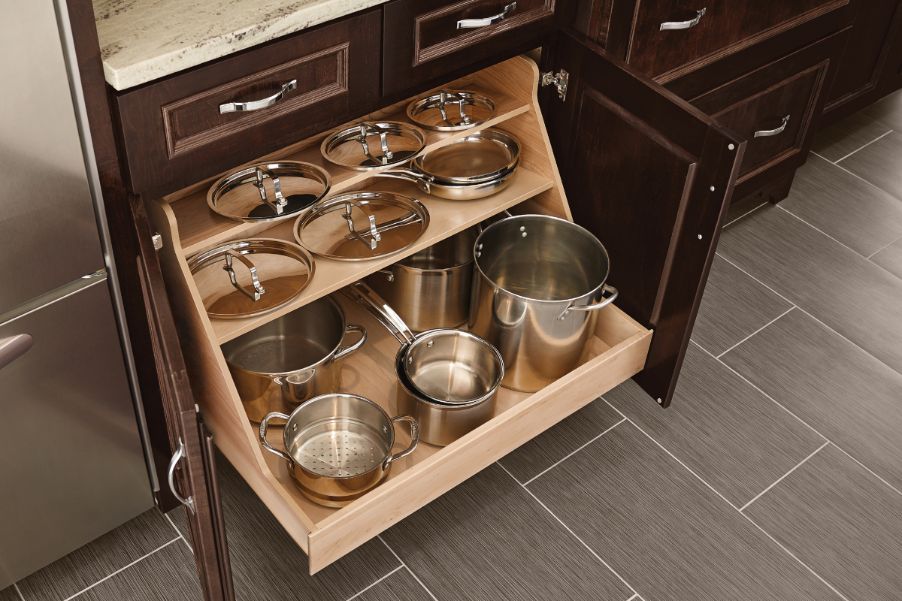 Pots and Pans Organizer Roll-Out.
BASE POTS AND PANS ORGANIZER ROLL-OUT
In base cabinets with doors, this wood storage unit rolls out to provide at-a-glance access to your cookware. The full-depth lower shelf accommodates pots and pans storage, while tiered upper shelves make a great spot for lids.
---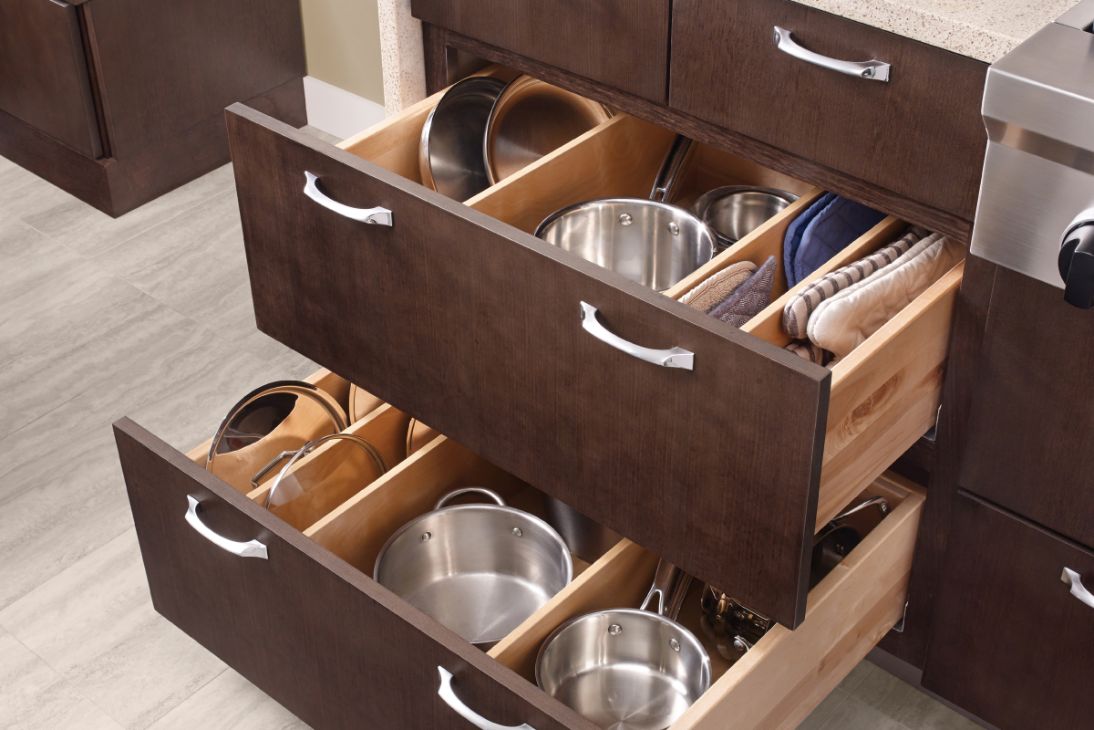 Pots and Pans Storage with Adjustable Drawer Dividers
ADJUSTABLE DRAWER DIVIDERS
Use wooden drawer partitions to create custom-sized compartments that will keep all the pots, pans and lids in your cookware collection separated and well organized. New pot? No problem. Simply rearrange the dividers in your pull-out base cabinet drawers.
---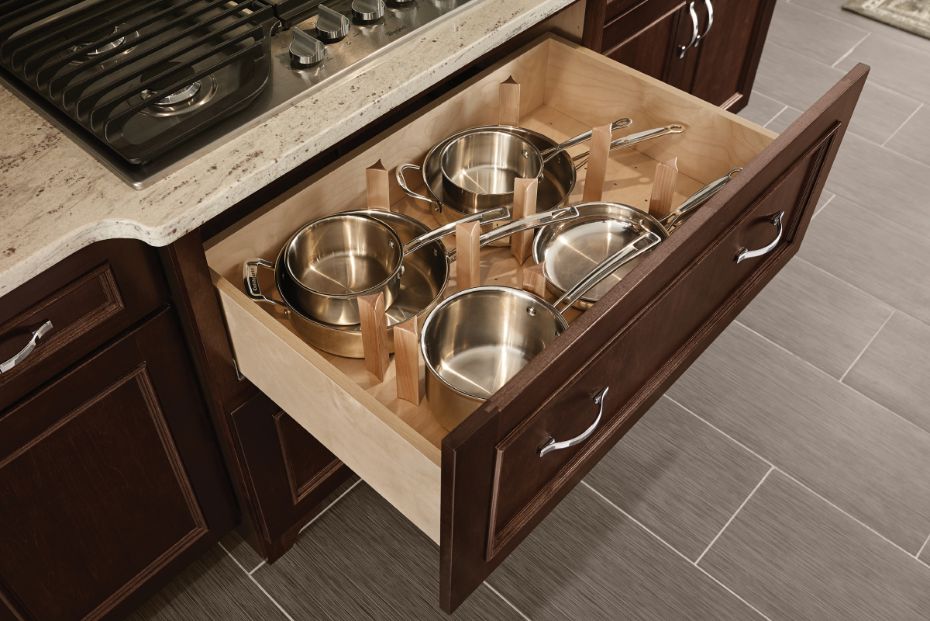 Peg Drawer Organizer
POTS AND PANS PEGGED DRAWER ORGANIZER
Goodbye, clanks and clunks. Simply set up your pots and pans pegged drawer organizer to snugly fit around your pots and pans so they stay secure (and peacefully isolated from one another) whenever you pull out your drawer.
---
YOU MIGHT ALSO LIKE:
Kitchen Storage Ideas: Pantry Cabinets
5 Effective DIY Kitchen Organization Ideas