5 Most Popular Kitchen Layout Designs
Posted by KraftMaid on 20th Jan 2023
---
There are five popular kitchen layouts that make up almost every kitchen design – U-shaped, G-shaped, L-shaped, galley and single-wall. We'll walk you through each to see which one makes sense for you.
---
How you arrange your new kitchen contributes to how much you'll enjoy spending time there. The best arrangement will depend on your appliances, storage needs, desired work zones, personal design preferences and available square footage. (A KraftMaid® kitchen designer can help you sort it all out.) But nearly every design plan starts out as one of these five basic kitchen layouts.
---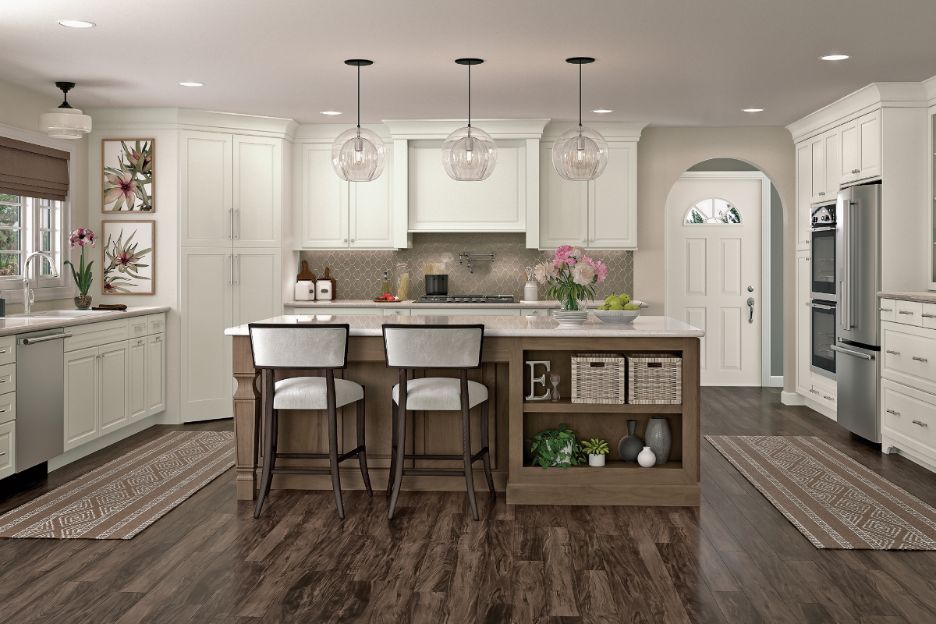 This U-shaped kitchen features a center island in contrasting color.
U-SHAPED KITCHEN LAYOUT DESIGNS
The U-shaped kitchen is the most versatile layout for kitchens of all sizes. Ample storage and plenty of counter space surround the cook on three sides. This floor plan is often divided into different work zones on each side of the "U." These zones create a natural work triangle and allow the cook and helpers to work simultaneously without getting in each other's way.
A U-shaped kitchen has the potential for more wall cabinet storage than other layouts – something taller homeowners might appreciate.
If three perimeter walls aren't available in your kitchen, add a peninsula to an L-shaped layout to form the third side of the "U."
---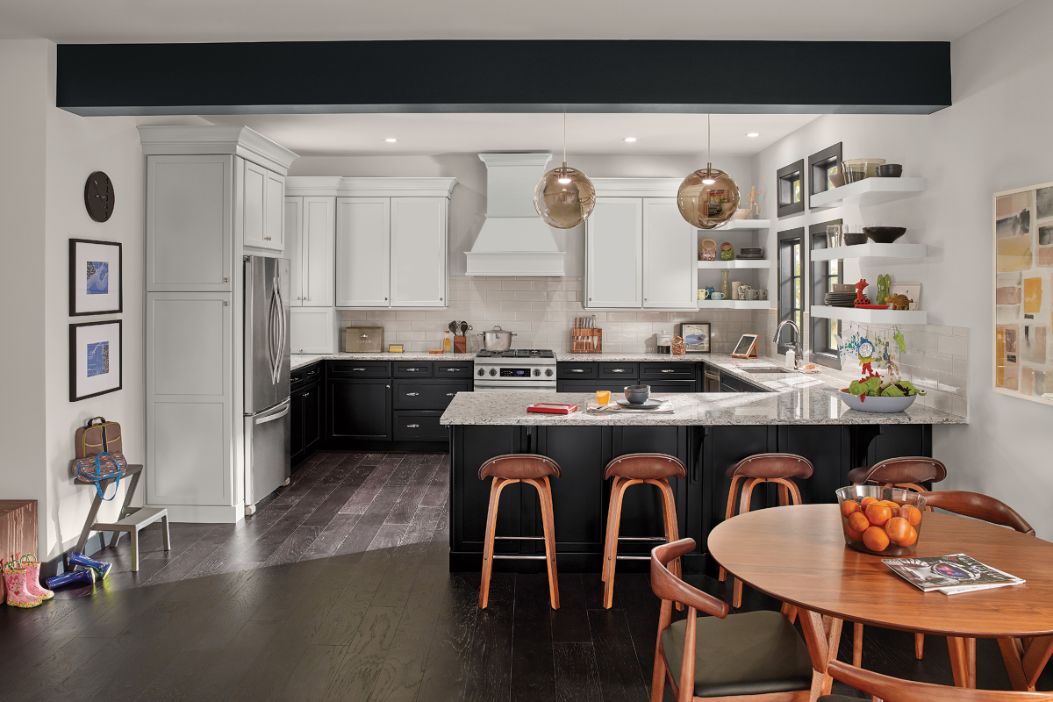 There's seating for four at the peninsula in this G-shaped layout.
G-SHAPED KITCHEN LAYOUT
G-shaped kitchens are similar to U-shaped kitchen layouts with the addition of a peninsula on one side. This extra counterspace is typically reserved for friends or family members to sit and relax, which is a welcome addition for people who like to socialize while cooking.
Since the peninsula restricts some access into the primary work zones, G-shaped kitchen designs for small kitchens may not work. This layout works best in larger kitchens that offer enough room to spread out.
G-shaped kitchens feature more corner base cabinets than any other layout option, so consider corner storage solutions to maximize utility.
---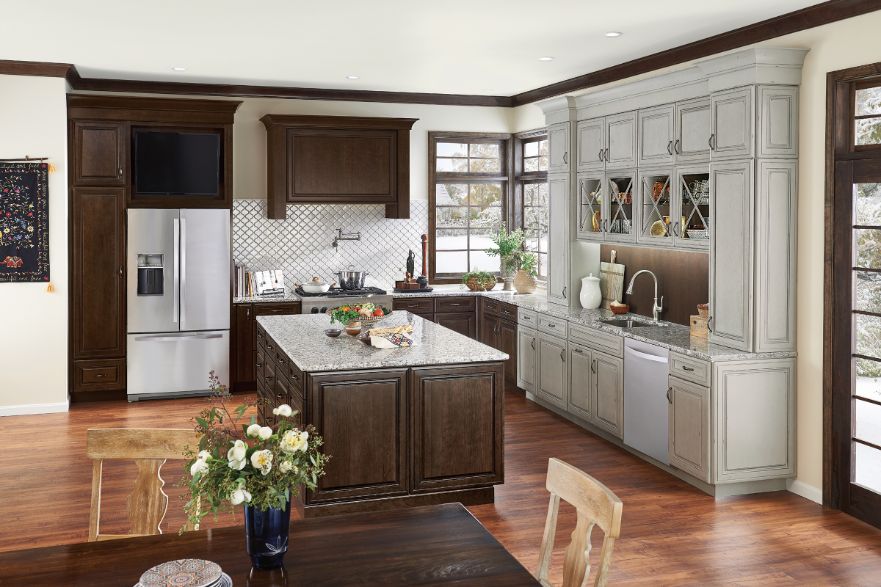 This classic L-shaped kitchen layout opens up to an eat-in dining area.
L-SHAPED KITCHEN LAYOUT
An L-shaped kitchen is a popular layout because it is among the most cost-effective to build and most efficient to use. This floor plan fits into one corner of a kitchen, creating an out-of-the-way work area. An L-shaped kitchen with island adds additional prep area or seating for guests to talk to the cook.
L-shaped kitchens create an efficient work triangle, with the sink typically on one side of the "L" and the stove on the other. A refrigerator can go on either side.
L-shaped layouts are especially great open floor plans. With no barrier between the kitchen's workspaces and the adjacent room, both spaces feel larger.
---
GALLEY KITCHEN LAYOUT
Perfect for smaller homes, condominiums and apartments, the galley kitchen layout is a highly functional design that packs a lot into a small space. (That's why galley designs are also used in many restaurants.) Work stations face each other on parallel walls, usually with the sink and dishwasher on one wall and the stove and refrigerator on the other. Everything is within close reach.
There's typically room for just one cook in a galley kitchen. And things can become congested if there's other foot traffic flowing through the space when that person is cooking.
Storage solutions are essential and proper lighting is key in a galley kitchen, as the number of cabinets and windows is often at a premium in this layout.
---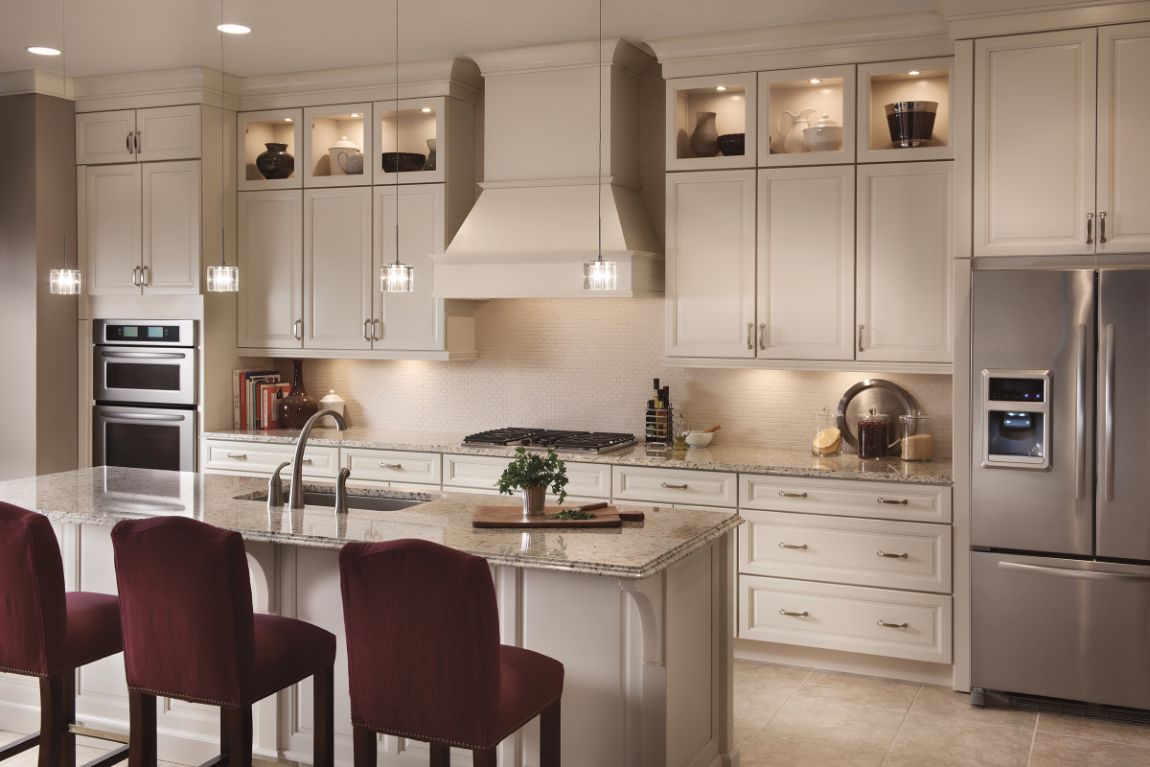 This modified single-wall kitchen layout moves the sink to the island.
A single-wall kitchen layout is a practical solution for smaller homes with narrow kitchens because all the cabinets and appliances are positioned along the same wall. With just one wall of functionality, a casual cook will find everything they need close at hand. But the available countertop space and storage tends to be more limited than other layout options.
In open floor plans, adding a center island to a single-wall layout enhances functionality without cutting into traffic flow or open-concept sightlines.
Single-wall kitchen layouts tend to be more affordable because the number of cabinets is typically much less than other options.
---
SEE THESE LAYOUTS IN REAL LIFE
Keep these general kitchen layout options in mind as you continue to search for ideas to use in your project. Start by checking out how KraftMaid customers have used (and adapted) them in their recently completed remodels.