5 Most Popular Kitchen Layouts
Posted by KraftMaid Marketing on 24th Feb 2016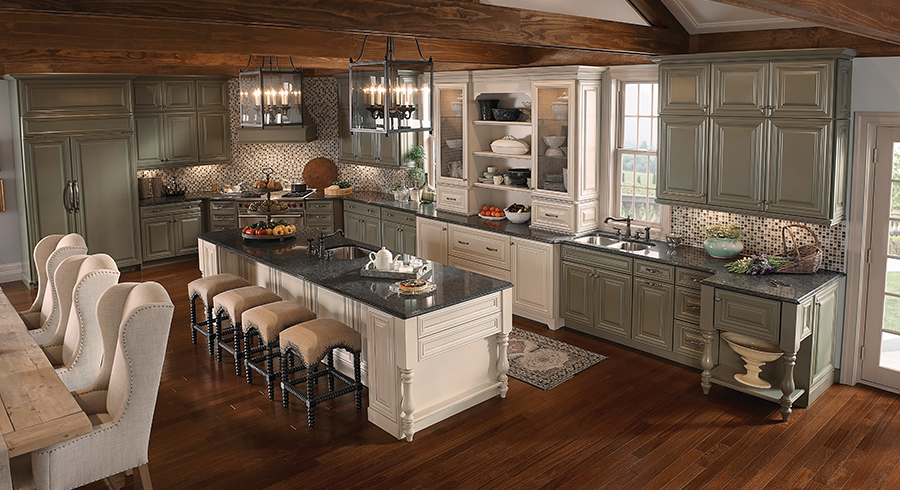 When designing a new kitchen, the arrangement of the cabinets, major appliances and storage areas contributes to the overall experience you'll have working in the kitchen. The kitchen layout is a matter of preference, and it's often affected by the floor plan you start with and how much time and money you're willing to spend to change it.
Today's kitchens are available in five basic layouts—U-shaped, G-shaped, L-shaped, galley kitchen or single-wall kitchen. Identify which one is most similar to your current kitchen or discover a floor plan that you prefer over your own. Keep in mind that even if you don't want to make significant structural changes to your kitchen, you can still enhance the kitchen layout with cabinetry and storage that's personalized for your needs.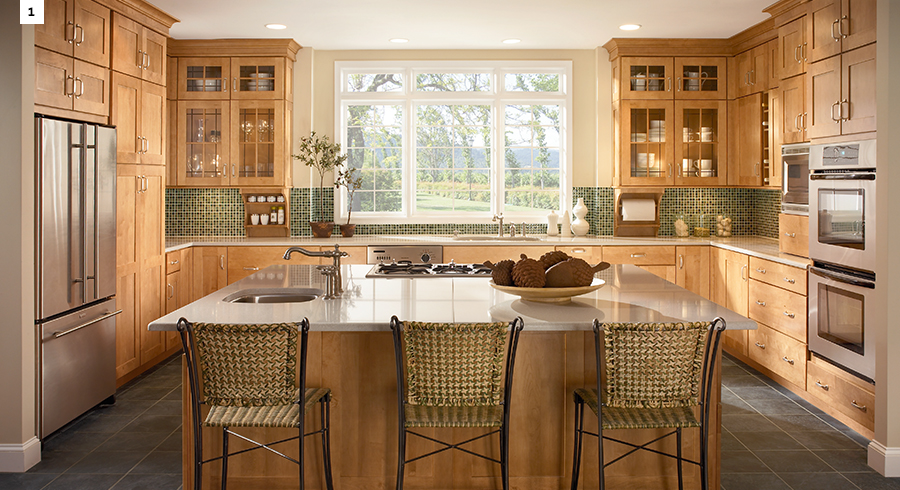 1. U-SHAPED KITCHEN LAYOUT
The U-shaped kitchen is the most versatile layout for kitchens of all sizes. It provides a natural workflow, ample storage and plenty of counter space that surround the cook on three sides. This floor plan can often be divided into multiple work zones, such as cooking, eating and even cleaning. These zones allow the cook and helpers to easily prepare a meal together without getting in each other's way. To keep countertops free and clear, maximize storage with flexible solutions such as a built-in microwave cabinet, cutting board rack and base mixer shelf.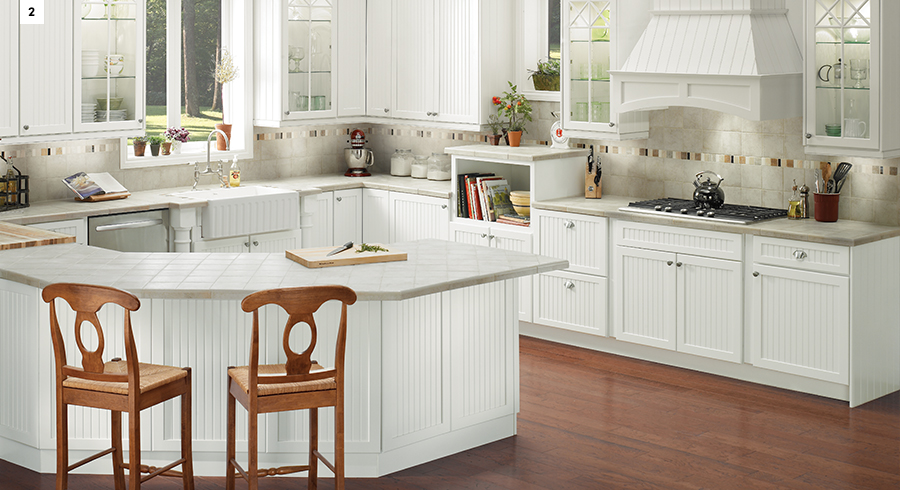 2. G-SHAPED KITCHEN LAYOUT
The G-shaped kitchen is similar to the U-shaped kitchen layout—with the addition of a peninsula. The extra area provides additional counter and storage space. While the G-shaped kitchen layout is ideal for one person who really likes to cook, the peninsula provides a place for a few friends or family members to sit and relax, which is a welcome addition for people who like to socialize while cooking.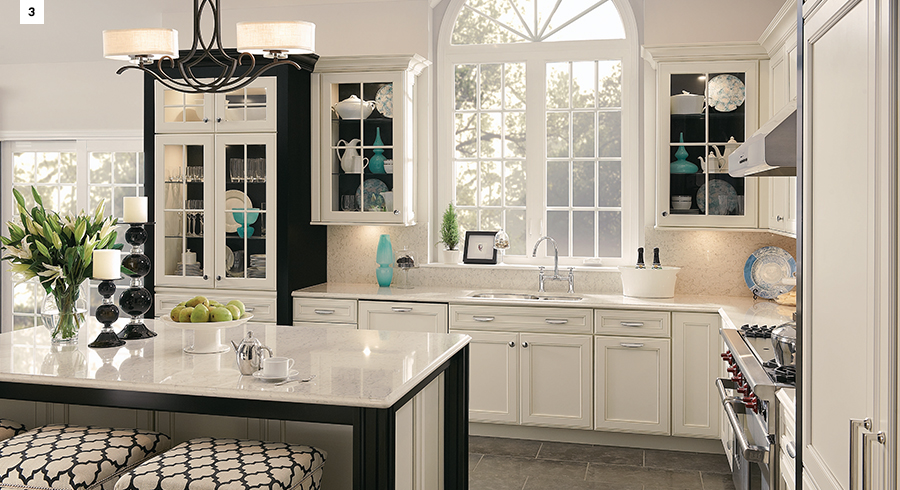 3. L-SHAPED KITCHEN LAYOUT
An L shape is one of the most popular and versatile kitchen layouts because it makes efficient use of smaller spaces. This floor plan fits into a corner, creating an out-of-the-way work area, which provides more privacy when cooking. For families that like to gather in the kitchen, an L-shape with an island allows the cook to talk with guests. L-shaped kitchens also create a natural work triangle, including the stove, sink and refrigerator, so the cook can efficiently prepare food with minimal movement.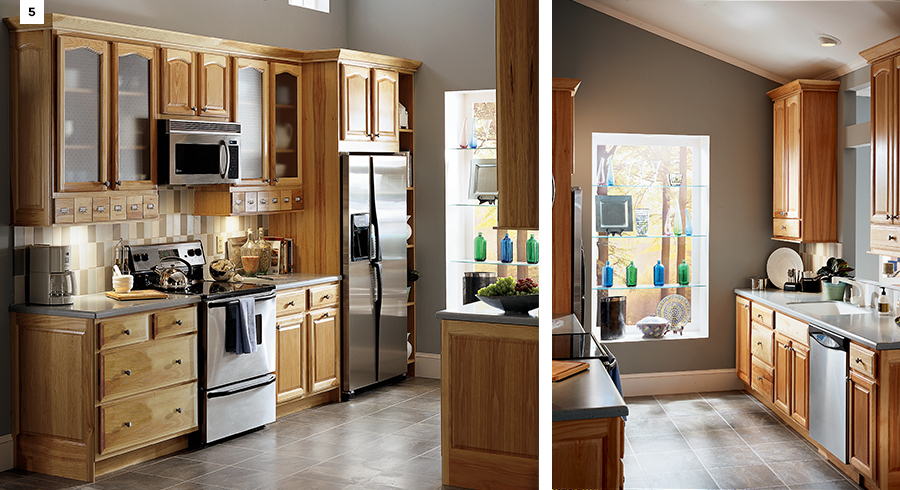 4. GALLEY KITCHEN LAYOUT
Typically large enough for one cook, the galley kitchen is a functional design that is used in many restaurants. The work stations face each other on parallel walls, usually with the sink on one wall and the stove and refrigerator on the other. In a galley kitchen, storage solutions are an essential addition to maximize space. Under-cabinet lights make tasks easier and glass cabinet doors with interior lighting make the galley kitchen feel larger. For more tips, check out Small Kitchen Ideas: 7 Tips To Make Small Kitchens Feel Bigger.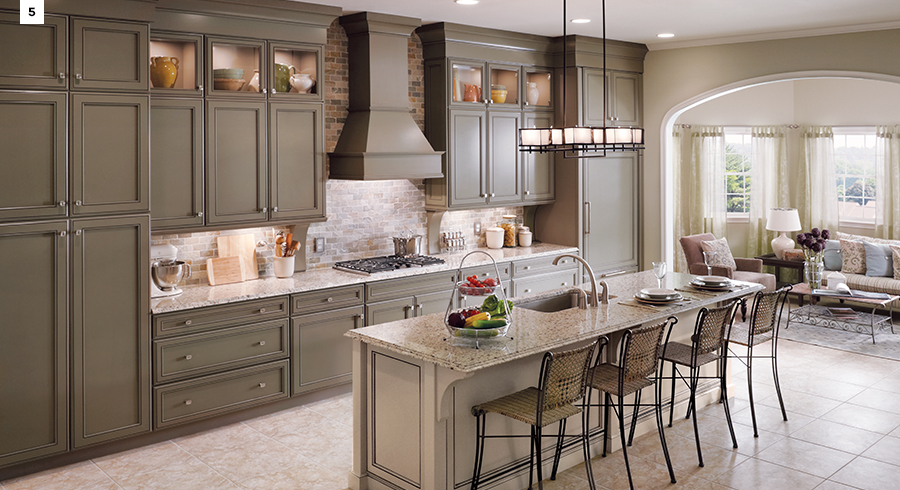 5. SINGLE-WALL KITCHEN LAYOUT
A basic single-wall kitchen layout is ideal for smaller homes and long narrow spaces where only one or two people work. A single-wall kitchen can also provide basic services for someone who rarely cooks. Highly practical, all of the work areas—sink, stove, refrigerator and dishwasher—are close together along one wall, keeping the workflow running smoothly. For tips on how to maximize a small space, check out Small Kitchen Ideas: 5 Space-Saving Tips That Work.