Kitchen Drawer Organization Ideas
Posted by KraftMaid on 5th Oct 2022
---
Make your kitchen function a whole lot better with these easy-to-execute kitchen drawer organization ideas and storage accessories.
---
We ask a lot of our kitchen drawers. These hardworking hideaways hold everything from sharp steak knives to fluffy dishtowels. A little organization and some cleverly designed storage accessories can go a long way in keeping any drawer from feeling like a junk drawer.
---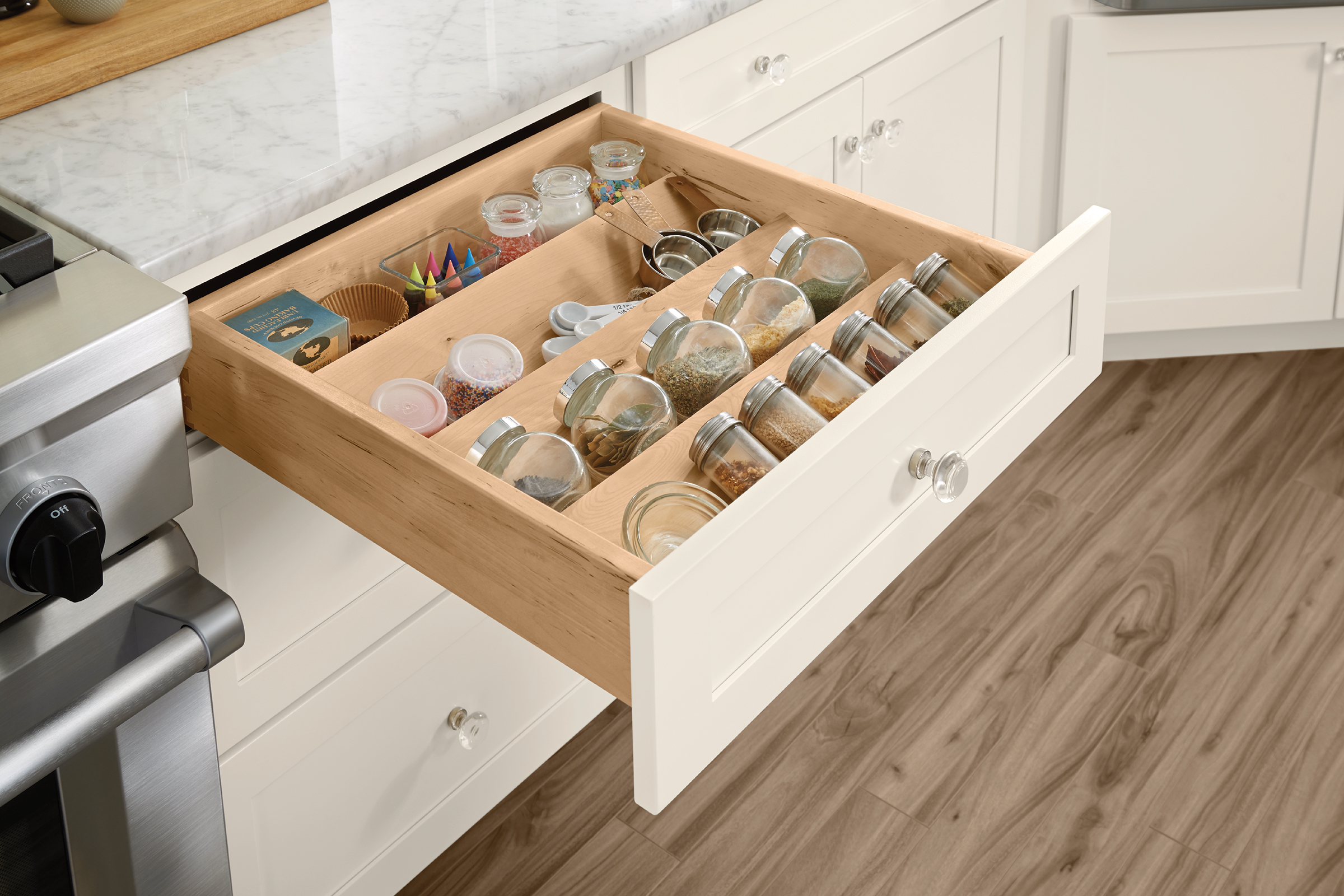 Spice Drawer Organizer Insert Kit
Group items by task. While your first thought may be to store your measuring spoons with all of your other spoons, it's more convenient to keep them in the Spice Drawer Organizer so everything you need to season a dish is in one place. Do the same with grilling utensils and dry rubs or by setting up a baking drawer that holds your rolling pin, whisks, spatulas, cookie cutters and cupcake liners.
---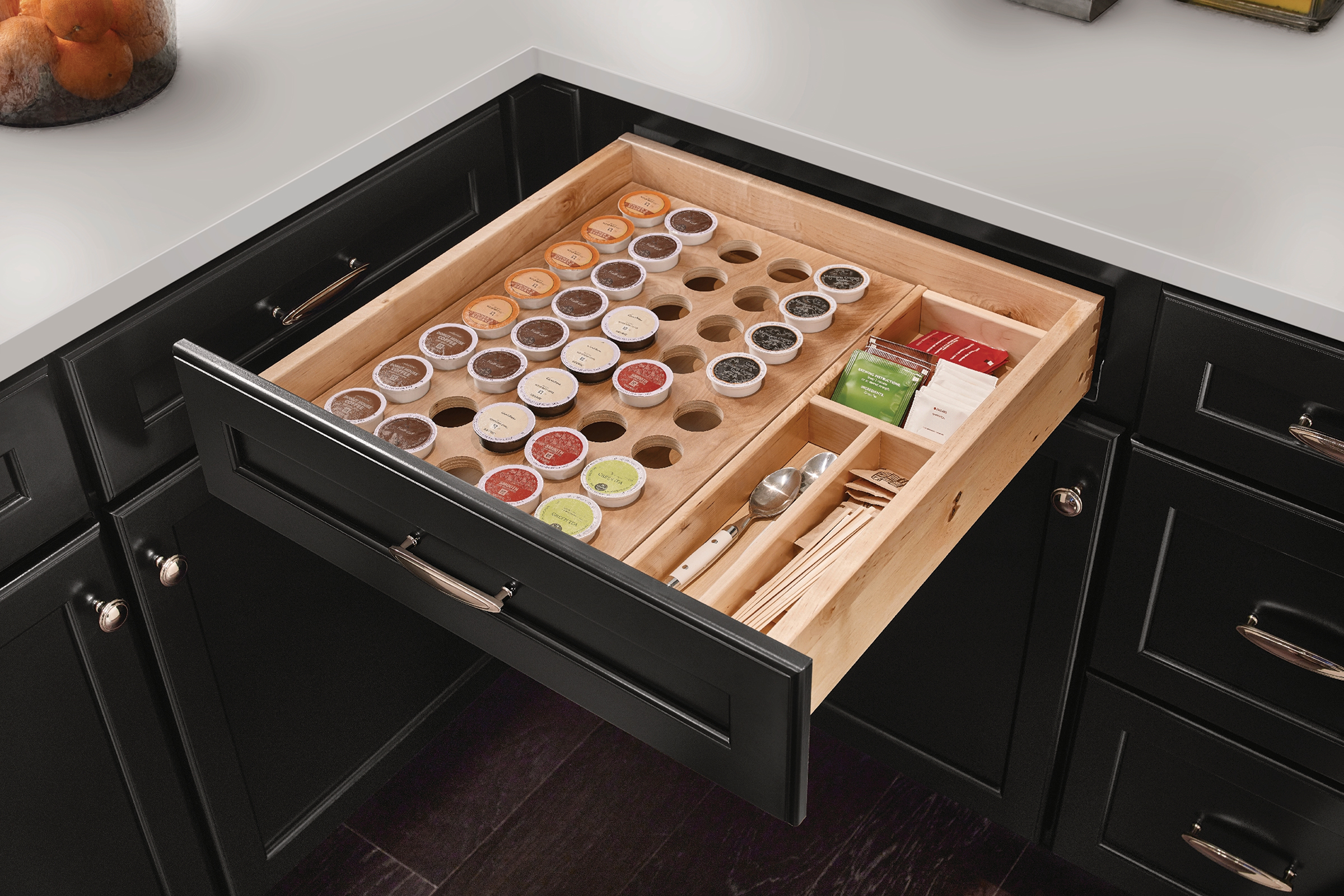 K-Cup® Drawer Organizer
Store supplies, not their packaging. Whenever you can, remove items from their original boxes before you stow them away so you can quickly see what you have on hand and more easily grab what you want. Place items in a kitchen cabinet drawer that's in close proximity to where you'll use them, like installing a K-Cup® Drawer Organizer near your coffee maker and mugs.
---
Kitchen Drawer Charging Station
Power up your drawer storage. Every day we seem to add another rechargeable device to our daily routine. With that, countertops can quickly become cluttered with plugs and cords. A Charging Station in a Kitchen Drawer helps keep everything fully charged while completely out of sight.
---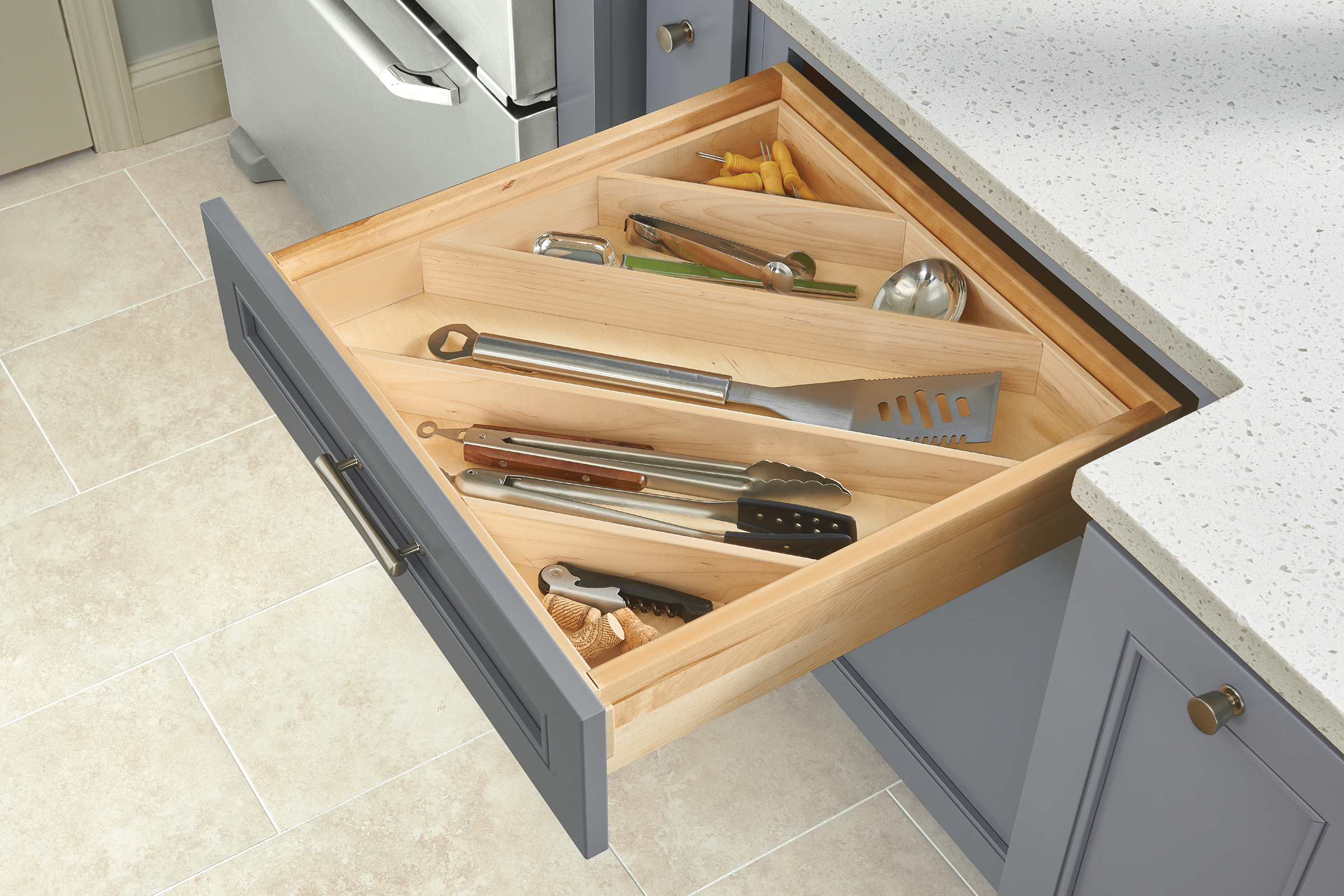 Angled Utensil Drawer Organizer
Earmark a place for everything. Use Angled Kitchen Utensil Drawers and Cutlery Dividers to separate your flatware, utensils or even office supplies into organized cubbies. While there's often room to put a handful of related items together in one slot, it's a good idea to give your most-used utensils their own designated spot so you'll always know where to find your go-to tools.
---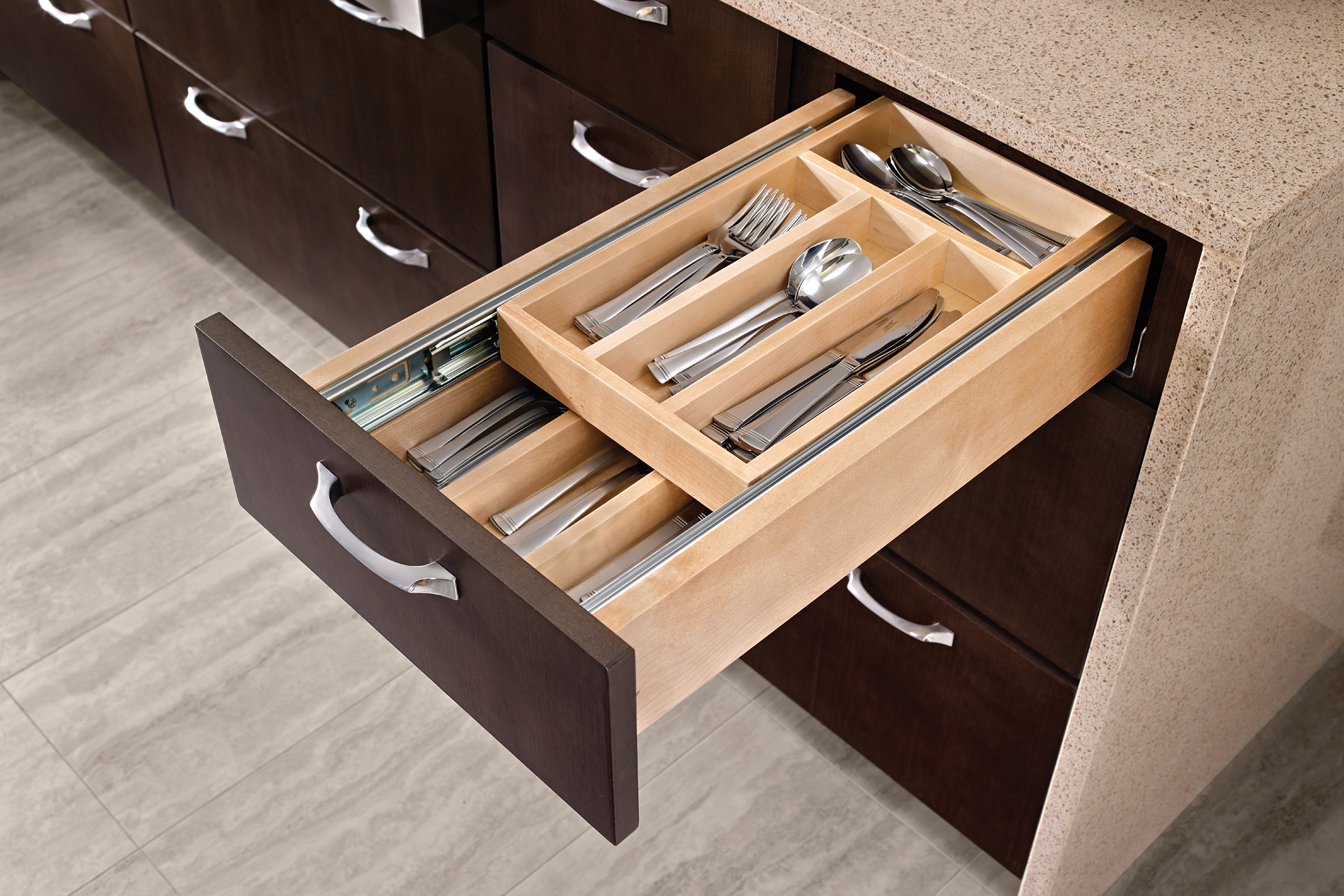 Wood Two-Tier Kitchen Drawer Storage
Maximize storage in every drawer. Why settle for one drawer when you can have two drawers in one? Standard KraftMaid® drawer boxes measure 4" deep – enough space to add a second level of storage with the addition of Tiered Drawer Storage or a Tiered Combination Kitchen Drawer Organizer. Our deep drawer boxes offer even more usable space. A Deep Drawer Combination Cabinet features a 3"-deep roll-out tray that's accessible after you open the 7"-deep drawer.
---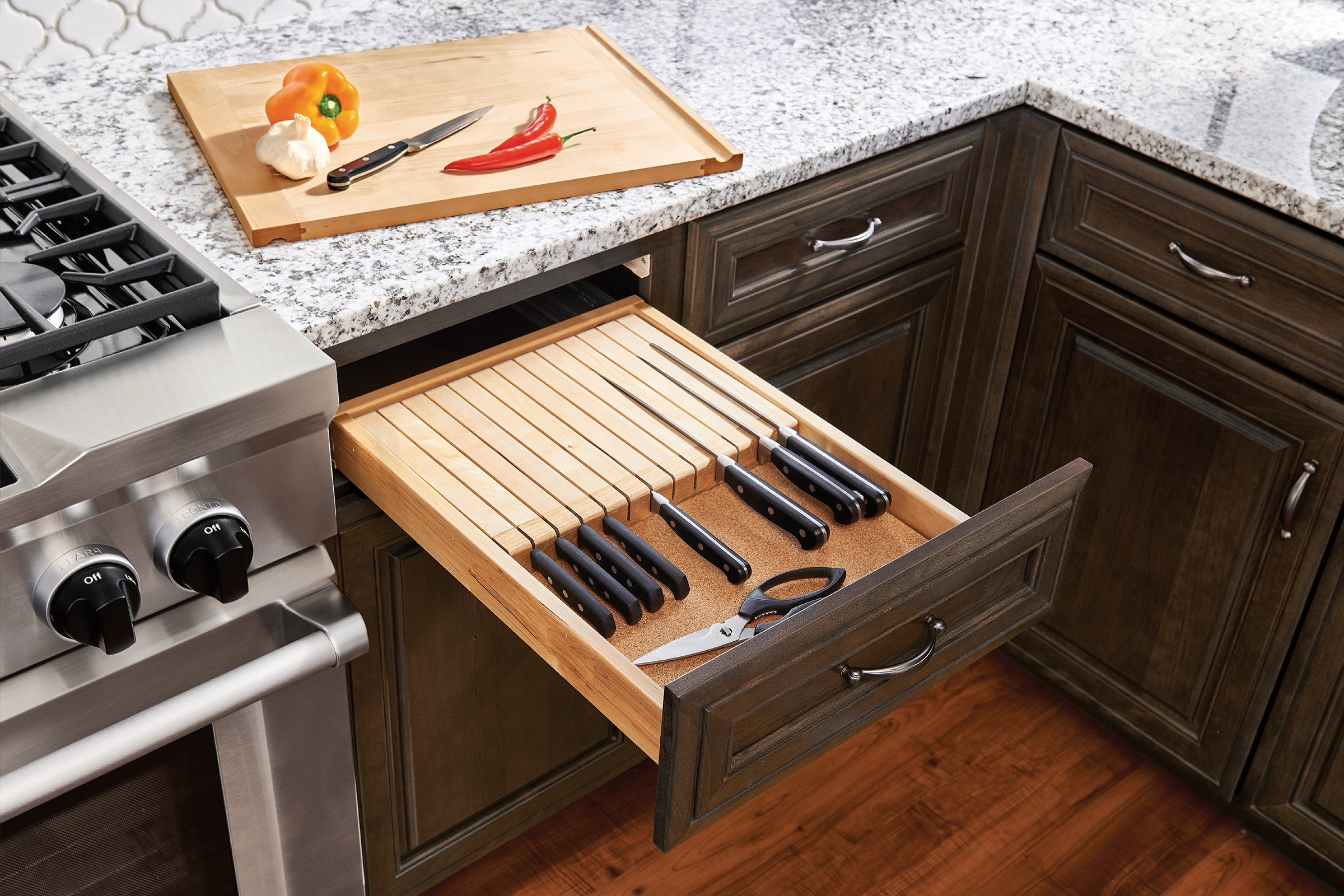 Knife Cutting Center
Keep things (looking) sharp. It's not only unsightly to open a kitchen drawer and find a jumble of knives, but it can be unsafe too. Installing a specialized Kitchen Knife Holder in your drawer can protect your fingers from accidental cuts. Skip the kitchen knife block and opt for something a little more discreet. Bonus: Knives will stay sharper for longer because they will be neatly separated into individual slots with a cork underlayer.
---
More kitchen organization ideas:
Storage Ideas For How to Organize Pots and Pans
Kitchen Storage Ideas: Pantry Cabinets